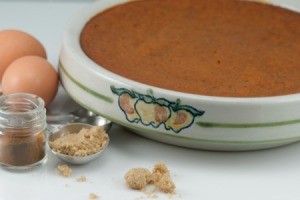 A recipe with 0 cholesterol and 0.5 g Fat. Very healthy and easy to make!
Ingredients:
1 (15 oz.) can pumpkin
2 cups canned skim milk
1/4 cup sugar
1/4 cup plus 1 Tbsp. granulated Splenda or Equal
3/4 tsp. salt
egg substitute equivalent to 7 or 8 eggs
1/4 cup flour
2 tbsp pumpkin pie spice
Directions:
Preheat oven to 375 degrees F.
Mix all ingredients together in a large bowl.
Pour into 10 inch deep dish pie plate, (it will come right to the top).
Sprinkle top with nutmeg.
Place in oven and bake 50 to 65 minutes or until a knife inserted near center comes out clean and crust is golden brown on edges.
Nutritional Information: Calories: 148; Calories from Fat: 5; Total Fat: 0.5 g; Saturated Fat: 0 g; Cholesterol: 0 mg; Sodium: 248 mg; Potassium: 335 mg; Total Carbohydrate: 25 g; Dietary Fiber: 0.5 g; Sugars: 20 g; Protein: 7 g
Source: http://besthomemadedesserts.blogspot.com
By Jim from Kansas City, KS
Comments
Read More

Comments
Last week we ate a delicious crust-less pumpkin pie/casserole, with a pecan topping. Does anyone have a recipe like this? I have checked allrecipes.com and Betty Crocker, but can't find it. Has anyone heard of this recipe? The lady said she got it out of a "ladies magazine". It is supposed to be from a country and western singer's cookbook.
Thanks for any recipes or suggestions.
By Joyce Lambert from Atmore, AL
Answers
November 23, 2010
0

found this helpful
Look for "sweet potato casserole" recipes. That's what this sounds like to me.
Are you sure it was pumpkin? If so, you can probably substitute pumpkin for the sweet potatoes in the recipe.
November 23, 2010
0

found this helpful
This recipe came from this website:
southernfood.about.com/.../bl90911u.htm
A sweet potato casserole recipe, made with mashed sweet potatoes and a crunchy pecan topping. Scroll down to see more sweet potato recipes.
Ingredients:
3 cups mashed sweet potatoes
1 cup brown sugar
2 eggs, lightly beaten
1 teaspoon vanilla
1/2 cup milk
1/2 cup melted butter
.
Topping:
1/2 cup brown sugar
1/3 cup flour
1/3 cup melted butter
1 cup chopped pecans
Preparation:
Combine first 6 ingredients. Pour into a buttered 1 1/2 to 2-quart casserole dish. Mix remaining ingredients together and sprinkle over top. Bake at 350° for 30 to 40 minutes, until hot and browned.
Serves 6 to 8.
Answer

this Question
With regard to the Crustless Pumpkin Pie: If I don't have the Spenda or Equal can I add more sugar to it or just leave it with the 1/4 cup of regular sugar? Also can I use regular skimmed milk instead of canned? And the egg substitute can I use just the yolk of the egg?
By Linda Delcamp from Brighton, MI
Answers
December 21, 2010
0

found this helpful
As long as it has half of the ingredients that you need then it's fine.
Answer

this Question