August 11, 2017
0

found this helpful
I would suggest looking for a local group that utilizes donated fabric. For example in our area is a women's crisis center that has a few categorized thrift shops, one in which they sell fabric and craft items with all proceeds going toward the crisis center. Some local churches or auxiliary groups use donated fabric for projects giving back to the community or veterans needs. There are also MCC donation centers across the country, mostly in areas that host Amish and Mennonite communities. This MCC organization uses donations of this sort for needs in the US and also sends all over the world. Fabric donations with MCC are used to make quilting square bundles or to send to areas where people can put it to good use. Whatever you find in your area, I'm sure there is a place that it won't go to waste.
August 11, 2017
0

found this helpful
Put an ad in Freecycle or Craigslist. You will get plenty of takers.
August 11, 2017
0

found this helpful
I feel sure you had rather know something that your mother cherished was going to be used for a good cause and not just to someone that was looking to make personal gain.
Please call your local Hospice Thrift store and give them an opportunity to work with you. The Hospice Centers help many people in the last stages of their life and they never charge for their services. It is a great organization and has many, many volunteers at their stores and centers.
Just Google Hospice Thrift with your zip and you will probably find several in your area.
Please take care of yourself so you can help to take care of your mother.
August 12, 2017
0

found this helpful
Cybergrannie is right. If you put it on Freecycle or Craigslist, someone will take it and sell it. Give it to someone who can put it to good use.
August 11, 2017
0

found this helpful
Local women's shelters in your area are always in need of fabric. Many of these women who go to these shelters are battered women and they have little to nothing. I would suggest that you offer this to one of the shelters in your area.
A second idea is your local Girl Scouts. Many of these young girls works towards their merit badges and are always looking for fabric of some kind. Contact the office in your area. These young girls would be thrilled to receive so much material.
August 11, 2017
0

found this helpful
I know if you go on craigslist.org or a facebook group of your area, you can find folks who will donate to you
Also try a local quilt guild. Quilters always go through a lot of fabric and always are trying to get rid of fabric. They also usually contribute to their local communities in various ways.
A directory is here: www.quiltguilds.com/
August 12, 2017
0

found this helpful
What state do you live in. In VA lots of area Residents make quilts for new babies and give them at the hospital.
Also many nursing homes will take it for their projects which normally benefit Senior Citizens. Would love to take it myself.
August 12, 2017
0

found this helpful
Try your local schools, churches, senior centers and quilter guilds. Here is a quilt guild locator:
August 12, 2017
0

found this helpful
Check for a local Project Linus chapter in your area. They make afghans, quilts for children in need, whether in hospitals, disasters, homeless...they are always willing to accept donated fabric. The quilts these ladies make and donate with love are incredible. I don't quilt but just turned in several crocheted afghans this week.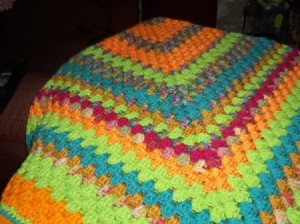 August 14, 2017
0

found this helpful
You might consider going to a local nursing home or a home economics class at a high school to donate it.