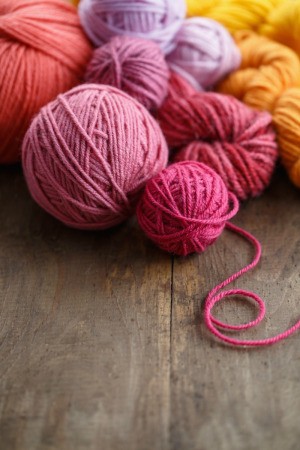 I have a lot of yarn and incomplete items that my mom had crocheted. I don't know what to do with it. I tried calling nursing homes for their activities and local churches but they don't have the crafters anymore. Does anyone know of anybody that would love to take this yarn off my hands? My mom was making a lot of Xmas things and there are white, red, green, and many other colors. I have two huge bags of it. I also have old fashioned spools of cotton.
By Julie from Philadelphia, PA far NE
Answers

pam munro
Gold Post Medal for All Time! 519 Posts
May 29, 2009
2

found this helpful
Best Answer
After my mother, a great crafter, died, my sister and I packed up all her craft supplies and gave them to the local Girl Scout headquarters. They were very happy to get them for their crafts programs. You might try them.

May 29, 2009
1

found this helpful
Best Answer
Preschools and day care centers can use yarn for arts and crafts time. This time of year maybe Vacation Bible Schools.

May 29, 2009
2

found this helpful
Best Answer
Don't hesitate to give your yarn to Goodwill, the Salvation Army, or any charity to which you'd give clothes and household goods. I've noticed that yarn sells very quickly at my local thrift store.
The profits from the sale are going to charity and hopefully the yarn is being sold to someone who couldn't afford it otherwise.

May 31, 2009
0

found this helpful
Best Answer
If there is an adult day care in your city or town you can donate yarn and other craft supplies to them. They too like to do crafts. A group from adult day care shop where I work and quite often they have something they made (purse, shirt decorations, badges). The caregivers tell me they make lots of things and donations are welcomed.

June 3, 2009
1

found this helpful
Best Answer
I worked at an elementary school for many years and I know the art lady appreciated donations of yarn. We also had a teacher who started a knitting/crochet club and she needed supplies. I know my local senior center also has a club that would take the donations.
Many of the charities that make hats for preemies or for soldiers would take it. AND many of the homeless shelters or the safe houses for abused women also appreciate this kind of thing.

June 4, 2009
0

found this helpful
Best Answer
Many high schools nowadays have what's called a 'knit in' program, where students knit and donate squares that are then sewn into blankets, and given out to refugees, the homeless, etc. Any school with this program would love a donation of wool.

June 4, 2009
2

found this helpful
Best Answer
Angels for hope would love to have your yarn. We are all volunteer's and spend our own money on yarn and thread to crochet angels and butterflies for those in need of hope.
These little angels and butterflies are sent FREE of charge to anyone who requests one. You can contact Cindy at angelsforhope.org
This is a wonderful organization. And anyone who reads this and would like more information go to angelsforhope.com and request an angel or butterfly for someone you know who is ill and needs some cheering up. The butterflies can be requested for anyone reaching a 100th birthday!
Answer

this Question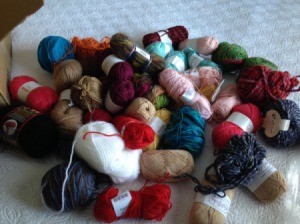 I live in the Minneapolis, Minnesota area and am in the process of purging my yarn stash. I have quite a bit of sock weight yarn (leftovers from previous projects) as well as other weight yarns. I would like to donate this yarn to someone who will put it to good use; teaching knitting or crochet, or making items for this who in need to be given away free of charge. Anyone interested?
P.S. The yarn in the photo is just part of the stash.
By Pam M.
Answers

October 19, 2014
1

found this helpful
Best Answer
Here is a link to an article about prisoners who knit for charity and their families to learn re-socialization and patience. Maybe, if you are inclined you could donate there. www.washingtonpost.com/.../a814362a-ae0e-11e3-a49e-76adc9210f19_story...

October 20, 2014
0

found this helpful
Best Answer
Contact your local Senior Citizen's group. Ours has several 'clubs' inside there that do group crafts. They have a small store inside the center where they sell their merchandise.
Answer

this Question

I have free yarn I need to give away! I have no more space for it! I moved from a house to apartment. I live in Philadelphia, Pa. Where can I take it?
Answers

gggd
Silver Answer Medal for All Time! 425 Answers
August 13, 2020
0

found this helpful
Best Answer
You can donate it to a residential home for seniors or for mentally challenged people, a church or community knitting/crocheting guild, or even the art teacher at your local school. If you have the time and desire, you could check with an animal shelter to make comfy dog or cat blankets for cages.
You can also advertise it on Craig's List under FREE STUFF. Good luck and report back here who was blessed by your donation.

August 15, 2020
0

found this helpful
Best Answer
There are so many places right now that are not accepting anything due to the conditions of spreading this virus so this may narrow the list of suitable places.
You should probably call any of the places suggested to see if they are open and accepting items like this.
Churches in your area may welcome free stuff as so many are already involved in making Christmas gifts to be sent to missionaries in foreign countries so you might want to call some in your area.
Answer

this Question

My wife was very into crocheting until medical issues made it impossible. I want to donate all her yarn and hooks, but do not know the value. How much is reasonable?
Answers

December 28, 2020
0

found this helpful
Best Answer
I'm sorry that your wife had to give up on her love of crocheting but it's nice that you wish to donate it so someone else can enjoy using her supply.
Since we have no idea of the amount of yarn etc. that you have it would be difficult to provide a value.
I do remember when working in a Hospice thrift store years ago a small/medium box or Rubbermaid container of items like this was usually valued at about $50 but I believe this has increased in value since then (the container would not be 'stuffed' - just loosely packed).
Some of the church and charity stores will have someone to help you evaluate what you take to them but most want a sheet with 'loosely' itemized lists of the contents. They will then either stamp the sheet and sign/date it or they will give you a letter with their letterhead showing the donation information.
Here is a link to information from IRS.
www.thebalance.com/donation-value-guide-4172778
In past years families had to itemize expenses on their income taxes to be able to receive credit for their donations so it was usually a waste of time to ask for a letter because so many people no longer itemize (either renting or no mortgage to claim on tax return).
However; this year will be different as everyone will be able to claim up to $300 of charitable donations on their tax return.
just be sure to follow IRS rules:
Answer

this Question