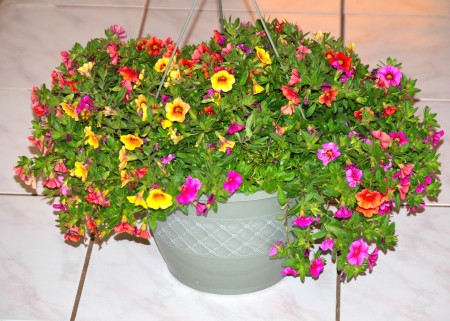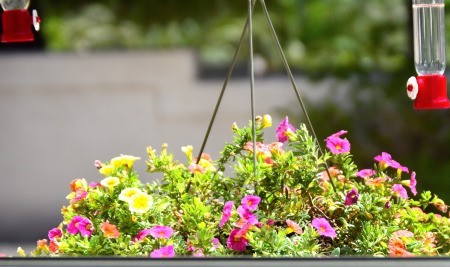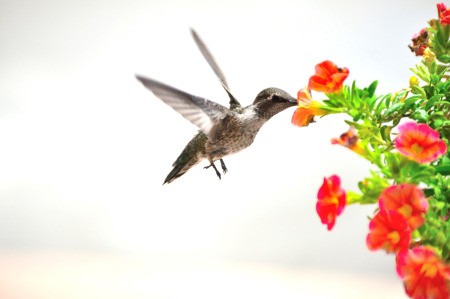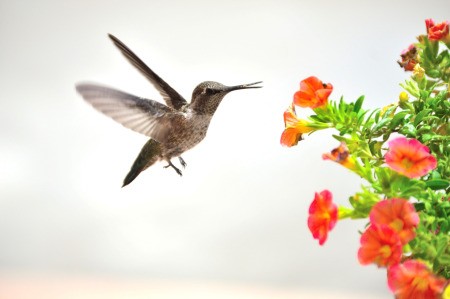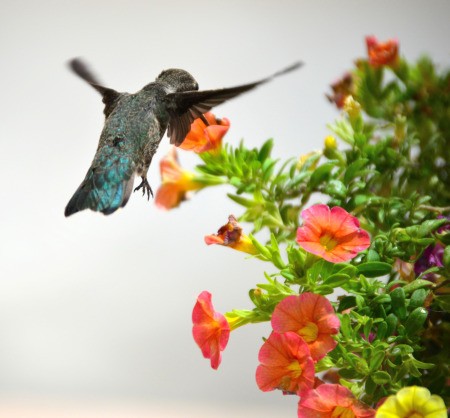 Photo Description
We don't have much area to plant flowers in our yard as it's mostly concrete everywhere and an in-ground pool, so we had an idea for our backyard hummingbirds. That was to give them some real nectar, from real flowers.
My husband picked up a lovely hanging outdoor plastic basket of flowers at Home Depot, and we hung it from the eaves of the house at one of the backyard windows.
That way we can watch too!
The second picture is looking right out of one of windows to the backyard. It took awhile for the hummingbirds to get use to it, hehehe one would of thought we put a cat in the yard, the way they initially reacted to it, (they wanted nothing to do with it at first) which we laughed about it and they had no idea what this was doing right between some of their feeders because to them, it is a flower bed in the wrong place!
Finally, the youngsters took to it. We've noticed the older hummingbirds that have been eating here for years, they'll take a quick "nip", but then they'll go straight to the hanging feeders instead.
This little female here in the picture, we've named her Flower Child, she's got pollen on her bill in the 4th picture, and looks so happy! I guess the older hummingbirds like the "concentrate" better - (the feeders).
But the fairly new hummingbirds, (juveniles as they're called) that are a bit older than the new babies, they're loving it, and we get to watch them which is beyond exciting! They'll circle around covering almost all of these flowers to try and get to all of them, and it's just absolutely so much fun and wonderful to watch.
Photo Location
In our backyard, Las Vegas NV
Add your voice! Click below to comment. ThriftyFun is powered by your wisdom!

attosa
Diamond Post Medal for All Time! 1,246 Posts
July 12, 2019
1

found this helpful
What a literally sweet idea! And as always, you have the BEST photos. Love Flower Child!!!! :)

July 12, 2019
1

found this helpful
Thanks Attosa. :)
Hubby named her and I thought how that name is just perfect for this little one, she just loves these flowers, hehe
Flower Child's little legs are hanging stretched out, usually they're tucked up in their feathers and all that shows are their feet, but not lately. That's because it's been 110 outside, and all of them are flying around with their little tiny legs dangling as that's how they cool off.

attosa
Diamond Post Medal for All Time! 1,246 Posts
July 18, 2019
0

found this helpful
110!!!!!!!!!!!!!!!!!!!!!!!!!!!!!!!!!!!!!!!!! My goodness! I want to send you popsicles and snowflakes!!!!!!!!!!!! I love their little legs. Thanks for always taking us deep into hummingland!

July 16, 2019
1

found this helpful
I live in VEGAS-to what kind of flowers do you use and DO they Live during JULY-SEPTEMBER hottest as you know it starts Cooling off right after Halloween lol

July 17, 2019
1

found this helpful
Hi martoccia61,
I believe these are Petunias which Petunias love FULL sun, and by the way the flowers have taken a beating in this hot triple digit horrible heat, is amazing, they really do love it!
Every evening just before the sun goes down, I water them thoroughly, until the water runs from the bottom holes in the container they're in, (that's what they like too).
If a day were missed on the watering, they'd not make it another 24 hrs) though, so watering once a day in this heat is critical.
We'd gotten these Petunias 3 months ago, and I've not grown them before so I don't know at this point how long they're going to last, which I'm hoping if they do last just for the summer, then that's great because the hummingbirds love them. And how right you are, it isn't until after Halloween that it's like the heat switch gets turned off, and then we have nice weather again.
I will say having these flowers (hanging from the eaves outside over the window here) has been really nice, seeing all that color outside of the window, and of course (the entire reason for them) is to watch the hummingbirds "do their thing" which is really a blast for us, because they're so adorable.
So if the flowers don't last when the temps cool down, all I can say is, it's been sooooo worth having them for the hummingbirds, and for our fascination of watching them, plus, there's no feeder to fill and wash daily with the hanging flowers (floating flowerbed for the hummers) and all the hanging flowers need is a little flower food (Miracle Grow) here and there, and daily water.

July 19, 2019
0

found this helpful
martoccia61,
I wanted to show you this picture also, which I believe are Petunia's we have in a large terra cotta pot.
The "multicolored flowers" (floating flowerbed for the hummers) I had said they're Petunia's also, but, I don't know for (certain). I don't know my flowers very well.
Home Depot sells them in the hanging plastic bucket and for a good price too, I think they were about 20 bucks. The hummers aren't seeming to eat from the purple ones, well, *hardly at all* as much as the hanging "flowerbed" - which daily one of the little new hummers are usually hovering to there to eat.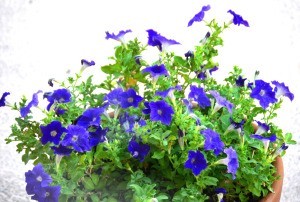 Add your voice! Click below to comment. ThriftyFun is powered by your wisdom!