A Big Bug? No a Hummingbird!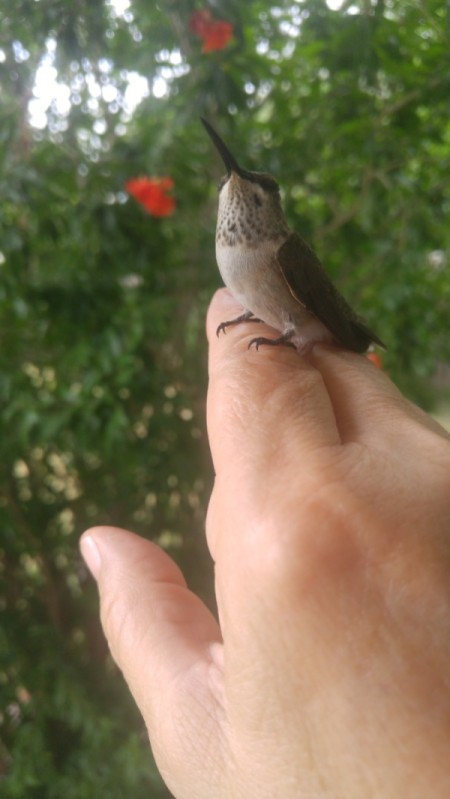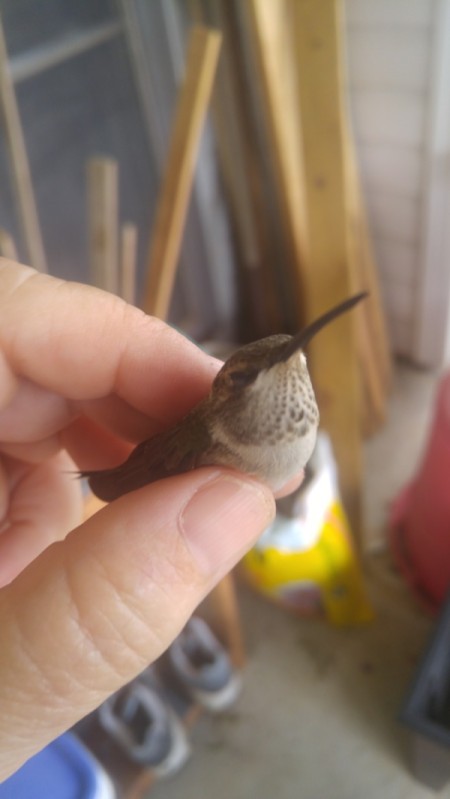 Photo Description
I was sitting outside with my back against my patio door and hand feeding my favorite squirrel. This usually keeps her out of my bird-feeder when I heard this thump and felt something hit the side of my leg. Looking down I thought, WOW, what a huge bug. I reached down to pick it up and throw it into the grass when I realized it was a hummingbird. I could see it breathing, but it didn't move. I was hoping it wasn't injured, but just knocked out. My phone was with me and I was able to take pics. I held it, between my fingers, until it was able to grip my finger. It still had a hard time opening and keeping it's eyes open. It seemed like forever standing and holding this tiny bird waiting for it to come around. It finally was able to keep it's eyes open and stared at me and I stared back. At this point I didn't know what to do. We were looking at each other for what seemed like eternity. I didn't want to scare it, but I could walk around with it and it still stayed on my finger. I finally took a deep breath and blew it slowly out which seemed to make it weave to one side and back. It then flew away with a buzz sound. I watch the hummers at my feeders, but they are so fast and whiz past my head. I felt lucky to be able see and actually hold a hummingbird so close. The time was very surreal.

Photo Location
my backyard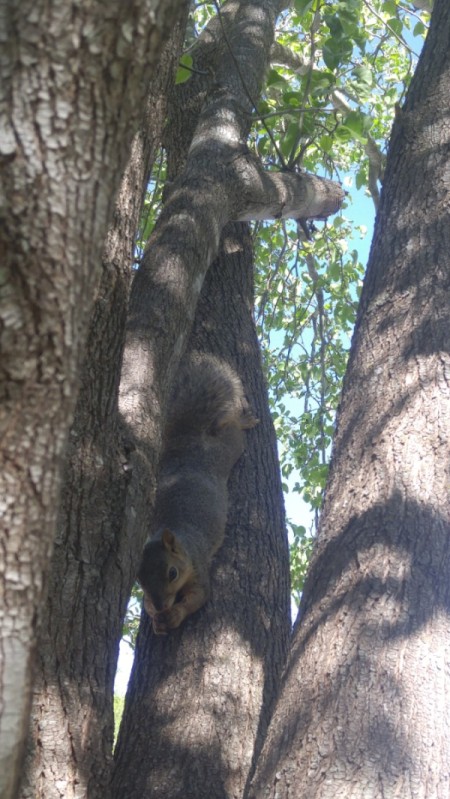 Add your voice! Click below to comment. ThriftyFun is powered by your wisdom!
June 19, 2018
0

found this helpful
Love this.
June 19, 2018
1

found this helpful
This is the first time I've seen a hummingbird on a hand! You're so lucky. I'm happy it was able to fly away :)
June 20, 2018
0

found this helpful
Nice pictures, and I too feel happy you were able to help that sweet little hummingbird.
June 27, 2018
0

found this helpful
Aw, the poor thing! Glad it was okay. What an adorable little feather duster. C:
July 25, 2018
0

found this helpful
You are lucky to get that experience. I caught one that got trapped in the bay window of a grocery store when I was on vacation in the southwest. I cupped my hands around him and walked out into the parking lot. My parents, who had told me that you cant catch a hummingbird, stood by me and marveled at the little Jem of a bird in my hand.
When I thought perhaps I could pet it, it read my mind and pushed off from my palm and disappeared into the desert night! Its my spirit animal now.
July 29, 2018
0

found this helpful
You were very lucky! My aunt who lives in California was taking a walk on a path and almost stepped on one .she looked down and it was a baby hummingbird! Just so happens she has a friend who was a specialist vet mainly for hummingbirds.once here in Rochester,ny I was on the deck and hear a loud buzzing sound,first instinct was to run inside but didn't make it to the door before the hummingbird was stopped in front of my face then flew off.2nd time I thought it was another hummingbird lingering around my face but it was too small to be a hummingbird.turns out it was a butterfly moth!! It's like where did all the critters come from? I was in my late 20s and hadn't witnessed anything before those 2 encounters and no encounter after.I was fortunate to have seen them let alone going up to my face! :)
Add your voice! Click below to comment. ThriftyFun is powered by your wisdom!
Related Content