September 27, 2017
1

found this helpful
Thank you both for your comments.
Yes, these Hummingbirds are truly fascinating to watch, their behavior is so unique, and they really do act like most other
animals, that is in how when they learn they can trust you, they then allow us to come very close to them and then they do communicate with us.
And I sure do understand how they do appear to say "bye" when they are leaving for a bit, because after they've eaten, they'll fly and hover right up to the glass window, and with my nose practically on the glass on the other side, they'll just hover and stare, right there between my eyes, as though they are saying bye for now and be back soon. When a feeder becomes empty, oh boy, then they'll zig zag horizontally in front of the window too! hahha
We now understand some of their "moves" a bit more and love that they're really communicating with us.
I wish I knew how to post another picture of these little guys on
my husbands finger eating. I'll try and figure it out, because they
are not only to us one of the most adorable "little rascals", we call
them that too - but they are incredibly smart too and remember
everything.
When the feeders get washed (2x a week) I can only take down 2 at a time, because they really get upset when any of their feeders are missing for just 5 minutes before I hang them back up refilled.
I use to bring in almost all of them at the same time to wash them out and refill them, and leave just a few hanging (until the other feeders) got washed out and refilled, but when I saw how that upset them, (they fight with each other more), because they think something is wrong, so I learned, as they do let us know what they like and don't like, or what makes them nervous.
So, we've changed a lot of ways we do things, to help them keep calm in knowing that nothing is wrong, and their juice will be back up and ready to drink from in just a few moments.
Sometimes when I take out a freshly filled feeder, oh my, I'll have
to freeze in the position I'm in, because they don't wait until I've
hung the feeder back up on the hook, they'll start drinking right out of it while I've got my arm extended to hang it up.
I guess I could really go on forever about them, as we love and
appreciate them so much. They're something else is all I can say!
October 4, 2017
1

found this helpful
I think I may have figured out how to post a couple more pictures of our backyard buddies, so hopefully it will work.
This is a picture of my hubby and his (chapped hand) haha don't look a that part, but these most precious little birds, are so that. They'll sit on our fingers to eat from their feeders, and the feeling of their little tiny itty-bitty feet is beyond words-it's just wonderful.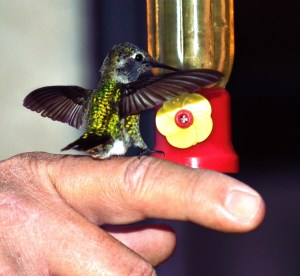 October 4, 2017
1

found this helpful
This is just another picture of that sweet little hummingbird drinking.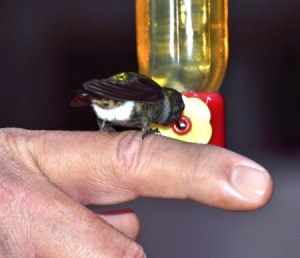 October 26, 2017
0

found this helpful
This photo is just so precious. We used to live in good old Vegas but after 30+ yrs just could not handle that heat any longer ugh and the traffic was becoming something like a little L.A. so we are now up in beautiful Northern California where it's so nice and cool lol But we have these lil guys all year long too and I agree that they totally communicate with us. We noticed the same when cleaning their bottles how upset they would get so I leave one out at all times. We only have 2-3 out at a time though. We also have great big gorgeous Blue Stellar's Jay's omg these guys are amazing at communicating lol they will let you know loudly when their feeder is empty bless their hearts.
November 2, 2017
0

found this helpful
Thank you for your comment.
And we sure have almost walked the same paths-just sort of flip-flopped, in that I use to live in northern CA (Sacramento) then moved to Vegas about 20 years ago. And the hummingbirds
sure are as sweet as it gets, and so much fun to interact with.
And it sure is wonderful how they let us know when something
needs attended to, like a feeder, or the fountain turned on, and how they just become part of the family.