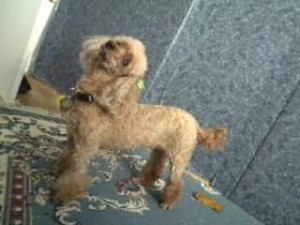 This is a picture of my dog, Minnie. I had to have her put to sleep on 6/1/2020. She was 18 years old and was my emotional support animal. I'm living below poverty, but I need another dog for my mental health. I have a letter from a psychiatrist saying that I need an emotional support animal. I need probably about $500 for a new ESA.
The average adoption fee for a dog over 1 year is at least $250. Sometimes they are $350, depending where you adopt/rescue them from. I also need to buy my dog food (I can't and won't go to a pet food pantry), flea medicine, heartworm medicine, plus new dog means new stuff; such as a new bed, treats, toys, a winter coat (I live in Buffalo, NY), a sweater for inbetween days, a rain coat and other stuff you need for a new dog. Some of my former dog's things can be used. I also need this $500 for additional food and future vet bills. I can only give my new dog the very basics, such as needed shots (rabies, kennel cough, distemper, etc.) I also would like to have my new dog's teeth cleaned at LEAST every other year.
I know about GoFundMe and I will set this up, but perhaps some of you here know where I can get funding for an emotional support animal. This is not just a pet, I need it for my mental health. Please keep in mind that ESAs are NOT service dogs or therapy dogs. Those kinds of dogs are trained to do specific tasks, such as alerting you to blood sugar lows, picking up a TV remote if you've dropped on the floor and you're in a wheelchair (I'm not) or if you are visually disabled. These dogs cost THOUSANDS for their training. I don't need this. I just need a new little dog like my Minnie 15 lbs or lighter, for emotional support. ESA are NOT considered pets. They are like a kind of therapy animal that doesn't need specialized training.
If any of you know of any association, charity or organization that could help me, I would appreciate it so much! It's almost winter here in Buffalo, NY, and now I will be isolated because of the weather as well as COVID. I have no "inner circle" of friends or family members who love me. Because of my mental illness, I can no longer work and am struggling to get on SSI/SSD. Yes, I do have a counselor and I go to a day program for the severely mentally ill once a week. I also have Zoom meetings for support, but they are not the same as a friend. I sometimes get suicidal and I fear for my safety sometimes. You don't/can't end your life if you have an animal to love and take care of and they love you back as well. If anyone knows anything, it would be greatly appreciated. This was hard for me to write.