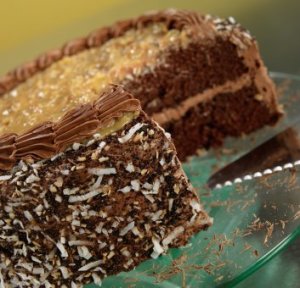 A cake with coconut and cream cheese filling on top. Very easy to prepare and carry anywhere. Cut the pieces small like you would chocolate fudge candy, because it is very rich.
Ingredients:
1 box of German Chocolate cake mix
1 - 4 oz stick of margarine or butter
2 eggs, at room temperature
1 - 8 oz. pkg. low fat cream cheese
3 cups confectioner's sugar
7 oz. coconut
1 egg
1 tsp. of coconut flavoring
1/2 tsp. vanilla flavoring
Directions:
Spray 9x13 inch pan or dish with PAM. Preheat oven to 350 degrees F.
Melt margarine/butter and mix with 2 eggs and cake mix. This will be thick to press into the bottom of the pan/dish. Be sure to cover bottom of dish.
Mix cream cheese, confectioner's sugar, and egg. Cream together.
Pour over the cake mix and level.
Place into oven and bake 30 to 35 minutes. This will be lightly brown on top.
Allow to cool before cutting. Spray knife with PAM and slice into small pieces. Enjoy!
Source: This my version of the Ooey Gooey Cake recipe that I received from a friend. I have tried different ways of fixing this but I like this one best. If you like mound candy bars, you will like this
By Marie G W. from Hardy, VA