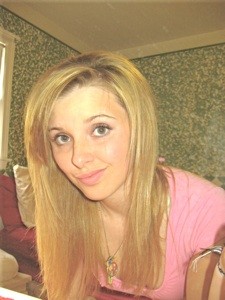 I have a cowlick in the front of my head and I can't get it to go down. Some nights I wear a head band or something while I sleep or I blow dry it down. But it either sticks up by the end of the day or it just doesn't go all the way down. I have tried hairspray and it doesn't work. Does anyone know what else I can try? Thank you.
By codie
Answers
June 26, 2009
0

found this helpful
I don't think you can do much except try to part your hair differently. I have a similar sort of thing in my hair as well and I just live with it.
June 26, 2009
0

found this helpful
This is what explanation I found on it, maybe it will help. You could wear headbands more often (cloth ones that will hold your hair down longer to tame it, honestly though, I think your hair and style looks nice. good luck.
en.wikipedia.org/.../Cowlick
June 27, 2009
0

found this helpful
That is not what I would call a cowlick. It is more how your hair is styled. If you don't like it change the hair style.
June 27, 2009
0

found this helpful
You can't get rid of a cow-lick, however, you can go to a good stylist and have them cut your hair so that it works with the cow-lick. Maybe they could cut the top so you would have bangs.
Sometimes if the hair is longer, the weight of the hair will hold down the cow-lick. I would at least start by asking a good hair stylist. Hope this information helps you.
June 27, 2009
0

found this helpful
My hair dresser told me that u can "train" your hair by blow drying it in the direction you want it to grow. I think you have to do it everyday for a while. I tried it on my daughter and it mostly worked but she's young and not crazy about the dryer. She was born with a cowlick right in the front just like yours. Hope this helps :-)
June 27, 2009
0

found this helpful
Personally, I think your hairline is wonderful and unique! Leave it be and wear it as a badge of individuality with honor! Your hairstyle is lovely! If you want a change, switch sides or even cut a few inches of length off.
I was a hairstylist for thirty years and I will tell you that if you cut bangs you're going to go crazy trying to tame that area because the bangs will separate and 'pop up' in that area and look goofy!
June 27, 2009
0

found this helpful
Codie -
I think your cowlick is darling - but maybe some time w/ a good stylist would convince you, too. Trust me, the more you fight it, the more it will take over your thoughts and distract you from the rest of life. I have always had curly hair and fought it for 30 of my 50+years - finally I gave in and now have people admiring my curls and wishing they had them too. I too, have a cowlick in front and use it to add height and keep hair off my forehead. Find a sytlist who will listen to you and work with you, ok?
Read More Answers
Does anyone have a remedy for cow licks? I have tried blow drying in the direction, gel, etc., but with no luck. Have you used a particular product and/or a technique that works? Thank you!
Smoochie
Answers
October 2, 2008
0

found this helpful
I don't know how old you are but if you're still fighting it you can't be very old! I've had mine for 57 years and 2 months and believe me, if it could be conquered I would have done it! I just have a hair style that incorporates it and try to be thankful I have HAIR! There was a time when I didn't!
October 2, 2008
0

found this helpful
My husband suggests Wahl's hair trimmer.
Seriously, I don't think there's anything you can do beyond shaving your head or cutting it very short. Maybe your hairdresser would have some suggestions/solutions. Good luck!
By Linda (Guest Post)
October 3, 2008
0

found this helpful
I've been a haircutter for many, many years. I also have two cowlicks in the bangs area. The best way to deal with a cowlick is to just let it go in the direction it grows. It's important to experiment and find out the best length to cut it.
Too short, and it sticks straight out. Too long, and it may throw in a few curls. Gently blow drying with a large brush will help to relax it as opposed to stying with a small or round brush. Finding the most manageable length, and gentle blow drying will be the most help.
By LYNDA (Guest Post)
October 4, 2008
0

found this helpful
It depends upon just where the cowlick is located and in what direction it is "tilted" or growing. If it's in the front hairline, you must search for your choices of hairstyles that would show it and work "with" the cowlick.
If it's at the crown, I'd do one of two things: 1) let the hair grow so long that the weight of the length would overpower the oddity of the misdirectional cowlick.
2) I'd try the shortest cut I could tolerate and taper in different shaggy lengths, which is very much in style now, depending upon your age.
If located at the nape, lowest part of your hairline, longer shoulder length hair will definitely cover it and show it who's boss. If located in some weird place on your head, you might try highlighting or tinting just the cowlick, depending upon your hair color, remembering that most anything chemical you do to your hair damages the hair and with a cowlick, it might help it to behave.
Don't over process it with a chemical or you could lose the hair at the scalp, although it will grow back. I've seen brain surgery patients and chemo patients shaved heads grow back hair differently than it was. Shaving just the cowlick is another option.
As a last resort, try home permanent waving just on the cowlick with a medium rod in the direction you want the hair to go. It will hold it's direction for about a month, since hair grows about 1/2" a mo. On avg.
Typically, cowlick hair is fine and unruly, but if yours is thick, it will be easier to find just the right solution to tame it. It can be done, believe me, even if it's baby fine.
Henna hair dye is an unusual natural plant-coating that takes a long time to be absorbed/coated by the hair (up to 12 hrs. Or more), but does no damage, the coating making the hair more manageable, regardless of thickness. There is little information about how best to apply henna, because, like all hair coloring, it's a science, but can be learned easier if it's your own hair and your own experience.
The best henna I have found is to purchase from an east Indian grocery in a small box. All henna is reddish orange, not black. But if sold as "black" there is something added to turn it black and is not pure. Be very careful when using "black" henna products since they truly stain.
God bless you. : )
October 5, 2008
0

found this helpful
Smoochie,
I agree with those that say you can't overcome it; however, I have a funny little tip that might help TAME it somewhat. My husband (who's 52 & has a double crown) remembers his grandmother's trick when he was "just a little fellow". He said she first combed his hair down the best she could, dampened the trouble spot with water, took a nylon hose (like pantyhose) & pulled it down over his head, then tied the excess hose in a knot on top. She made him sleep in it overnight. :) He said it really did help "train" his hair to lay down in place better by doing this for a couple of nights. I DO have fun teasing him about being traumatized as a little boy with his granny's nylon hose. :) Hey, whatever works, huh? Good luck with your cow lick!
Leah
By Kenny (Guest Post)
October 14, 2008
0

found this helpful
Yeah, I have struggled for this for years, and I think it is one of the curses that you are just born with! Mine is in the front, so I can never have bangs. What I like to do, which kind of goes along with the nylon idea, is use a cloth head band right where the cowlick is. Style your hair how you like( best when damp), putting the cowlick in the direction you want it to go, and then put the head band down. The thicker, tighter headbands work best. You might even want to throw some hair gel or spray on the troubled area. Wear the headband for like 30 minutes or until dry. brush over the area because the gel might make it crispy. Also, I sometimes put a hat on while I am driving to work or school to flatten it out some more. Again, a tighter hat works best. It definitely sucks that I go to these extremes, but I really like the long, sweeping bangs look, and this is the only way to achieve it!
By Mary (Guest Post)
October 15, 2008
0

found this helpful
I have one in my bangs area, right side of my face. It is a thick, obstinate thing and sticks straight up in its own little "ponytail." This is what I do: flatten it to my head, make it lay the same direction as the rest of the bangs. Then I spray it down with a little hairspray and hold my hand down on it with pressure it until it dries -- hairspray dries quickly. That usually takes care of it. My theory is, the more special the occasion, the worse your cowlick will behave!
By (Guest Post)
December 6, 2008
0

found this helpful
I have found that using a hair straightner works. It isn't permanet but, it helps for the time being.
By juan (Guest Post)
February 2, 2009
0

found this helpful
I see cow licks and I have one. It's in the bang area around the hairline area too. I find that most cow licks are in the hairline area.first take a shower , dry the other parts except the cow lick. Get a nylon put it on and then get a headband also put it in the cow lick. You can sleep with it on. by the next day the cowlick will be down. After you take it off put a lot of hair spray on it. It'll stay down.
Read More Answers