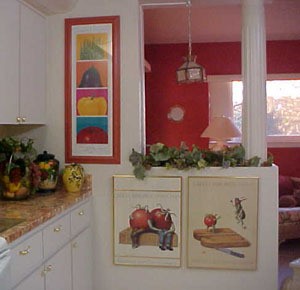 You don't always have to hang your pictures at eye level. I have two "half walls" separating my kitchen from my family room. These two little walls needed something to jazz them up so I hung two of my 'Gregg Brown' prints on the short walls and and long/narrow print on the tall wall. All of the prints have basically the same theme which is fruits and vegetables and coordinate very well together in my kitchen.

Picture frames are cheap. If you go to thrift stores and garage sales you can pick them up for next to nothing. I then take the print that came with the used frame out and paint the frame to coordinate with my color scheme and add my own prints to decorate my home.
By Florida Gal from Spring Hill, FL
November 7, 2004
2

found this helpful
Having trouble hanging pictures when you have the hooks on the back? Here is a solution, take a piece of tape (masking or scotch tape) and stick it to the pack of the picture. Now put a pencil mark on the tape where you need to put your nail or screw. Now take the tape off of the back of the picture, and put your tape on the wall and you have your marks, put nail or screws in and your ready to hang your picture remove your tape. You can put a level on top of tape to make sure it is level or you can just eye ball it.

By Sassy
Accurate Hanging of Framed Art and Photos. I have used this tip many times to organize framed art before putting nail holes in your wall. First, trace around you frames on kraft paper to make a template for each picture or other piece you want to hang, then cut it out. . .
Read More...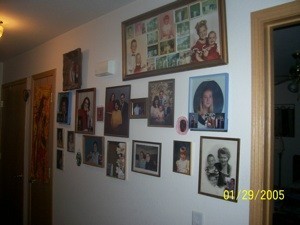 I have different sizes and kinds of frames on my hallway wall and would like to change it. I'm not sure how to go about doing it. Any suggestions? Thank you.
Donita from Loveland, CO
Answers
November 28, 2008
0

found this helpful
I have a hallway that I use only black frames. Most of them I have bought at garage sales or thrift stores and have painted them black.
Maybe some of the smaller pictures...I would put in a collage frame. I would also trace along all the frames that I did want to use with newspaper or old gift wrap and tape the paper on the wall to see what arrangement I liked best before I put anymore nails into the wall.
By Harry (Guest Post)
November 29, 2008
0

found this helpful
Why not arrange the pictures on the floor to a pattern that you like and then rehang them on the wall?
November 30, 2008
0

found this helpful
Arranging on the floor is great If you are good at knowing where to put the nails, once you hung your first picture...go for it. I just think it is so much easier to trace along your frame and hang the paper first.
I did that with a small collage that I hung and I got the nail right the first time. It was also easier for me to visualize. Love this site for all the ideas!
November 30, 2008
0

found this helpful
Would it look better if all pictures were in the same kind/color of frame? Arraigning them on the floor first is a good idea! Thanks for all the input. I'm still thinking about what to do.
Thanks again!
By Sandy (Guest Post)
December 1, 2008
0

found this helpful
You need some kind of uniformity, whether it be all black frames or all gold etc. They don't have to be exactly the same or even new. You can even buy from garage sale and spray paint, I like those new textured spray paints like the fleck stone or rust is really nice.
I like hanging my kids art. The frames in the photo, I bought from the cheap frame art section at Big Lots and Dollar Store, I took out the art in them and put in my kids art. I didnt stress about the frame sizes as some of the photos that didn't fit exactly, I take them to Office store and they color copy and resize for about a dollar.
By harry (Guest Post)
December 1, 2008
0

found this helpful
One time I hung about 12 pictures using the same size frame and style. it was the most ugly creation.
When ever I visit someones home and they have pics on the wall they are of different style and shape frames. The way they are arranged I found most attractive. Maybe if you visited a frame shop at the mall and talked to associate it would give you some ideas.
December 1, 2008
0

found this helpful
No rhyme to your reason is always a plus for hallway pics! Even one at knee level can be fun. Four small frames equal a larger one, or maybe use round frames in bright colors on a neutral wall to mimic the look of a garden flower.
December 3, 2008
0

found this helpful
You could think about moving some of these photos to other places in your home and bringing in other photos or items to mix in among your photo arrangement. You could include plaques, decorative plates, and other decorations to hang on the wall amongst your photos. The only limits are your imagination!
Also, you could do several different groupings with some space in between, instead of one large group taking up the entire hallway.
December 3, 2008
0

found this helpful
How about pencil a straight line across the wall and line up the tops of the larger frames with that line? Then draw another line across the wall underneath the large frames and line up the tops of the smaller frames with that line. Also don't stick little additional pictures in the corner of frames , that always looks messy.
The large framed collage does not really fit with the rest of the pictures and perhaps you could hang it by itself on another wall. Just my opinion :-)
Answer

this Question

...
We have so much trouble keeping framed pictures hanging "straight" on the wall. We have tried the little sticky nubs on the wall and on the backs of the frames with no luck. The pictures still tend to move and look all askew. Any ideas would be appreciated!
By Connie Eiceman from Naples, FL
Answers
December 16, 2010
0

found this helpful
I don't know what "sticky nubs" are in reference too, but have you tried the velcro tabs in the sewing dept. at WalMart? They stick on the wall and on the frame as long as you mount both to match up. You can add several along the wall and frame and they are hidden from view and hold well.
December 18, 2010
0

found this helpful
You can get brads so small it's almost not a nail. Get the photo straight, dot the corner (of the way it usually goes) with a pencil, take the photo down and put that little brad in so just enough sticks out to stop the frame from tilting. No one can see it and your photos won't budge.
Good luck!!
December 18, 2010
0

found this helpful
When this happens it is sometimes caused by vibrations in the wall that you can't change. By hanging your pictures from two hooks instead of one. Put a hook on either side of the frame.
December 18, 2010
0

found this helpful
I too have had the same frustration! I tried sticky things and all too with no luck. However, I just purchased some 3M sticky squares (the foam ones that are double sided) and used those. So far I'm going on two weeks with the pictures hanging nicely!
December 18, 2010
0

found this helpful
Use a couple of clear pushpins right alongside the picture frame.
December 18, 2010
0

found this helpful
I use a small level. Then mark your spot.
December 18, 2010
0

found this helpful
Used to be a product called blue tacky ( but now have seen it also in yellow) that worked well to keep pics straight. A small bit behind the pic and they will not move!
January 5, 2013
0

found this helpful
Their is a product called anchor points small tack with a sticky back , you stick to picture and no more moving see attached link
http://www.utrd video=ap_vid.flv
Answer

this Question

...