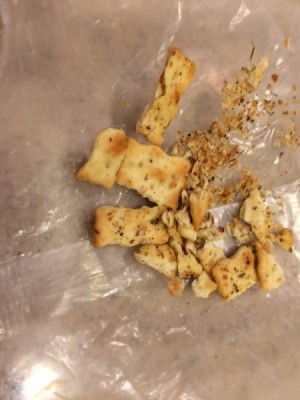 I did part of my student teaching in a nursery school. One of the high points of the day for the children was snack time. Whether the snack was cookies, crackers, or pretzels, students got so excited, unless the item was broken. No child wanted the broken snack. Most teachers just discarded the broken snacks, except the teacher who mentored me. She saved all the broken snacks until she had enough for a Crumb Party. Instead of one item being offered, children got a little of everything. The portions were usually larger as well. The students couldn't wait for the next Crumb Party. I always admired that teacher, not just for her frugality, but for her creativity and ability to turn a negative into a positive.
I then remembered the summer I turned 6. We were living just a few months in our house, and the air conditioning broke in my sister's and my bedroom. The temperature was 102 degrees F, and it was too hot for us to get any kind of quality sleep. My parents moved our bedding onto the floor in their bedroom, which also had an air conditioner, and we had a sleepover until the heat subsided. My sister and I still remember those nights as being so much fun. My parents never let on that finances were tight, and the last thing they needed was to replace the air conditioner.
These two events made me realize that our attitude, not our circumstances, determines whether we are satisfied with what we have. The greatest gift we can give our children is contentment. Most children would rather have three like-new outfits or toys from a garage sale or thrift shop than one brand-new item. As long as food is tasty, most children will happily eat at home rather than in a restaurant.
Life can be a pity party, or a crumb party. Which one will you choose?