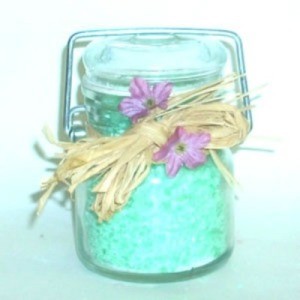 These quick bath salts are easy to make and even easier to customize. The Epsom salt soothes your body while the fragrances sooth your nerves.
Approximate Time: 5 minutes
Supplies:
1 cup Epsom Salt
2 drops Sage Essential Oil
1 drop Peppermint Essential Oil
2 small drops Green Food Coloring
2 tsp. Mineral or Olive Oil
Sturdy Ziploc Plastic Bag
Instructions:
Open your plastic Ziploc bag and let air into it, so that the plastic isn't sticking together. Tilt the bag so one bottom corner is lower than the other. Stick your hand into the bag and add the essential oils, food coloring, and oil to the lower corner. Slowly lift the bottom corner of the bag so that both corners are even.. Let the liquid mix and cover the bottom on the bag.
Now pour your Epsom salt into the bag. Squeeze out most of the air and zip the bag closed securely. Shake, massage, and flip the bag until the salt is a uniform color. This means the oils, scents, and color has been mixed evenly across the salt, as shown in the "Mixed" picture.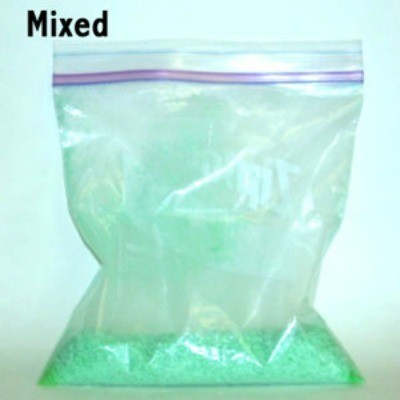 Once everything is mixed, dump the salt into some sort of pretty container, anything can work as long as it has a lid.
Close the container and add a ribbon or decoration to make it extra pretty, as shown in the finished project picture. Now your salts are ready to enjoy or give away as a gift.
Notes:
The salts should make enough for 1-4 uses, depending on the person and size of bathtub. If you want to make a large jar, simply double the recipe. If you want to try the salts, but need something on the more relaxing side, skip the sage, peppermint and green food coloring. Use lavender, jasmine and purple food coloring instead.
Using the extra mineral or olive oil isn't a must, and you can skip it if you want. However, the oil helps distribute the color and scent evenly into the salt, and adds a little boost of moisture to the overall product. This is great for people who love the soothing nature of bath salts, but have problems with dry skin. If the dry skin problem is major, use more of the mineral or olive oil to compensate.
By Aysha from Boise, Idaho
Comments
By Jennifer (Guest Post)
September 8, 2008
0

found this helpful
Go from tired and stressed out to rested and beautiful with a relaxing bath, an exfoliating skin treatment, a gentle face mask and more.
Five Relaxing Ways to Use Epsom Salt
1. For a relaxing soak: Add two cups of Epsom Salt to the water in a standard-sized bathtub; soak for at least 12 minutes, three times weekly. For an extra treat, add a few drops of eucalyptus oil for a refreshing scent.
2. To exfoliate: Mix 2 cups of Epsom Salt with 1/4 cup of petroleum jelly and a few drops of lavender essential oil. Use the mixture to gently scrub away dry skin patches.
3. Facial: Mix 1/2 TSP of Epsom Salt into cleansing cream for a deep-pore cleansing. Massage on skin. Rinse with cool water. Pat dry.
4. Spa treatment: After showering, massage handfuls of Epsom Salt over wet skin to exfoliate the body. It's the same treatment many upscale spas use, without the upscale price!
5. Bath crystals: Mix two cups of Epsom Salt with a few drops of fragrance to create a custom bath crystal. Add a few drops of food coloring or 1/2 TSP of glycerin if you like. Store in an air-tight container.
Epsom Salt - actually magnesium sulfate - is one of the best-kept secrets in beauty and stress relief. It's perfect for those seeking a naturally occurring health product that's easy to use, easy to afford and easy to find. Epsom Salt can be bought for pennies a pound from your local grocer, hardware or drugstore.
By pat (Guest Post)
September 8, 2008
0

found this helpful
I love this idea, especially with Christmas coming up. I've read a lot of different craft recipes utilizing 'essential oils'. Where does one find them? And what is the average cost? Can one use food flavoring-like vanilla or almond, for example- instead?
September 8, 2008
1

found this helpful
I wouldn't use vanilla or almond extract from the store for this. The only essential oils that I buy are Therapeutic Grade (meaning they can be ingested, unlike most others). Essential oils are pricey, but you get what you pay for.
I will definitely try this recipe for this holiday season!
September 9, 2008
0

found this helpful
Essential oils can be found at health food, nature, craft, and perfume supply stores. They are a more expensive kind of scent. For a cheaper, but less powerful choice, you can use fragrant oils. They can be found at the same place as essential oils.
You want to avoid using flavor extracts meant for cooking, they aren't as strong, focus more an taste than scent, and can often contain things like sugar since they're meant for cooking.
Read More Comments