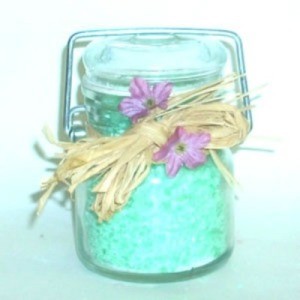 These quick bath salts are easy to make and even easier to customize. The Epsom salt soothes your body while the fragrances sooth your nerves.
Approximate Time: 5 minutes
Supplies:
1 cup Epsom Salt
2 drops Sage Essential Oil
1 drop Peppermint Essential Oil
2 small drops Green Food Coloring
2 tsp. Mineral or Olive Oil
Sturdy Ziploc Plastic Bag
Instructions:
Open your plastic Ziploc bag and let air into it, so that the plastic isn't sticking together. Tilt the bag so one bottom corner is lower than the other. Stick your hand into the bag and add the essential oils, food coloring, and oil to the lower corner. Slowly lift the bottom corner of the bag so that both corners are even.. Let the liquid mix and cover the bottom on the bag.
Now pour your Epsom salt into the bag. Squeeze out most of the air and zip the bag closed securely. Shake, massage, and flip the bag until the salt is a uniform color. This means the oils, scents, and color has been mixed evenly across the salt, as shown in the "Mixed" picture.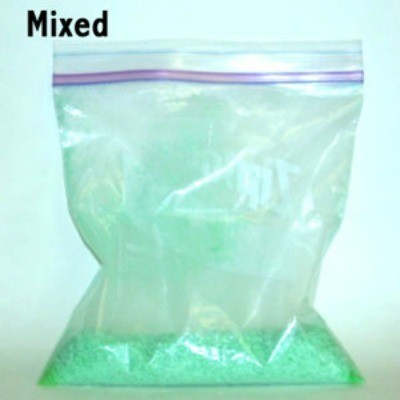 Once everything is mixed, dump the salt into some sort of pretty container, anything can work as long as it has a lid. Close the container and add a ribbon or decoration to make it extra pretty, as shown in the finished project picture. Now your salts are ready to enjoy or give away as a gift.
Notes:
The salts should make enough for 1-4 uses, depending on the person and size of bathtub. If you want to make a large jar, simply double the recipe. If you want to try the salts, but need something on the more relaxing side, skip the sage, peppermint and green food coloring. Use lavender, jasmine and purple food coloring instead.
Using the extra mineral or olive oil isn't a must, and you can skip it if you want. However, the oil helps distribute the color and scent evenly into the salt, and adds a little boost of moisture to the overall product. This is great for people who love the soothing nature of bath salts, but have problems with dry skin. If the dry skin problem is major, use more of the mineral or olive oil to compensate.
By Aysha from Boise, Idaho
Comments
Read More

Comments