Identifying Insect Eggs?
Found these cluster of about 100 small white squishy eggs just under the surface of some soil around my garden when I was weeding and haven't seen anything quite like them before. I currently live in Southern California in Riverside and over the past week we have had an unusual amount of rain. They weren't far down underneath the soil at all, only about two inches or three maybe max. They were in a cluster of about a 100 or so and were actually white more so than yellow as they look in my pictures that my camera wouldn't pick up. Like pure white not an off white at all.
I don't have any mushrooms on my property or any fungus or anything like that, and I did pop a couple just to see and fluid gushed out, but nothing else that I could see was inside. My boyfriend then torched them because he also had no idea what they could be and he said they smelt really awful after being torched. Any ideas as to what they could belong too? Should I be concerned?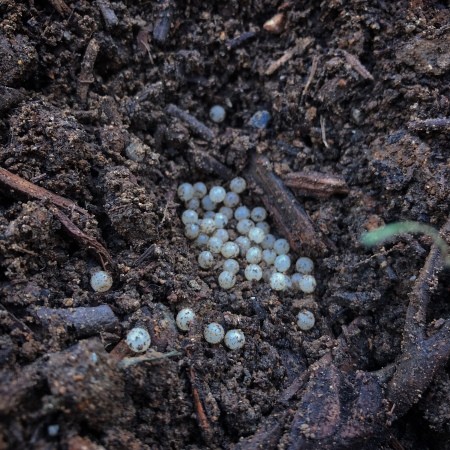 Add your voice! Click below to answer. ThriftyFun is powered by your wisdom!
April 9, 2020
0

found this helpful
At first I tought they were a garden snake eggs but then looked them up and snake eggs are not this shape or size. Then I checked on lizards and the eggs are the perfect size shape and color for lizard eggs. I do find a lot of lizard eggs around my home and yes when you do pop them they really stink. I would just dig them up and get rid of them if I were you.
Other than this you will have a lot of them running around your yard. I'm adding a link here to spider egg sacks because the more I look at the spider egg sacks the more I think these could be from a spider. Check out this link I know their are either lizard or maybe spider but they are not a snake for sure.
www.terminix.com/.../
April 12, 2020
0

found this helpful
These are Gecko Eggs- they are round and oval (depending on the species). Initially somewhat soft, hardening within the first few days of being laid. Many eggs grow bigger!
Add your voice! Click below to answer. ThriftyFun is powered by your wisdom!
Advertisement