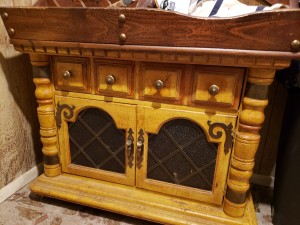 I've had this piece of furniture in my home for over a decade and I don't even know what it's officially called; a cabinet? serving buffet? dry sink? side bar? Any information about it would be greatly appreciated, I can't find identifying marks anywhere on/inside the cabinet and online searches haven't been helpful at all. When I purchased it the seller said it's antique in original condition with original brass hardware and glass inlets. I don't know enough to decide whether I should keep sell or trash it.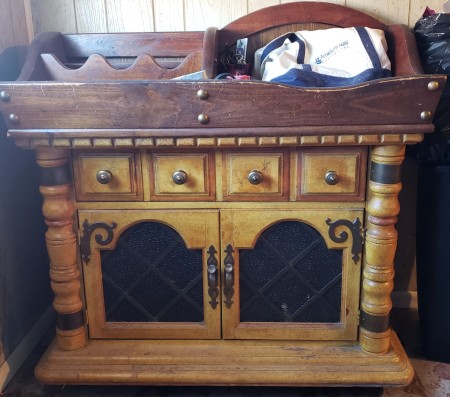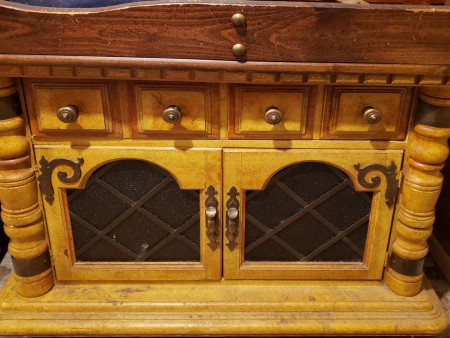 Answers

Pghgirl40
Bronze Feedback Medal for All Time! 196 Feedbacks
February 16, 2022
0

found this helpful
Best Answer
It appears to be a dry sink that someone has possibly stripped the top because the two woods are significantly different or appear so from the photos.
I found this one that looks almost exactly like yours and you can see the wood is consistent:
thriftstoredecorjunky.blogspot.com/.../hello-there-fellow-bloggers-hope...
She gives a little history of what she was told, which I agree with--based on pictures. I would never confirm something without seeing it person--because there is a lot that goes into dating furniture.
I were to speculate from the pictures, the hardware looks like 1960s-1980s. I know the 80s had a dry sink "come back" when the country look was big, so I lean to that...but again, from a photo, I can't tell a lot.
As to value--it depends on where you are how much you could get for it. I am always of the mind to start high--so $300-400 and take best offer, which you may be sad when it is only $25-50. Furniture resale is supply and demand based and regional so what may fetch 1000 in some places may fetch 25 in another. Just the nature of the resale world especially with something like furniture that can't just be wrapped up and shipped.
Post back how your sale goes! Thanks for sharing

February 20, 2022
0

found this helpful
Best Answer
I found an identical looking Vintage Dry Sink that was sold on 15th Apr 2018 on ebth www.lot-art.com/.../18cin189m104-vintage_dry_sink-15...
This is a circa mid-20th century vintage dry sink.
It has an unpainted pine top, and a yellow painted base. The top is partitioned into two sections, with a bottle holder to the left side. The body of the piece features one drawer with dovetail joints, and double doors with yellow tinted glass panes, with brass hardware to the drawer as well as the doors. The piece rolls on casters, and has no maker's mark.
I didn't find any difference between your dry sink and the one I found, only the fibers of the unpainted wood are different and your dry sink is in slightly worse condition. You have a beautiful model, but the price depends on where you will sell it.
Vintage Hitchcock Stenciled Maple & Antique Yellow Dry Sink Storage Cabinet sold for $ 895 at chairish.com 
www.chairish.com/.../vintage-hitchcock-stenciled-maple...
Tell City "Young Republic" Maple Dry Sink Style Server sold for $ 110.

Judy
Gold Post Medal for All Time! 677 Posts
February 15, 2022
0

found this helpful
This looks like a server. The area to the left looks like it could hold wine bottles.

CDC
Bronze Tip Medal for All Time! 59 Tips
February 16, 2022
0

found this helpful
Yours is much more detailed and has the added slots for bottles...but this one is somewhat similar in style to your cabinet & is listed for $1395:
www.etsy.com/.../primitive-dovetailed-dry-sink-carved...
'70s dry sink that sold for $190:
www.aptdeco.com/.../stuart-furniture-1970s-vintage-temple...
You'll probably want to have it professionally appraised:
antiques.lovetoknow.com/Free_Antique_Appraisal
whatsellsbest.com/faq.html
www.justanswer.com/

Ana
Bronze Post Medal for All Time! 140 Posts
February 19, 2022
0

found this helpful
It is a Oak Wine/Bar console. This piece is made well and made to last. There are owners that are painting the piece to make it look more cohesive to fit in more different types of decor. You can sell as is or paint.There is not another that I can find, that is identical to your piece.
Maybe this link can help, or take your photo to your local vintage furniture/antique store for more answers.
https://www.askantiqueexperts.com
Answer

this Question