Can anyone tell me the brand or anything about this wallpaper? We need to replace a wall of it, and the previous homeowners (who have passed away) put it up.
We just love it and need to order more!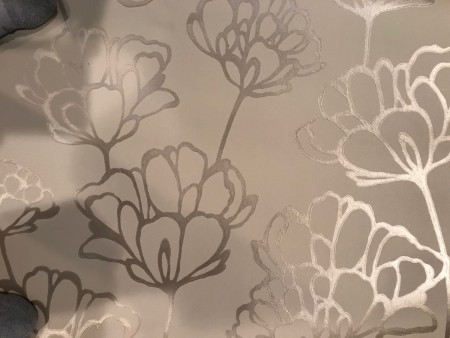 Answers

15mhhm15
Diamond Post Medal for All Time! 1,298 Posts
September 27, 2018
0

found this helpful
Best Answer
Very beautiful.
It will be a long shot if there isn't any wall paper information laying around. Any left over wall paper anywhere in the home?
The wall paper looks to be metallic? If you know the flower name, I would type on google like Metallic Wallpaper Flower, and it'll be a lot of browsing to look through though.
Example reminds me of: www.decoratingcentreonline.co.uk/lotus-flower-metallic-wallpaper-rose...
www.decoratingcentreonline.co.uk/fine-decor-quartz-tree-wallpaper...
I wonder if you can bring it into a wallpaper specialist to see if they have an idea.
Sorry! But I hope you have luck in finding the name of the wall paper, its beautiful! :)

Pghgirl40
Bronze Feedback Medal for All Time! 196 Feedbacks
September 28, 2018
0

found this helpful
Best Answer
It is really pretty! Maybe someone at this wall paper site can help you:
www.wallcoveringinstallers.org/
It is a huge challenge to identify old papers. There have just been so many and many that are similar by different companies.
One person I know had to give up and just kept the paper one wall in a room a (they had some damage to the paper on other walls) and ended up stripping the damaged walls and painting in a coordinating color. It looks lovely and actually looks like they planned it that way.
Another gal went mix and match with a similar paper...you have to look really close to know the walls don't match...the wallpaper shop helped her find something really close and it looks good.

September 29, 2018
0

found this helpful
Best Answer
I like Pghgirl's suggestions and this may be how you will have to proceed as finding a vintage wallpaper WITH a name or/and brand is very difficult so it may be a very, very long shot to finding even a brand or name for this one.
I'm assuming you also have no idea when (year) it might have been put up - maybe when the house was new? Even a year may be a beginning.
A very long shot might be to look up wallpaper brands; find their offices on the Internet and send a photo to each asking if this happens to be one of their vintage wallpapers.
Sorry but this is all that I can think of at this time.
Answer

this Question

I'm trying to locate where I can find more of this wallpaper. I used it about 10 years ago and would like to use again in a bathroom.
It's a reproduction wallpaper. Need the pattern name and manufacturer. Thanks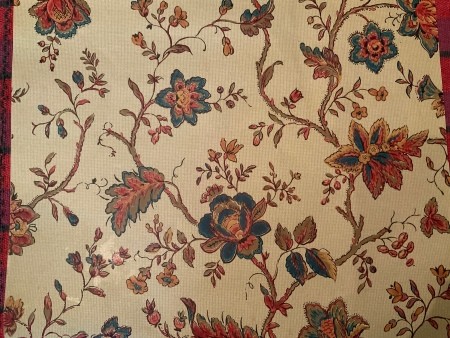 Answers

September 17, 2022
0

found this helpful
Best Answer
This is an almost impossible task to research as there is nothing available but a picture. Maybe someone will recognize the pattern, but very doubtful.
Do you have even a loose piece of the wallpaper?
If not, do you have pictures that actually have the same colors as the wallpaper? This is very important.
If you have either of these, you could make the rounds of your local wallpaper stores and ask for help.
Some of these stores have owners/employees that have been in the business for many years and they may recognize the pattern. They may ask you questions about the paper such as: year used - type of paper - pasted? - textured? - smooth? etc.
You can use Google to find a list of wallpaper outlets in your area; Google/your area code.
www.thriftyfun.com/Finding-Unidentified-Wallpaper-1...
www.thriftyfun.com/Identifying-Wallpaper-5.html

September 20, 2022
0

found this helpful
Best Answer
I think this is Thomas Strahan Colonial Reproduction Wallpaper.
The Thomas Strahan Company began printing wallpapers in the Chelsea neighborhood of Boston in the 1880s. They specialized in recreational historical designs. Unfortunately their historic atelier has been demolished and most of their rollers have been destroyed.
There is a site www.thomasstrahan.com/
They offer a collection of curated wallpapers drawn from the Thomas Strahan archives.
Examples of Thomas Strahan Reproduction Wallpaper:
at $37.50
www.ebay.com/.../350583208675
at $59.99
www.ebay.com/.../351760244833
They have archives of the Thomas Strahan Company
"Many of these patterns can be purchased as a custom order upon request. All designs are copyright Thomas Strahan/Waterhouse Wallhangings and may not be reproduced." www.thomasstrahan.com/archives
Answer

this Question

Can anybody identify this wallpaper? I think it could be Anaglypta, but don't know the pattern name. I am trying to find it as I need a couple of rolls because we've had a leak.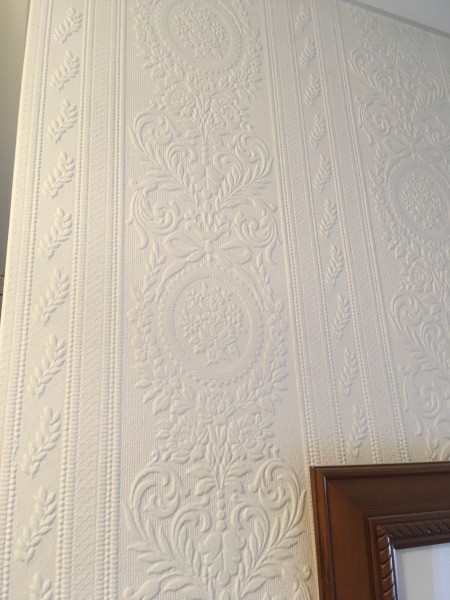 Answers

May 16, 2019
0

found this helpful
Best Answer
Trying to identify a brand name and pattern from a picture is really difficult but even with this information you may have a very hard time finding a roll if it has been discontinued for a long time.
Wallpaper outlets that have long standing employees/owners are usually helpful but I would be sure to have several pictures just in case one is more clear than another.
Since you say you have had water damage, would it be possible to take a piece of the wallpaper to the stores since the texture will be one of the identifying features? This may be a big help with the identification process.
If you find out the brand and hopefully the pattern name, be sure to return and maybe someone can help you find what you need.
ThriftyFun receives a lot of requests for helping find discontinued wallpaper so maybe it would help to read past questions/answers.
www.thriftyfun.com/How-Can-I-Find-Discontinued-Wallpaper...
Answer

this Question

I am looking to purchase this border paper for my mom. A recent flood ruined what she had. It's sentimental to her as she and my dad had pickled it out back around 2000.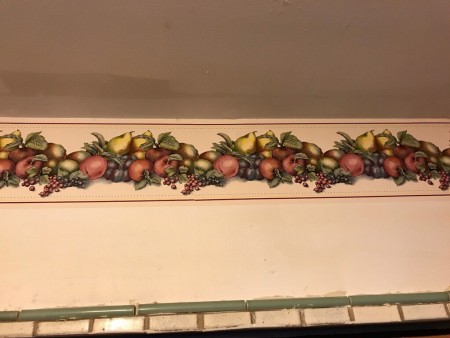 Answers
January 10, 2021
0

found this helpful
I needed to replace part of my border and found it on Walmarts website.

January 10, 2021
0

found this helpful
Do you know who manufactured it? If not, go to an established wallpaper store and see if you can find out.
There are sites on the internet that sell discontinued wallpaper. You can also look on eBay. If it is not there, you can put in an alert, and you will be notified if it comes up.
Good luck!

January 10, 2021
0

found this helpful
Trying to find wallpaper/border that was made in 2000 without a brand name will not be an easy job for anyone.
I would suggest you take your picture (a piece of the wallpaper would be good also) to every outlet that is available in your area to see if they can help you identify the brand. If you have a piece of the wallpaper/border they can sometimes tell the brand by the paper.
I'm afraid that without a brand name you are kinda 'lost in the water' so to speak.
You might try using several of the reverse image sites to see if anything turns up. There are several available and very easy to use.
You might try discussing this with your Mom to see if she remembers anything about where the store was located when they made the purchase.
Read More

Answers