October 18, 2019
0

found this helpful
Can you please show her feet? A side view of how the arms are attached and tell me how tall she is?
Is that top part leather? Plastic? Fabric?
Looking forward to helping when I know more. Thanks!!
October 21, 2019
0

found this helpful
So she is approx. 12-13 inches. Sorry I cant be more accurate, my boss actually asked me to do this and I currently working from an office with only a ruler to measure with.
That top beige part along her shoulders and collarbone? I believe it is some kind of fabric, attached with something sticky, as it does not come off.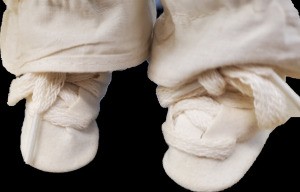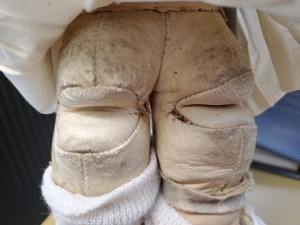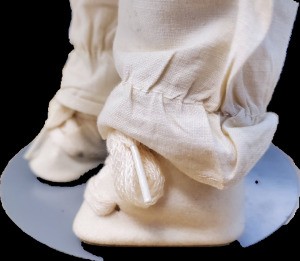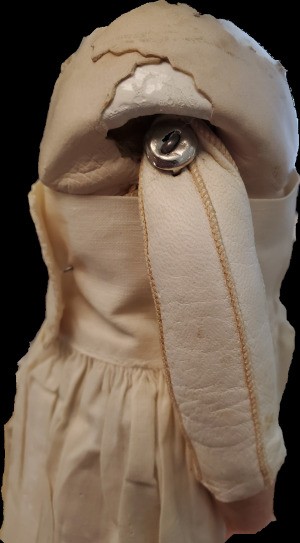 October 19, 2019
0

found this helpful
This doll look rather old and could be worth a great deal of money. I would take the doll to an antique dealer or even an auction house to have it looked at.
They have experts there and could help you learn more about the doll and the value of the doll.
October 21, 2019
0

found this helpful
Thanks so much for the additional photos (perfect) and info.
So what I think you have is a German Blond Hertwig Lowbrow doll. She does not look all original (the original did not--to my knowledge--have the metal piece holding the arm on.)
It also appears her hand is missing fingers and there are stains on the arm, all of these will affect value if your boss is wanting to sell her.
If she is a true Hertwig (there were kit dolls of these but they did not have the leathery materials yours has--at least none of the kits I ever saw did...most were just muslin bodies) and if she was pristine, I have seen these fetch $200-$500 in eBay and other site sales. It is all about supply and demand when things sell, so when there are few for sale, they fetch more.
Since she may be a valuable doll, but has a lot of what I call serious things--repairs, breaks, stains), that your boss take her to a reputable antique dealer so he/she can validate what you have and can look at the condition in person and decide how much it will take away from a selling value (if that is the avenue that is planned).
I have been studying this particular style of German dolls for about a year now. I am not an expert and I am not certified to give appraisals. I am giving you suggestions based on my studies and my knowledge of the resale market--IF this is what you have. There is a chance she is a "kit doll" but too many markers line up for her being real--at least in all of my studies.
Please post back with how it all goes.