Kenmore Washer Not Spinning Out All the Water?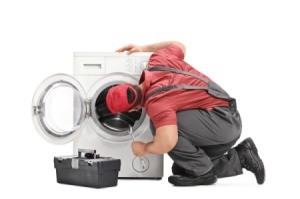 My Kenmore 70 series spins, but does not get all the water out. I took the pump out to make sure it was clean and it works great! Maybe it doesn't spin fast enough? Can you help?
By Mike
Answers
January 1, 2015
1

found this helpful
Best Answer
You can check Kenmore online for customer service, request an evaluation by a repair service, etc.
January 3, 2015
0

found this helpful
Best Answer
My washer was doing that. The round object in the washer that pulses to get the clothes clean was not working properly. It finally stopped working altogether. When I pulled my clothes out of the washer that came out too. It was easily fixed by my husband but you have to order the parts from the company to do so. There was a round plastic washer about the size of a canning jar ring that had broken. If you can lift it out you can see but mine didn't come out until it was completely broken into. That is how I know what the problem is. Good Luck
Answer

this Question
4 More Questions
Ask a QuestionHere are the questions asked by community members. Read on to see the answers provided by the ThriftyFun community or ask a new question.
I have a Kenmore top loading washer, make/model 2125110. It's an automatic load sensing washer. The problem I'm having is with the spin cycle. The washer goes through the sensing, washing, and rinsing. When it comes to the spin cycle it seems like it is not completing it all the way. The clothes will still be very wet, but the washer is not filled with water.
I am using the HE detergent, not overfilling it and trying to even out the load. If I run a separate spin cycle alone it will get the remaining water out of the clothes and a lot of the time I don't have to rearrange the wet clothes. It only seems to not be spinning all the way on a normal cycle. Any help will be appreciated. Thank you.
Answers
April 1, 2016
0

found this helpful
Best Answer
How old is your machine? If it is a few years old, this is a common problem. If I were you, I'd just run a separate spin cycle, until it gives up the ghost entirely. Then I'd call a repair person. On my Kenmore, fixing the spin cycle was an easy and relatively inexpensive fix. I had it fixed about 4 years ago, and it is now 16 years old. (ps. It is not a belt. There are no belts in the machines now, that I could see when I watched the repairperson do his work.)
August 22, 2016
0

found this helpful
Best Answer
If the washer has a drain pump, check the pump trap. Sometimes that keeps the water from draining during spin cycles.
Answer

this Question
My Kenmore Elite top loader leaves my clothes still wet. How can I fix this?
Answers
March 31, 2020
0

found this helpful
Best Answer
When I had a washer with this issue it was the timer ...it was skipping through the spin cycle and the clothes were soaked. It took 3 tries to get it fixed and it never worked right. I would have to manually move it to the start of the spin cycle to get it to work.
I finally scrapped it and got a new one.
I hope you have decent repair people where you are! I was disappointed by the ones where I am.
Answer

this Question
I have a Kenmore front loader that is not quite 10 years old. If there are too many heavy items like jeans and towels it doesn't spin at the end properly so not all the water drains completely and the door will remain locked.
I will then put it on a rinse and spin cycle and then it's fine. A lighter load it seems to be fine. Why would it spin sometimes and not others?
Answers
July 13, 2018
1

found this helpful
It sounds like the tub is not balanced or has belt that shifted. You can contact their customer services department to get their feedback since they are the experts:
www.kenmore.com/.../
Just a word from the been there/done that and failed...Unless you are super handy, I leave those kind of jobs to the pros.
I ended up having a much bigger repair bill on a washer by trying a DYI job than I would have if I would have just called from the beginning. I think that is how I learned the true meaning of penny wise and pound foolish :(
Now I know! Good luck!! Hope it is an easy fix!
July 13, 2018
0

found this helpful
Make sure the load is balanced. This is especially important with heavy loads
July 16, 2018
0

found this helpful
Sounds like a service call is in order. It could be the timing belt, which is not a huge fix, but one best left to the pros. Hope you get it resolved quickly!
Answer

this Question
My washer is a Kenmore purchased circa 2001. It does some loads perfectly and with others it is starting to not wring the clothes out fully in the final spin. If I set it to spin again, it works fine and I can move on to the next load. I know the washer is older, but this can be fixed right?
Answers
November 11, 2018
0

found this helpful
You probably have a loose belt. It can be fixed.
November 12, 2018
0

found this helpful
Have a pro check it out and decide. When mine started doing this (it was a whirlpool, the fix was as expensive as a down payment on a new one.
With Sears money issues, you may need to find a general washer repair person in your area, vs. getting the company services. Be sure to get references from friends so you can be confident in both the price and the person's abilities.
Answer

this Question
Categories
Pages
More
Categories
Published by ThriftyFun.
© 1997-2020 by Cumuli, Inc. All Rights Reserved.
https://www.thriftyfun.com/Kenmore-Washer-Not-Spinning-Out-All-the-Water-1.html