I have an Uba Tuba granite countertop, medium oak cupboards, dirty red brick backsplash, sage and light beige walls. There is not a lot of natural light. Should I stick with a light beige floor?
By Monica
Answers
March 30, 2011
0

found this helpful
Use a light beige a few shades lighter than the walls.
April 4, 2011
0

found this helpful
Go to the local tile store. Do you have a "Floor and Decor?' Buy a few samples of flooring that you like. If you like your kitchen colors, then buy about 1 box of each of the colors you just love. Take them home, lay them out so you can test the colors. Leave them until the next morning. When you wake up, you will get a feeling. If you think "well it isn't quite right, take them back. I recommend always, when you first see the flooring, when you wake up and you immediately say "I love it," those are the ones. Don't stop looking until you get that feeling, or you will be sorry.
Answer

this Question

...
October 25, 2006
0

found this helpful
I want a new floor in tile and a laminate countertop. I have white cabinets and will paint the walls. I want a floor in brown tones, I currently have a white floor which shows everything. I do not know how to pick a floor and countertop to coordinate.
Jean from Houston
Answers
October 26, 2006
0

found this helpful
I always like to start with a theme or something that I like and pull colors from that. For example, do you have dishes that you like the colors of, or a favorite cookie jar, or towels with colors that you like? White cabinets would go with any color you choose for a counter top. Do you like that Bistro look with red/black checks and a little yellow mixed in? Do you like a modern look of black/white/gray and stainless steel? I always look in a lot of catalogs and magazines to get ideas, or even go to the home improvement center and look at their kitchen display areas. If you go with a brown tile on the floor you can still pick any color to go on the counter top and to paint the walls. What is your favorite color?
I would paint the walls in your favorite color, because you can always repaint if you get tired of it, but a counter top you're going to have to live with for a long time so be more careful in choosing that. I personally like laminate counter tops, they are very reasonably priced, come in a multitude of colors, and I have never had a problem with their durability; but, I never cut directly on it and I never set hot items on it. I have a tile counter top now, for the first time, and while I can chop on it and set hot items on it, I don't like all the little grooves of the grout lines because I find it very hard to clean. I do hope that you take before and after pictures and share them with us. Good luck on your project!
October 26, 2006
0

found this helpful
Sounds like fun, Jean. Do you have favourite colours? Earth tones are so comfortable, I agree, and easy to decorate around. By that I mean you can choose tan-colour flooring and an almond-coloured countertop, even paint your walls beige. But for colour (not permanent by any means) you can add right drawer pulls, curtains and towels.
My girlfriend has just re-done her bathroom with cinnamon-coloured paint and it's a lovely contrast to her - yes - tan-coloured tile flooring and tan-coloured counter. Her curtains and towels are forest green (for the next little while, until she gets tired of it).
Good luck!
Cheers,
Rose Anne
October 26, 2006
0

found this helpful
Try this site to get some ideas.
By Jill (Guest Post)
October 31, 2006
0

found this helpful
When we remodeled our kitchen, I first chose the color for my walls. Once I had that color selected, I took a sample of both my cabinets and my countertop with me to the tile store. Samples were placed on each tile I considered. When I had narrowed down my choices, I borrowed the sample tiles from the store, and tried each of them in my own home, in my own lighting. I found it especially helpful to have the items on the floor instead of on a tabletop surface. I wanted to get a good idea of how it would look from my height. Flooring looks one way up close and completely different from your height.
Another tip is to check your grout color options side by side with the tile you choose. What I had first thought would be a great pick turned out to not be the best selection. I ended up going with a different color, and it gaveme exactly what I wanted!
This was my very first attempt ever at decorating, and I was terrified of choosing incompatible items. I'm glad I took all the steps I did, because now I am very well pleased with the outcome. I can't wait to do the next room!!
Best wishes on creating the kitchen of your dreams!
By Samantha (Guest Post)
May 1, 2007
0

found this helpful
Someone has got to have an idea for me... I am stuck with my first remodeling job. I picked a dark mocha stone 12" tile w/ 4" venice tiles( including a light yellow, a little green, and a touch of burgundy) sorted throughout, for my floors. My walls are a delicate lemon ice yellow.
My counters are white with the lemon ice yellow cabinet and drawer fronts. I know I want ceramic tile on my new bar (that goes from the kitchen into the shakespeare green) and my countertops, but I have no clue what color. I thought of going with burgundy, but I don't know if that is just TOO bold. Any ideas?
Answer

this Question

...
December 10, 2006
0

found this helpful
I have whitewashed cabinets, pale yellow walls and white/gray countertops. What color wood flooring would look best? I want to play down the cabinets and am willing to paint walls too.

Barbara from Anchorage, AK
Answers
December 13, 2006
0

found this helpful
We just had a very light color hardwood flooring put in. We had our dark brown carpet removed and it looks a huge room now! Hope this helps!
By Karoline (Guest Post)
October 29, 2007
0

found this helpful
I have a slate gray with black grout wall/fireplace. Red walls...what color flooring can I use. I wanted to use a gray but can find any in that color?
By Kathy (Guest Post)
October 31, 2008
0

found this helpful
I have traditional furniture. Floral fabric recliner, burgundy leather recliner with grommets, & a couch and loveseat in an elegant burgundy/gold/subdued green plaid. Couch & loveseat will be replaced in a year or 2 so not too concerned about them. Dining room has medium antique oak table, china closet and buffet. LR and DR open to each other. Both add up to about 400 sft. Not big rooms. Fairly good natural light.
Can't decide on color of new hardwood floor. Buying prefinished so limited in choice. House is colonial so i feel like the lighter colors wouldn't work well and am leaning toward a gunstock color which appears to be medium in color but does have some red in it.
Any suggestions? Hate to make a mistake.
October 31, 2008
0

found this helpful
Go with a darker floor--russet or burgundy. It will be elegant.
Answer

this Question

...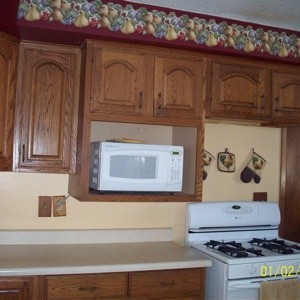 We have maple colored cabinets, white appliances, and our kitchen colors are toffee crunch (a very light mustard yellow) and cranberry. We are looking at putting in laminate wood flooring to match our cabinets, but our current countertops are a very light yellow. What color should we go with that will coordinate with the white appliances, cabinets, flooring, and kitchen colors?
By kathy from IA
Answers
January 4, 2011
0

found this helpful
What material are you planning on using for the counter top? I know it's pretty pricey, but a solid surface white counter top would really be your best option. The cabinets are on the darker side so you want the counter to pop and make some nice contrast in the kitchen. I suggest Cambria Quartz counters or Corian. Quartz is the best material you can ever use on a kitchen counter, it is non-porous, therefore making it the safest application. Corian is also as durable and can be a cheaper option.
If this is completely out of the budget and you are looking to use laminate then I say stick with the white. This also goes with your appliances.
Hope this helps! Good Luck!
January 4, 2011
0

found this helpful
I would go with a countertop of granite look that picks up the wood tone of cabinets/flooring and buy affordably at Lowe's or Home Depot. The walls and white appliances are attractive. I would create a basket of faux fruit pears, grapes and apples revealing a few leaves sitting on the counter or kitchen table to emphasize the wallpaper border which is very pretty.
Answer

this Question

...
I have dark oak cupboards and would like to choose a new floor (vinyl). I would like to do my countertop in a black patterned laminate. Would that be too dark and what color should the floor be? I have lots of natural light and the kitchen is about 18 X 14 feet.
By Patti
Answers
August 5, 2010
0

found this helpful
If you're going to go dark with the countertop, I would go light with the floor (assuming you don't mind the extra work to keep them clean). Perhaps something with a cream pattern?
August 10, 2010
0

found this helpful
Definitely go light on the floor. The black counter top would work depending on how many walls your cabinets cover and are they mostly base or wall cabinets too? What colors are your appliances? I would make sure your walls are light in color also. Black counter tops I always think are classy, you could always go with a granite look but some lighter pigments in it also. Do you have an island? Is it also dark? If so you may want to lighten that up a bit also. Good luck.:)
Answer

this Question

...
May 8, 2014
0

found this helpful
I have golden oak kitchen cupboards with linoleum flooring. My dining room has parquet floor - also a golden oak color. I am looking to replace both of these floorings with some type of wood flooring - ? Pergo XP. I am having a difficult time with color as the oaks make everything very "wild" looking. What color of flooring could you recommend? I will be changing the appliances to stainless and also countertop to granite - or something on that order.
I have looked at so many samples I am confused as to which direction to go. Light/dark?
By Gloria M.
Answers
May 19, 2014
0

found this helpful
I have read in design magazines that grey hardwood flooring is a very in colour, and would go well with the granite tops and stainless steel appliances. Why don't you have a look at lighter shades of grey flooring. Don't go too dark, or it will show every speck of dust. And you will have to make sure it goes with those oak cupboards.
Answer

this Question

...
August 12, 2012
0

found this helpful
I have medium yellow walls in the kitchen with dark kitchen cabinets. What color of flooring works best? Currently the floor is a patterned white and I want something other than another shade of white. Please help.
By Linda
Answers
August 14, 2012
0

found this helpful
I would go with color of cabinets instead of walls. Painting, redoing walls are easy. Cabinets is an expensive not to mention long,sometimes difficult project. Going a shade or two lighter for floors will incorporated your hard surfaces. You can then use towels,table linens etc to bring in the yellow.
It's hard being bored with dull white floors but I would always prefer to go neutral on large, expensive projects. You can easily get rugs, paints chairs etc. to detour away from color of the floor. Its very expensive to change floor if you don't go with cabinets color family (couple shades lighter if too dark) doing areas like floors can be tricky.
I love change. I just try and do it so its inexpensive to change again if I desire. That is why rugs,paint,chair color (paint or stain, mats), table decor or linens aren't as risky.
Good luck on your project!
Answer

this Question

...
December 29, 2011
0

found this helpful
I would like to know what color floor will go with a Silestone countertop that is called Quasar? I have cherry cabinets. Also what type of flooring would be good, wood, ceramic, or vinyl?
By Joyce L.
Answers
January 6, 2012
0

found this helpful
I am partial to wood floors in the kitchen. They stay a nice temperature (never feel cold like tile) and if you drop something it's far less likley to end up in a million pieces. The new finishes are very durable and easy to keep clean.
Answer

this Question

...