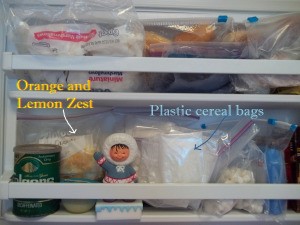 My good friend visited a few days and showed me how she freezes lemon or orange zest and juice from one fruit. She uses a zester or fine grater on waxed paper, then folds it over several times and lays it flat. She then puts them in a quart freezer bag. When she needs zest, she always has the right amount.
She freezes lemon or orange juice in the amounts called for in most recipes (ie: "juice of one lemon", 1 or 2 Tbsp., etc.) It takes less time to thaw out. We did some up with the lemons she brought from her yard. Now I have plenty to make the lemon cake recipe she gave me.
I also save the plastic cereal box liners in the freezer door to use for coating pork chops/chicken, coating Sandy Cookies with powdered sugar etc. They are out of the way and I always have "free" bags to use.
Source: My friend Mary
By Vi Johnson from Moorpark, CA
I always hated the process of zesting a lemon. I have had several zesters and either the lemon or the zester kept sliding out of my hands. I dislike those big square graters because they rust. I was looking around a cook shop one day and saw zesters on the wall that were stainless steel and about the size of a ruler. How nice it is to have enough zester to hang on to with still enough of the grating part to easily zest the lemon. I recommend one of these to anyone who loves to cook but hates to zest.
By Lilac from Springfield, MA
January 3, 2014
0

found this helpful
Where can I buy an orange zester?
By Joan B.
Answers
January 7, 2014
0

found this helpful
Best Answer
You should be able to buy an orange zester at just about any supermarket or department store. If you are looking for a specific brand, such as Microplane, you should look at a specialty store that carries nice kitchen utensils. Sur La Table, Williams-Sonoma or even Bed, Bath and Beyond would be good places to look.
Answer

this Question

...