Letting Gray Hair Grow Out?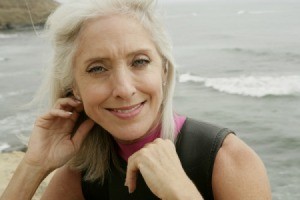 I've been coloring my grey hair. Now, with 1 inch grey showing, I want to remove the brown and go grey. What is the best way to remove the brown?
By Carolyno from Vancouver, WA
Answers

CDC
Bronze Tip Medal for All Time! 59 Tips
December 5, 2010
1

found this helpful
Best Answer
I would suggest heavily highlighting your colored hair, or you could go with a lighter color just where your hair is colored that will blend more with the grey so you won't see the lines of demarcation as much. The fastest and easiest way is just get a short haircut that will remove as much of the colored hair as possible.

Lilac
Silver Feedback Medal for All Time! 450 Feedbacks
December 6, 2010
2

found this helpful
Best Answer
Don't try this yourself. Go to a hairdresser and have them strip the color from your hair. It will then be a nasty shade of pale. Then have her color your hair grey. It will look lovely and grow out naturally. It will cost something but will be worth it in the end.

December 7, 2010
0

found this helpful
Best Answer
When I wanted to go from tinted to natural I got a real curly perm, so the curls hid the roots. Then as soon as it was long enough, I had my stylist cut my hair real short so only the natural color was left.
I did it over the summer and it was a shock to my students when school started up in the fall, but it was the easiest, cheapest way to go natural.
Answer

this Question
5 More Questions
Ask a QuestionHere are the questions asked by community members. Read on to see the answers provided by the ThriftyFun community or ask a new question.

My hair is gray and I color it medium blonde. I'm in the process of letting it grow out gray. How can I make it look better until it's grown out?
By Linda from Jackson, TN
Answers

January 18, 2010
1

found this helpful
Best Answer
Hi, Linda!
Try a temporary color. They last about 6 weeks and fade over time. You have to go a little darker and it covers your blonde and your gray. Continue coloring it every 4 weeks or so.
Once the blonde has been cut off, you can let the darker, temporary color fade away to your beautiful, natural color!

January 20, 2010
0

found this helpful
Best Answer
My beautician suggested I go to a lighter color each time I DO color my hair. Non-permanent works best, until I get to the lightest I can go and the gray blends in. Not there yet!
Answer

this Question

I colored my hair a beautiful silver. But now, of course, I'm getting regular grey grow out. I don't want to keep coloring it silver. I want to let gray grow out and blend in with the silver; no more coloring. What is the best way? Thanks.
Answers

May 30, 2017
1

found this helpful
It is a painful process to grown out hair. You are just going to have to be patient. Hair grows about 1/2 inch a month.

attosa
Diamond Post Medal for All Time! 1,246 Posts
May 30, 2017
1

found this helpful
What type of dye was the silver? If it was semi permanent, it will blend out nicely. If it was permanent, you could do a semi permanent silver at the roots and eventually it will blend nicely as it grows out.

May 30, 2017
1

found this helpful
Your other options would be to strip out the silver and just go with the grey, or to go old school and frost your hair.
Answer

this Question

I have dark brown hair. I've been dyeing my hair this color since I was 27 and it has started to get gray hair. I am 48 and I'm just tired of fighting gray. What would be the best way to get my gray to just take over?
Do I dye it again and if I did how long will the color last? I really don't want to dye my hair again I want it to just stay gray.
Answers

attosa
Diamond Post Medal for All Time! 1,246 Posts
March 10, 2018
0

found this helpful
It'd be quite pretty if you fought it with a box of silver, then let your natural dark brown hair grow through and give it depth. I don't know, it's just kind of the "cool" thing right now! ;)

March 11, 2018
0

found this helpful
You will have to bite the bullet and let it grow out. It grows about a half inch a month. Keep in mind the gray hair will be coarser and more wiry than your colored hair.

March 12, 2018
0

found this helpful
You can't dye (tint) over tinted hair to make it lighter, or grey. The tint has to be removed. Ask your local beauty shop for advise. Many years ago there was no product on the market to do this, it could only be done professionally.
One other suggestion would be to buy a harsh shampoo that fades the color, and cut your hair very short to let it grow out.

poehere
Bronze Post Medal for All Time! 105 Posts
March 13, 2018
0

found this helpful
In that case, just stop dying your hair and let it grow out naturally. The hair dye will fade out and the natural color will start to come through. You can just leave it like this or you can go to a stylist and see if they can add some gray highlights to your hair now to make it look a bit nicer and bring out the color.

October 21, 2018
0

found this helpful
Not necessarily true. I let my natural grey, shoulder length hair grow out naturally - took about 15 months. My hair is white in the front to just behind my ears and salt and pepper (more pepper) from ears to the back.
My hair is not course nor wiry, it's actually softer and shinier than before.

March 2, 2019
0

found this helpful
Mine doesnt seem to be coarse either...putting chemicals on it will do that..Im 7 months with no color...not going to do anything but trim...I dont want to cut it all off...less time to grow out gray than grow out a pixie!
Answer

this Question

I'm a young 70, and though my hair has some amount of gray, I feel better with a chocolate (Redkin) hair color with gray lowlights. I'd like to sample how my complexion would look with total silver gray or white.
After all, it might be really nice! Can anyone suggest a way I can do this?
Answers

September 19, 2018
0

found this helpful
The very easiest way to do this is to go into your nearest beauty salon that sells wigs and try some on. Nothing is better than seeing it in "person". I have taken several cancer patients to our local JC Penney's and have always been treated very nicely so I hope you can find one in your area. Of course, sometimes there is a purchase but not always. I like going to this type store as there is usually a little privacy and you are not sitting in an open area in full view of anyone in the shop.
I say beauty salons in department stores because a wig only store may have people who make a living on salary and commission and since I know that I would not be buying a wig, I feel it is wrong to take up their time.
Google - department store beauty salon with your zip code and make some calls to find out who also has wigs. Most of them do - Macy's, Dillard's, Belk's (?), etc.

May 22, 2019
0

found this helpful
Sally's beauty store has a new Redken kiosk that you walk up to and have picture taken. It then shows all different hair color options you can achieve with their products. Over 200 options.
Answer

this Question

I have been using permanent hair dye to colour my hair a light blonde for many years. My natural hair colour is grey/brown.
I want to grow out the dye and wondered if I could use a semi/demi hair dye on root regrowth?
Answers

May 6, 2019
0

found this helpful
It would be a great idea to do so as to not have a very noticeable line of demarcation.

Pghgirl40
Bronze Feedback Medal for All Time! 196 Feedbacks
May 7, 2019
0

found this helpful
You could or you could just do what a dear friend did and cut her hair super short and just stopped dying. There was an awkward week or two, and then pretty soon she had the most lovely look!
Blessings!
Answer

this Question
Categories
Pages
More
Categories
Published by ThriftyFun.
© 1997-2022 by Cumuli, Inc. All Rights Reserved.
https://www.thriftyfun.com/Letting-Gray-Hair-Grow-Out.html