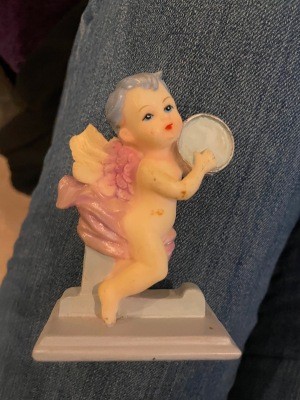 When I was a little girl, there was a Mother's Day gift shop at my elementary school. (Metrowest Elementary in Orlando, Florida. I attended from 2004 to 2007.)
I bought this little cherub figurine for my mom - it had blue hair, a drum, and was sitting on the letter L. I believe there were lots of alphabet cherub figurines available but I could only afford one. So I bought the L figurine to symbolize love. We've always joked about how sad that was, haha.
I've been scouring the internet trying to find these figurines, hoping to finish the word love (as another Mother's Day present), but I cannot seem to find them anywhere.
I even contacted the school, wondering if they kept any record of who they did business with. Perhaps they got those gifts from a catalog of some kind? Or maybe the worked with a local Hallmark store? Unfortunately, I have not gotten a response, and at this point, any information would be helpful. :)