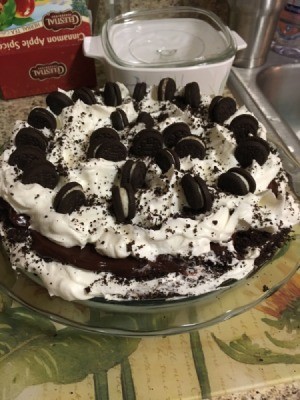 These yummy desserts are great for meals, parties, and even picnics. The recipes for Oreo cookie pies may vary a bit, but they typically include crushed cookies that are layered with pudding, cream cheese, and whipped topping. Learn how to make this scrumptious dessert using the recipes below.
This is a delicious, succulent dessert. Full of sweet flavor and good for any occasion even picnics! When being served, you must get it on your plate with your regular meal because, by the time dessert time comes around, it WILL be gone. It only take about 15 to 20 minutes to make. It's such a wonderful treat to have you will notice yourself going back for seconds.
Ingredients:
1 package regular Oreo's (Walmart brand work great too)
1 stick margarine (1/2 cup)
2 - 8oz. packages plain cream cheese
3 - 1 oz. boxes French vanilla instant pudding
4 cups milk
1/2 tub whipped cream (regular size not large)
9X12 inch pan
Directions:
Crush one package of Oreos until they are in a lot of pieces (my favorite part) . I find it easiest to put them in a gallon ziplock with a towel under it then use a meat pounder or rolling pin.
Melt margarine. Do not burn! Mix the Oreos and the butter together using a wooden spoon or a fork. Set one cup of the Oreo mixture aside.
Mix the cream cheese, French vanilla pudding, milk, and whipped cream on medium speed until fully done. Mixture will be thick, but make sure there are no chunks.
Pat the Oreo/butter mixture down on the bottom of a 9X12 inch cake pan until it is like a pie crust. Pour the cheese pudding mixture over it. Sprinkle the one cup of Oreos over the top.
Refrigerate for at least one hour and ENJOY!
Servings:
10-12
Time:
20 Minutes Preparation Time
0 Minutes Cooking Time
Source: Passed down from my grandmother. This is something I love to make with her
By Kaitlyn from Laveen, AZ
Read More

Comments