(Guest)
Gold Post Medal for All Time! 846 Posts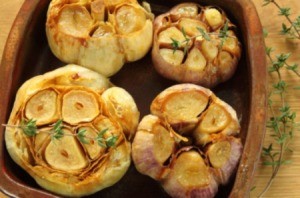 Roasted garlic has such a wonderfully sweet and mild flavor! Not only does it enhance many recipes as a substitute for raw garlic, but it is awesome when freshly baked and slathered on crusty bread or simply squeezed out of the clove and eaten alone. Another benefit is that it freezes well so you can bake as many bulbs at one time as your heart desires ;-)
Ingredients:
1 whole garlic bulb, exterior papery skin removed
2 tsp. extra virgin or full bodied olive oil
pinch of salt
dash of pepper
Directions:
Preheat oven to 375 degrees F.
Cut 1/2 inch of the bulb top off and discard. Place bulb, bottom side (root end) down, on a piece of aluminum foil, drizzle the olive oil on to the cut end. Sprinkle with salt and pepper, and wrap up the foil around it.
Place foil packet, bulb bottom side down, on oven rack and bake for 45 minutes.
Remove foil packet, let cool enough to handle the bulb without burning yourself and then squeeze the garlic meat out of each clove. You can then use the cloves whole or mash them.
By Deeli from Richland, WA
Read More

Comments

What do you do with roasted garlic and how do you roast it? I have a lot from the garden this summer, more that I can use in cooking.
By Judy Dreyer from Oelwein, IA

Answers

December 15, 2009
0

found this helpful
Preheat the oven to 400°F. Peel away the outer layers of the garlic , leaving the skins of the individual cloves intact. Using a knife, cut off 1/4 to a 1/2 inch of the top of cloves, exposing the individual cloves of garlic. Place the garlic heads in a baking pan. Drizzle a couple teaspoons of oil over each head (olive oil works best), using your fingers to make sure the garlic head is well coated. Cover with aluminum foil. Bake for 30-35 minutes, or until the cloves feel soft when pressed.
Garlic you can use for everything, Roasted garlic is good mixed with plain cream cheese and its good mixed with sour cream for bake potatoes. Roasted garlic is good for making fettuccine Alfredo (combined roasted garlic, cream, or plain cream cheese, parm cheese and corn starch mixed with COLD water to thicken if needed. Add spices)
Roasted garlic is great to add into spaghetti.
Christmas is almost here and garlic can be put in a lot of the side dishes, as well as when its time to either throw out the left overs or do something with them, make a soup or stew. Garlic will add great taste to any soup or stew.
croutons are easy to make to!
Preheat oven to 300°F. 2 you will need roasted or not roasted garlic cloves as long as there minced, roasted seems easier for me.&frac; cup of butter, melted. 3 slices of bread, cut into half-inch cubes.
In a bowl, mix the garlic and the melted butter. Add the cubes of bread; then stir gently to coat. Place the bread on a baking sheet in one layer. Bake, turning once, until golden on all sides (takes about 15 minutes). There so good with ceaser salad.

Jess
Silver Post Medal for All Time! 267 Posts
December 15, 2009
0

found this helpful
Hi, Judy. I just posted this in yesterday's ThriftyFun Recipes. It is what I do when I have too much garlic
www.thriftyfun.com/tf98371310.tip.html
There also a great article by Ellen about freezing garlic, which might be another good option for your excess garlic.
www.thriftyfun.com/tf39794422.tip.html
Good luck!

Elaine
Bronze Post Medal for All Time! 172 Posts
December 15, 2009
0

found this helpful
Jess, do wrap the ones in foil that you roast for an hour, or just lay them on a cookie sheet?

Jess
Silver Post Medal for All Time! 267 Posts
December 15, 2009
0

found this helpful
Laniegirl - I wrap them in foil, that way they sort of steam as they roast. They get very soft.
Answer

this Question