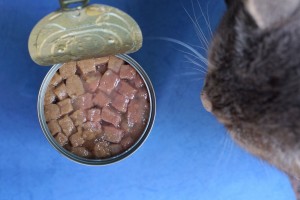 A couple of years ago, my older cat Patton was diagnosed with chronic renal failure. He was very dehydrated and weak and would regularly vomit up his food. The vet gave him a subcutaneous water treatment and prescribed him special food for renal support but warned us that it was not a cure, just a way to keep him as stable as possible for the next few years.
We fed him a combination of wet and dry prescription food. We hadn't fed him much wet food over the years so he loved it. He was so skinny, we tried to have the food available all the time. We also put in a running water fountain instead of a water bowl, to keep him well hydrated. This seemed to improve his condition although he was still pretty weak and thin.
His condition continued to stay about the same, until recently. We took him into the vet for an unrelated issue with his back legs, we think he tore a ligament and was having trouble getting around. Since COVID, we had to drop off our cat and wait to get a call from the vet. She called us almost immediately to recommend euthanasia!
As the family had not had time to talk about this and Patton had seemed pretty cheerful and bright eyed despite his leg injury, we took him home. The vet gave us some pain meds to keep him comfortable. He was happy to be home and we all held him and gave him as much love as possible. About two weeks later, we took him back into the vet for the ending.
Right before Christmas, we allowed our youngest to get a new kitten. Patton was her special friend and slept with her every night for years. I decided to do a little research on different pet foods to make sure we were keeping her and our other cat healthy. What I found out was surprising.
Although dry food seems to be the most convenient option, it is not the healthiest for cats. Cats have a low thirst drive and many don't drink enough water to keep their organs working properly. In the wild, they would be eating raw meat, which is about 70% water. Feeding mostly dry food appears to be causing the renal failures that are so often seen in cats. Wet food is a better option for a higher water content. Dry food or treats can be given in moderation as they can help clean teeth.
We also looked at the ingredients of the food, making sure that the first two ingredients were meat. Cats do not really need vegetables or grains, these are used as fillers in pet food. Wet foods that contain gravies or sauces are not as good as the paté style, as the thickeners are starches and don't add anything nutritionally. If you have to use dry food, you could add a little bit of water to soften it up.
Cats are carnivores and are used to a raw diet so it is tempting to think of making them food at home. I will caution you about this however, unless you really know what you are doing. Raw meat and bones can contain food borne illnesses like salmonella. Most "raw" foods have been slightly cooked to prevent this. Also, cats require the essential amino acid taurine, which comes from dark meat and organs. Cats on a diet of chicken breast, for example, will not get enough taurine which will adversely affect their health.
If you want to give your cats a treat, many human foods are fine. Avoid dairy as most cats are lactose intolerant, despite all those cartoons. Fish and seafood is good, as are most meats and eggs. Some homemade treats may include oatmeal, bananas or spinach too. Avoid garlic, onions and chocolate, just like for dogs.
We now have our new little kit on wet food three times a day, although she also has a bowl of kibble out in case she wants it. She learned to drink from the fountain right away and we see her drinking often. I have high hopes that her kidneys will stay healthy for many years together.