pam munro
Gold Post Medal for All Time! 519 Posts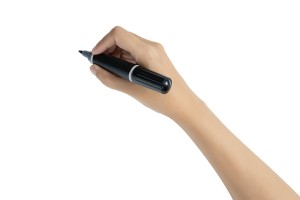 You can make little "white boards" to use while working with kids or for them to use in the car with any pieces of cardboard that are coated with a slick surface. Or use a piece of metal painted a light color.
I recycled several different surfaces, including slick portfolio covers and an old magnetic play board, to use when I was tutoring a lot. Use pens meant for white boards with them, of course.
Read More

Comments

My daughter wants a very large "white board" but the commercially available ones are prohibitively expensive. Does anyone have a suggestion for making one which she can use in her apartment? As a graduate student, she needs a significant space on which to write.
By TheOldLadyoftheVillage from Philadelphia suburb
Answers

January 20, 2011
0

found this helpful
You can buy the white laminate material at Lowes or Home Depot very cheaply. It comes by the foot. They also sell the white paint that drys into the dry erase, but I haven't had as good of luck with it.

Linda L.
Bronze Tip Medal for All Time! 64 Tips
January 21, 2011
0

found this helpful
This one is easy. Home improvement centers sell a 4 x 8 sheet of tileboard or showerboard. They will cuy it to size if you like. Just nail or screw it to the wall. If she wants she can put a border of ribbon, bulletin board trim or whatever she likes around the edges.
I did this in a classroom where the chalkboard was so old one couldn't see the chalk writing. I just screwed the tileboard right on top of the old chalkboard.

January 24, 2011
0

found this helpful
I might do to try a white contact paper on a sheet or large square of cardboard if you are looking to economize..

February 14, 2011
0

found this helpful
If you go to any paint dealer, you can buy chalkboard paint. A layer or two of this on any wall transforms the entire wall into a chalkboard, and it can be painted over when she is ready to move.
Plus, chalk is cheaper, and more eco-friendly. No plastic to discard when the marker dries up!

February 15, 2011
0

found this helpful
I'm not sure the cost, but white/frosted glass works very nicely as a white board and looks great if mounted properly. Cheaper than White boards themselves and I'm pretty sure a glass shop will cut it to size.

susan
Silver Feedback Medal for All Time! 472 Feedbacks
March 7, 2011
0

found this helpful
There is a new kind of paint that you can buy (sorry, I forget its name) that paints a whiteboard onto your wall. It comes in several colors, so it can match any decorating scheme. It works much like a whiteboard, but there is no marker trace left after it is wiped clean.
Many schools are painting their chalkboards with it, since it is much cheaper than replacing them with whiteboards, and it lasts much longer too.
Answer

this Question

I made grid lines on my whiteboard with tape; now I would like to reglaze it so I could write over it without getting hungup with the marker. What product could I use and where could I get it? Thanks.
By Mike from Drumheller, Alberta, Canada
Answers

Louise B.
Silver Feedback Medal for All Time! 337 Feedbacks
November 10, 2010
0

found this helpful
This sounds like a tricky project to me. I don't think there is such a product. Why don't you make lines on your whiteboard with a permanent marker?
These will last a long time, but are, of course, very easy to write over top of, and are removable with your board cleaner.
Answer

this Question