Making a Terrarium
Solutions
Share on ThriftyFunThis page contains the following solutions. Have something to add? Please share your solution!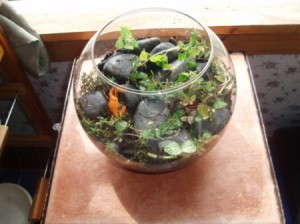 I wanted to make a terrarium from an old fish bowl, but couldn't find inexpensive, small leafed plants. I realized that my herbs growing outside would not only look great, but I could keep and use them all winter if I planted them in the bowl.
I planted oregano and common thyme and added a little toy crab. I love it!
Approximate Time: 5 minutes
Supplies:
bowl (old fish bowl or large, clear glass bowl)
potting soil
herb plants
optional: small toy animal or decoration like shells or rocks
Instructions:
Just add some pebbles for drainage, then soil, then plant some herbs into your terrarium.
Add some pretty rocks, shells or small toy and enjoy your fresh herbs in your indoor garden all winter long.
By Donna from NEPA
I had a neat terrarium in my room when I was a kid and I really wanted to make one with my son.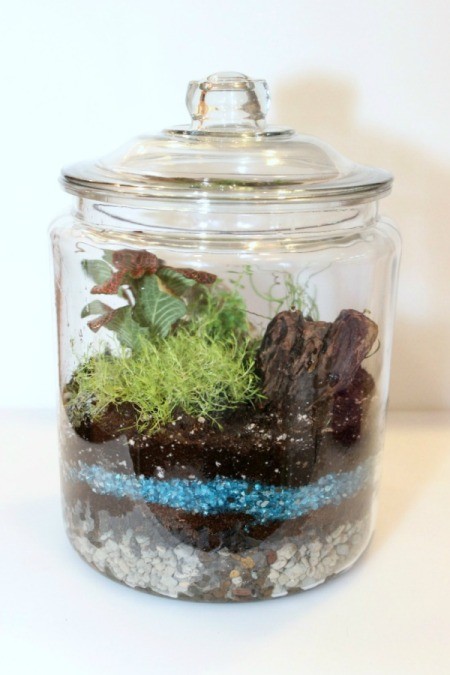 Supplies:
large jar with lid
washed gravel
charcoal
peat moss
potting soil
decorative glass, rocks, marbles, etc. (optional)
small tropical plants (i.e. ferns, moss, unicorn grass)
spoon
decorations (figurines, driftwood, shells)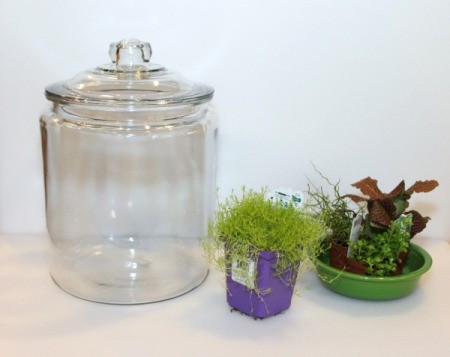 NOTE: When using driftwood or shells they must be properly sterilized and all salt from the water must be removed!
Steps:
Add a layer of washed gravel to the terrarium. Spread it out evenly.
Add a thin layer of charcoal. Spread it out evenly.
Add a layer of peat moss. This will help keep the soil from sifting down into the gravel. Spread it out evenly.
Add a layer of decorative glass, marbles, rocks, etc. (if desired). I chose to do it just around the edges to save on materials.
Finally, add 2-3 inches of potting soil. I recommend using a measuring cup.
Plants, like the moss, that are too big, can be cut into smaller pieces for planting. Gently remove some of the soil from around the roots.
Place the plants into the terrarium to decide on the arrangement.
Using a spoon, make a hole for each plant.
Using your hands, gently pack the soil around the plants.
Now you can add decorations to the terrarium.
Water the plants and put the lid on.
Maintaining the Terrarium: If you find that too much moisture is collecting in the terrarium, simply remove the lid for a little bit to let some out, then put it back on. Water the plants every few weeks or when the soil gets dry. A well balanced terrarium rarely needs to be watered, as it should be creating a balanced ecosystem inside the jar. The other thing that you will need to do periodically is trim the plants so that they don't outgrow the jar. For most plants you can simply pinch off excess growth or use small scissors.
When a friend got some cherry tomatoes, it hit me this container looked like the mini terrariums from the 70s. All sorts of things came to mind, but I can't grow anything but mold so the next best thing was a faux terrarium. I was at the dollar store and saw these cacti and thought how cute that would be.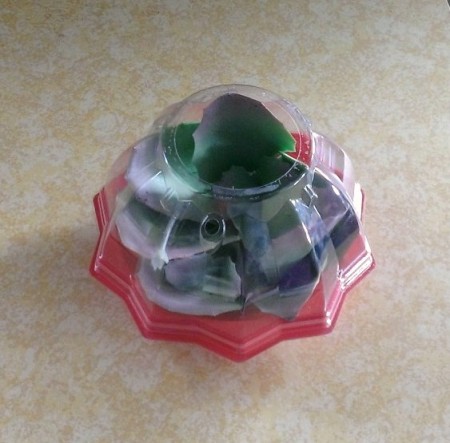 This simple but cute summer project can be made in minutes, but you can enjoy it for a long time! It's good for kids or adults.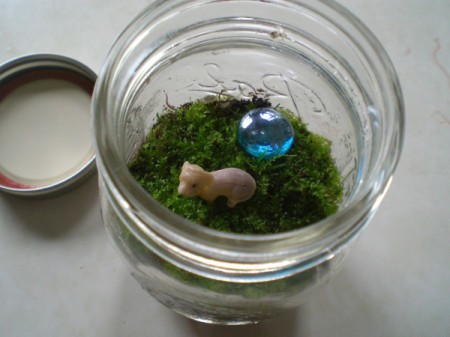 Read More...
Make a tabletop terrarium from those odds and ends that tend to accumulate and clutter your cupboards.
Read More...
Videos
July 14, 2014
0

found this helpful
Terrariums are fun to put together and easy to maintain. Check out this video on how to set up a terrarium.
Questions
Ask a QuestionHere are the questions asked by community members. Read on to see the answers provided by the ThriftyFun community or ask a new question.
September 27, 2006
0

found this helpful
Question:
Does anyone have any soda bottle terrarium directions for me? I am not sure if I am in zone 5 or 6.
Hardiness Zone: 5b
Dawn from Elmira, NY
Answer:
Dawn,
Here are some simple directions for a soda bottle terrarium.
Supplies
One 2 or 3 liter clear plastic soda bottle (needs to have a colored base).
Scissors, craft knife and a teaspoon
Charcoal
Coffee filter
Potting Soil
Suitable small plants
Assorted rocks or figures
Moss
Directions
Remove the label and the colored base from the plastic bottle by soaking the bottle in hot, soapy water.
The clear portion of the bottom is made of a thicker plastic than the top. Use the tip of a craft knife to punch 5-6 holes around the bottom to create some ventilation. You're going to flip this over so it becomes the top.
Now, using a craft knife or scissors, cut off the top of the plastic bottle at the point where it starts to slope toward the top. Flip this over. This end is now the bottom and should now slide easily into the colored base.
If the colored end has holes in it, place a coffee filter in the bottom to prevent soil from leaking out the holes.
Place a 1/4 or 1/2 inch layer of horticultural charcoal in the colored base, followed by 1 to 2 inches of high quality potting soil so that it comes to 1/2 inch below the bottom's rim.
Add 2-3 small plants or cuttings. The plants should have similar growing requirements. Some good plants include Aluminum Plant, Ivy or Baby Tears.
Add decorative figures and rocks as desired.
Water the terrarium lightly. The soil should be barely moist, but not wet. Cover the soil with moss.
Slip the clear plastic top back onto the base until it's firmly seated in place.
Keep an eye on the terrarium for a few days. Water droplets should form. If they don't, add a bit more water. If too many form, open the top of the terrarium temporarily to let it dry out a bit.
Ellen
Answers
July 24, 2006
0

found this helpful
Just type in kidsdomain terrarium on yahoo search.and you will find instructions.
Oh ,by the way i made a hanging plant bottle just buy cutting holes on the one side so the plant can hang out and down almost to the floor if you wish.
I just poked a hole in the cap tied a plastic bead to the inside end and screwed in a plastic plant hanger in the ceiling joist. it still hangs in my bedroom by the window (10 years now)
The old plant died from my neglect a few years ago. Your message has encouraged me to start a new one
Thank You
Mr Thrifty
By dawn (Guest Post)
September 28, 2006
0

found this helpful
Thank You. I will try it.
November 12, 2006
0

found this helpful
I remember making terrariums like that which Ellen described above when I was a kid! They're a lot of fun. The only problem might be that I think they stopped making two-liter bottles with those colored plastic bases a long time ago - all the soda bottles I've seen for years now have been all one piece.
Answer

this Question

...
How do I make a terrarium using a glass gallon jar?
Hardiness Zone: 4a
By ilovesophie from Laurel, MT
Answers
August 31, 2010
0

found this helpful
You can find it by using the Google search engine.
Answer

this Question

...
September 28, 2016
0

found this helpful
This page is about converting an aquarium into a terrarium. When your fish tank is worn out or you do not need it anymore, recycle it into a controlled environment for plants or reptiles.