Making a Terrarium
Supplies:
large jar with lid
washed gravel
charcoal
peat moss
potting soil
decorative glass, rocks, marbles, etc. (optional)
small tropical plants (i.e. ferns, moss, unicorn grass)
spoon
decorations (figurines, driftwood, shells)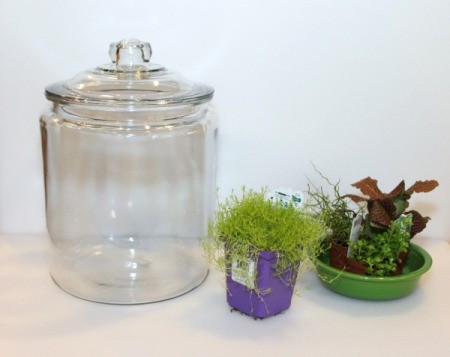 NOTE: When using driftwood or shells they must be properly sterilized and all salt from the water must be removed!
Steps:
Add a layer of washed gravel to the terrarium. Spread it out evenly.
Add a thin layer of charcoal. Spread it out evenly.
Add a layer of peat moss. This will help keep the soil from sifting down into the gravel. Spread it out evenly.
Add a layer of decorative glass, marbles, rocks, etc. (if desired). I chose to do it just around the edges to save on materials.
Finally, add 2-3 inches of potting soil. I recommend using a measuring cup.
Plants, like the moss, that are too big, can be cut into smaller pieces for planting. Gently remove some of the soil from around the roots.
Place the plants into the terrarium to decide on the arrangement.
Using a spoon, make a hole for each plant.
Using your hands, gently pack the soil around the plants.
Now you can add decorations to the terrarium.
Water the plants and put the lid on.
Maintaining the Terrarium: If you find that too much moisture is collecting in the terrarium, simply remove the lid for a little bit to let some out, then put it back on. Water the plants every few weeks or when the soil gets dry. A well balanced terrarium rarely needs to be watered, as it should be creating a balanced ecosystem inside the jar. The other thing that you will need to do periodically is trim the plants so that they don't outgrow the jar. For most plants you can simply pinch off excess growth or use small scissors.
Add your voice! Click below to comment. ThriftyFun is powered by your wisdom!
Related Content