Has anyone tried the mosquito repellent you wear around your waist? The mosquitoes here are terrible and I'm tempted. It's a small unit they're selling for $8.99 at the grocery store with a replaceable repellent. I'm skeptical about whether it would keep mosquitoes from biting your ankles! Let me know if you have experience with it.
By Liz from MD

Answers:
Mosquito Repellent Wrist Band
We use Bounce dryer sheets. Place one sticking out of your pockets and one out the back of your collar or top of socks, it seems to work great for us! (06/16/2009)

By Chuck
Mosquito Repellent Wrist Band
I did just read a report that they were a waste of money. We were told about the use of regular Listerine, keep some in a small sprayer, and spray on hems of clothing, also on wrists, ankles, etc. So far it has proved better than any of the spray chemicals, and we are not even going to try the expensive "new" stuff. (06/17/2009)

By Loretta
Mosquito Repellent Wrist Band
We use the patch "Don't Bite Me". They can be ordered from dontbitemepatch.com. My husband wears it every time he gardens. It is good for a long time. He only changes it every few days. No smell, no mess. Hope this helps. (06/17/2009)
By Rita Murray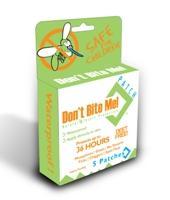 Mosquito Repellent Wrist Band
Yes, I have tried it and it really works. I walk at our state park in the evenings and the mosquitoes there are thick. I've been wearing one for about 2 weeks and have not had a single bite and they usually love me more than anyone else around. Go for it, its worth it. (06/23/2009)

Mosquito Repellent Wrist Band
I would use amber colored Listerine first, and it is also a great antibacterial spray and surface cleaner, as you can see I am a great fan of Listerine for its many uses. Mosquitoes seem to hate it. I would not believe that the mosquitoes around here would even think twice about a wrist band. They are kind of voracious!
Blessings, Robyn (04/15/2010)

By Robyn Fed