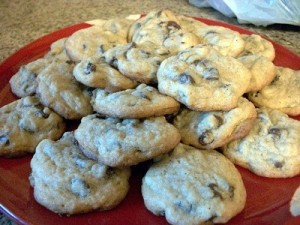 This is the nestle Toll House recipe. It's really good and its the recipe I always use.
Ingredients:
2 1/4 cups flour
1 tsp. salt
1 tsp. baking soda
3/4 cups white sugar
3/4 cups brown sugar
1 cup(2 sticks) butter
2 eggs
1 tsp. vanilla extract
2 cups semi sweet chocolate chips
Directions:
Mix flour, salt and baking soda in bowl. Set aside. In a separate bowl beat sugar and butter until creamy. Add eggs and vanilla and beat. Add dry ingredients to the wet ingredients and mix well. Add chocolate chips last.
Place tablespoon size balls on un-greased cookie sheets and bake at 375 for 8 to 10 minutes, or until golden brown. I like to take mine out about a minute early and let them sit. That makes them more chewy.
Tip: After discovering this, I do it all the time: Use 2 teaspoons of vanilla and 1 teaspoon of almond extract. It tastes wonderful!
Servings:
about 4 dozen
Time:
about 15 minutes Minutes Preparation Time
8 to 10 Minutes Cooking Time
Source: Nestle Toll House recipe
By Becca S from Bellflower, CA
Read More Comments
How come the 12 oz bag calls for the same amount of brown sugar and white sugar (3/4 cup I think), yet the 6 oz bag calls for 1/2 cup brown sugar, but only 1/3 cup white sugar? Why the difference?
Answers
February 3, 2019
0

found this helpful
It may not be the exact same recipe.
February 3, 2019
0

found this helpful
No, it doesn't seem it is. But why the difference?
February 3, 2019
0

found this helpful
Call Nestle and ask if that is a typo:
1 (800) 225-2270
I have never cut the recipe in half (or bought the smaller bags) (the MORE cookies I make the better, so when I bake, I usually double the recipe).
Post back what you learn! This has me curious now!! Happy baking!
February 3, 2019
0

found this helpful
Hi,
I think it must be a typo. Here is a recipe I found and it calls for 3/4 cups of both the brown sugar and the white sugar. Here is the link:
Have a blessed day!
Robyn
February 5, 2019
0

found this helpful
You have a good question because the 6 oz package recipe does call for 1/2 cup brown sugar and 1/3 cup white sugar while the 12 oz calls for equal amounts; 3/4 cup. Why the difference?
I believe only Nestle's can answer that.
This is strange as all of the recipes that I could find on the Internet calls for 6 tbsp of each - for the 6 oz package.
I would say to use 6 tbsp but to check about their recipe I would ask Nestles. When you go to this site you will see a "Live Chat" link at the top of the page. They will help you with this.
This site has some interesting information about these cookies.
Answer

this Question

...
I am looking for the recipe for Nestle Toll House cookies, the original one. They changed it over 10 years ago and I am looking for the one that was on the packages before they changed it back in early 90s.
By Tracey from Hampton, VA
Answers
October 10, 2010
0

found this helpful
Well, I've been making Nestle Toll House cookies for over 40 years and I don't remember their recipe changing since then but if you would like the very original recipe from 1930 (that was made by accident at the Toll House Inn in Massachesettes and ended up being marketed by Betty Crocker) here it is:
Mrs. Wakefields Original Toll House Cookie Recipe
2 1/4 cups all-purpose flour
1 teaspoon baking soda
1 teaspoon salt
1 cup (2 sticks) butter or margarine, softened
3/4 cup granulated sugar
3/4 cup packed brown sugar
1 teaspoon vanilla extract
2 large eggs
1 2/3 cups (11-oz. pkg.)
1 cup chopped nuts
PREHEAT oven to 375° F.
COMBINE flour, baking soda and salt in small bowl. Beat butter, granulated sugar, brown sugar and vanilla extract in large mixer bowl until creamy. Add eggs one at a time, beating well after each addition. Gradually beat in flour mixture. Stir in morsels and nuts. Drop by rounded tablespoon onto ungreased baking sheets.
BAKE for 9 to 11 minutes or until golden brown. Cool on baking sheets for 2 minutes; remove to wire racks to cool completely.
PAN COOKIE VARIATION:
GREASE 15 x 10-inch jelly-roll pan. Prepare dough as above. Spread into prepared pan. Bake for 20 to 25 minutes or until golden brown. Cool in pan on wire rack. Makes 4 dozen bars.
October 12, 2010
0

found this helpful
I have the recipe from an old package (when they were still 99 cents, lol). The only difference is that they add one teaspoonful of water. It isn't much change, but it is the old Toll House recipe. Happy baking! :)
October 12, 2010
0

found this helpful
This is the original recipe that was on the Nestle Toll House package. The same one we used in the 1950's. This was before they had the 12 oz. pkg. The eggs were smaller then, more like medium today. Probably why they took the water out. I just double it now and leave out the water if using large eggs. The original does taste better. Hope this is what you were looking for.
Original Toll House Cookies:
Sift 1 cup plus 2 tablespoons flour,
1/2 teaspoon baking soda,
1/2 teaspoon salt.
Blend 1/2 cup soft butter or shortening,
6 tablespoons granulated sugar,
6 tablespoons brown sugar,
1/2 teaspoon vanilla,
1/4 teaspoon water.
Beat in 1 egg.
Stir in one 6 oz. pkg. (1 cup) Nestle's Semi-Sweet Chocolate Morsels,
1/2 cup chopped pecans.
Drop by well-rounded half-teaspoon on greased cookie sheet.
Bake: 375 degrees
Time: 10 to12 minutes
Yield 50 cookies
October 12, 2010
0

found this helpful
Found a link for you. God bless.
Answer

this Question

...