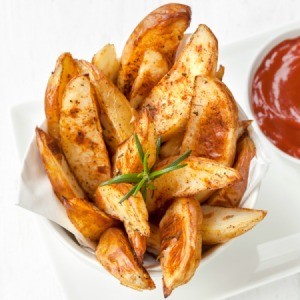 Oven baking makes these french fries lower in fat and still crispy.
Ingredients
4 large potatoes (2 lbs)
8 cups ice water
1 tsp garlic powder
1 tsp onion powder
1/4 tsp salt
1 tsp white pepper
1/4 tsp allspice
1 tsp hot pepper flakes
1 Tbsp vegetable oil
Directions
Scrub potatoes and cut into long 1/2-inch strips. Place potato strips into ice water, cover, and chill for 1 hour or longer.
Remove potatoes and dry strips thoroughly. Place garlic powder, onion powder, salt, white pepper, allspice, and pepper flakes in a plastic bag. Toss potatoes in spice mixture. Place potatoes in nonstick shallow baking pan. Brush potatoes with oil. Cover with aluminum foil and place in 475° F oven for 15 minutes.
Remove foil and continue baking uncovered for an additional 15 to 20 minutes or until golden brown. Turn fries occasionally to brown on all sides.
Makes 5 servings - Serving size: 1 cup
Calories 238
Fat 4 g
Saturated fat 1 g
Cholesterol 0 mg
Sodium 163 mg
Read More

Comments
When oven cooking french fries, chicken nuggets, chicken strips, etc I get out two cookie sheets. Mine are the ones that are usually called jelly roll pans, they have 1 inch sides.
Read More...
Preheat oven to 450 degrees F. Wash and scrub potatoes; slice into fry size, leaving skins on potatoes. Place potato slice one layer only on cookie sheet. You'll need 2 sheets. Spray lightly with non-stick cooking spray and sprinkle with seasonings.
Read More...
I recently saw a recipe online for oven fried steak fries. First you coat them in flour, spices and some oil and then bake them in oven. Does anyone have it?
By doris gordon from Parma, OH
Answers
April 19, 2010
0

found this helpful
I don't have the recipe you mention, but I often make oven fries cutting my own potatoes and tossing with enough corn starch to lightly coat (for crispness) and then toss with olive oil, garlic or onion salt, black pepper, and paprika. The spices you use are up to your personal taste, but the corn starch will keep them crisp. Preheat the sheet pan in a 425 degrees F oven and bake for 20-25 minutes, turning as needed.
April 19, 2010
1

found this helpful
JO JO POTATOES:
1/3 c flour
1/3 c. Parmesan cheese
1 tsp. salt
1/2 tsp. paprika
1/3 c. butter
6-8 potatoes, washed well and quartered lengthwise
Shake first four ingredients in a plastic bag. Add potatoes and shake to coat. Melt butter in a 9 x 13 inch Pyrex pan. Place potatoes in pan and bake at 375 degrees for about an hour. Turn potatoes 2-3 times while baking. Season with additional salt and pepper as desired. Serves 8-10.
Answer

this Question