Has anyone dealt with ParvoBusters? I have two puppies (6 months and 4 months) with Parvo. Tyson (6 months) has full blown Parvo and I have been keeping him alive with Gatorade, Pedialyte, and Pepto and an antibiotic shot the vet gave him.
Dodi, tested negative for Parvo today, but I am positive she will soon begin the symptoms. I took her to the vet and gave her fluids, antibiotic injection, and vomiting injection to be safe. I have started her on Pedialyte, Gatorade, and Pepto. But I am desperate and really want to try that stuff on Parvo Busters. Please give me any positive or negative feed back.
October 20, 2009
0

found this helpful
Two of my baby girl Chihuahuas had parvo and I took them to the vet and he pretty much did the same thing urs did, except he said it would cost 1200. for him to treat each one of them. So my husband which is the family doctor and vet. so to speak used kids amoxicillian three times aday .5 for sm. dogs and when that ran out he used fish penn. and he mixed chicken broth with pedialyte and we used a syringe to feed them several times a day.
My vet had me call him four days later cuz he didn't think they would make it, he was surprised to find out that they did he told me that if they made it for four days then they should pull through. I hope this helps u, My baby girls looked and smelled like they were dying they couldn't eat or get up. But thanks to my husband and alot of prayers they recovered fully and that was four years ago. I wish you luck and God Bless. Paula from MO.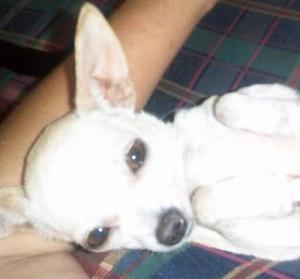 October 21, 2009
0

found this helpful
You might try this tea, my daughter and I have both used this tea for it. It is also good to remove worms. Good luck
Ingredients: (ingredients can be found in most major supermarkets
with pharmacies):
·1 cup Pedialyte OR Oat Water (electrolyte fluid)
·2 tea bags herbal Peppermint with Spearmint tea (A good
source - Bigelow's Mint Medley. If the mixture is not
available find peppermint and spearmint separated - use 1
tea bag of each. If only one is available (ie :Peppermint) use
2 tea bags. DO NOT get tea that contains caffeine.
·2 teabags chamomile tea
·2 capsules Echinacea (This can usually be found in the
vitamin section near the pharmacy)
·2 Teaspoons finely chopped garlic. Needs to be fresh
garlic not dry (garlic packaged in a jar sitting in water or
oil is suitable). If your puppy has worms increase the
garlic to 2 tablespoons.
Heat 1 cup of Pedialyte or Oat Water until hot but DO NOT BOIL. Add 2 tea bags of mint tea, 2 tea bags of chamomile tea, empty 2 capsules of Echinacea, and add 2 Tsp. of fresh garlic. Stir and let cool for 20 min.
As per the following chart give one dose, wait 15 minutes, give another dose, then give a dose every hour after that.
Amount of tea to administer:
Animal Weight Tea
· Under 3 lbs give 1 teaspoon
· 4-10 lbs. give 2 teaspoons
· 11-20 lbs. give 1 tablespoon
· 21-30 lbs. give 2 tablespoons
· 31-40 lbs. give 3 tablespoons
· 41- 50 lbs. give 4 tablespoons
· Add an additional 1-tablespoon to the 4 tablespoons for each
10 lbs of body weight over 50 lbs.
Refrigerate tea recipe. Parvo Emergency Tea Recipe will be good for 3 days refrigerated. The tea is best if given warm. Run the syringe under warm tap water. One can also put the tea (recommended dose) in a small glass and place it in a larger bowl containing hot water and allow the tea to warm up. Do not microwave the tea.
October 31, 2009
1

found this helpful
Muttmom answering your request. Pull out all stops. Do whatever you can. Mainly keep dog hydrated. Colloidal silver that you bought, Do more often and double the amount. Like every half hour or even more.
Enema with colloidal silver--1/2 hour later another enema with colloidal silver. You cannot give too much by mouth of the CS. E-mail me direct Muttmom AT isp.com. I care. Enema will eliminate germs where they are concentrated.