Peeling Potatoes
Solutions
Share on ThriftyFunThis page contains the following solutions. Have something to add? Please share your solution!
I have peeled so many potatoes in my lifetime. When a friend shared an easier way I had to share. These days when I do eat mashed potatoes I leave the skin on, after a good scrubbing of course. The skin holds many vitamins and nutrients that are very good for you. If nothing else it is a wonderful source of fiber.
To make peeling easier, take a large pot, fill with water and put on stove bringing to full boil. While you are doing this, scrub your potatoes (using a brush works best) ridding it of all dirt and unwanted germs. Even when baking please scrub well, potatoes come straight from under dirt, they aren't cleaned before you get them.
After you are done cleaning, take a peeling knife and score the potato all around the center. Go from one side to the other, just below the skin. Put scored potatoes in boiling water, in less then five minutes they will be completely cooked. You can make sure by sticking a fork in to see the softness of them. Drain, run under cool water until comfortable to handle. Then you just rub the skin off. Easy as that!
Next time you have a big dinner, go ahead and volunteer to do the mashed potatoes. I promise you won't be standing peeling potato after potato. The taste is exactly the same, outcome the same. The only difference is the time it used to take to prep.
Source: Friend's aunt told her, she shared. This was amazing to me first time I did it. Easy, fast and now I'll have them more often.
By Luana M. from San Diego, CA
Read More

Comments
So that you don't cut your fingers when using a potato peeler to peel potatoes, peel the rounded ends of the potato first, while holding the other half of the potato with your hand. Once you're done peeling the ends, peel the rest of the potato.
By kokophuffs from Cockeysville, MD
Read More

Comments
All you need to do is to wash the potatoes, pierce them with a fork in several places, microwave for 10 minutes in a bowl of water and then let cool. The skins will become wrinkled and you can then pull the skins right off under cold water. Your potatoes are now ready for cooking.

By Carolyn from E Northport NY
Read More

Comments
I've found when peeling carrots or potatoes, it's best to wash the veggie first and wet the peeler, that way it'll be smooth peeling from there on out.
Read More...
Videos
I just received this tip from a friend who sent me the youtube website. It is a real time-saver for peeling potatoes, especially for potato salad.
Bring a large saucepan of water to a boil. Wash potatoes and score around the center with a sharp knife. Drop the potatoes into the boiling water and let cook for about 15 minutes. Remove potatoes from boiling water and put them into a bowl of ice water, one at a time, for about 10 seconds. Remove from cold water and pull the skins off from both ends.
Source: Mary Ann from Gilligan's Island is in this video on youtube.
Read More

Comments
Questions
Ask a QuestionHere are the questions asked by community members. Read on to see the answers provided by the ThriftyFun community or ask a new question.
Does anyone have a tip for peeling cooked potatoes for making potato salad. It seems to take me forever, especially when making a large salad for a group. Must be an easier way.
Orva from Toronto, Canada
Answers
October 1, 2007
0

found this helpful
I don't believe there is any short cut for peeling cooked potatoes. All I've ever done is to cook the potatoes, drain off the hot water and run some cold water into the pot to cool them down quickly. The skins will peel off very easy with a paring knife and slice the potatoes into a bowl, add extra ingredients for your salad.
If all of us thrifty folks could afford it, we would hire a housekeeper who would cook and clean for us. But then how would we be frugal and thrifty?
Pun! :0)
Marge from NY
By jean (Guest Post)
October 1, 2007
0

found this helpful
I find raw potatoes easier to peel, so I peel first, cool, cook and slice later. When in a hurry, I have cooked sliced potatoes. Cook about 10 - 12 minutes for sliced ones.
Also, there are recipes for "rustic" potato salad for which the potatoes are not peeled. Google "rustic potato salad recipes" to find one you like.
By stainless (Guest Post)
October 1, 2007
0

found this helpful
Thanks Jean & Marge for the tips on peeling potatoes, I think I will try Marge's first. I like your idea of putting them in cold water, never thought of that and Jean I will also try yours. Thanks a bunch
By (Guest Post)
October 2, 2007
0

found this helpful
I peel potatoes and cube them up-then boil them like for stewed potatoes. When they are soft drain and put in eggs and other ingredients. Stir and mix well---done !!
October 2, 2007
0

found this helpful
I always peel first(I have an electric peeler that saves alot of time when I'm making a large batch of potato salad)then cook until done. I usually cool in fridge overnight and cut the next day . That way the potatoes don't break up and MASH(when not cooled) instead of CUBE( after cooled.)
Pretty inexpensive for a potato peeler now a days. $20.00 bucks saves alot of time.
Go to: www.asseenontvguys.com and under search put potato peeler.
Hope this helps.
By Lynda from CO (Guest Post)
October 2, 2007
0

found this helpful
Have you seen the advertisement for Tater Mits on TV. They are gloves that you use to peel potatoes. I read somewhere that you have to parboil potatoes first.
October 2, 2007
0

found this helpful
You could scrub them 'til clean and then leave the peel on.
By Orva (Guest Post)
October 2, 2007
0

found this helpful
WOW! The tips keep coming in. I will let you know at the end which one I liked the best. Thank you very much.
Orva
By Mary (Guest Post)
October 3, 2007
0

found this helpful
I actually peel the potatoes before I boil them.
October 3, 2007
0

found this helpful
Peel potatoes before boiling. When done make mashed potatoes, using mayonnaise instead of milk. Add whatever else you like in your salad. I serve this warm as a side dish.
October 3, 2007
0

found this helpful
When I get a request for a large amount of potato salad, I bake the potatoes after cleaning and rubbing them with oil. When cooled slightly, cut each potato in half. Hold the half with a pot holder and scoop out the potato with a large spoon. Later you can run a knife through the bowl of potatoes to chunk the pieces up.
I keep getting requests bacause the potato salad has such a good flavor that no one can figure out how to duplicate (it tastes like baked potatoes)!!
October 6, 2007
0

found this helpful
Cook the potatoes in salted water. When easily pierced with a fork, they are done. Drain off the hot water & put cooked potatoes into a sink full of cold water & ice-mostly ice. Allow to cool completely, adding more ice if needed. I don't know why but the skins seem too loosen up & it is easier to peel them with a paring knife-just grab an edge & pull. Cooking potatoes with the 'jackets' on, makes for a better flavored potato salad.
Answer

this Question
Is there a trick to peeling sweet potatoes after they have been cooked with jackets on?

dancin25
Answers
By gator10tx (Guest Post)
November 25, 2005
0

found this helpful
They should be real easy to peel once they're fully cooked. Slice it in half. There should already be an air pocket between the peel and the interior part. At the roundest side of each yam half, pinch the peel and rub some between your fingers a few seconds, then twist lightly; it should come right off in one piece.
If this doesn't work for you after a few tries, just scoop out the contents. Refrigerated, cold cooked yams are even easier.
By Linda W (Guest Post)
November 26, 2005
0

found this helpful
If you are baking the sweet potatoes all you need to do is rub them with a little vegetable or olive oil after washing them and before putting them in the oven. I put them on a baking sheet lined with foil. When they are done the peel will come right off. It's really easy!
Answer

this Question
Peeling potatoes can be a chore, plus you loose a lot of the potato to the the peeling process. This is a page about easiest potato peeling.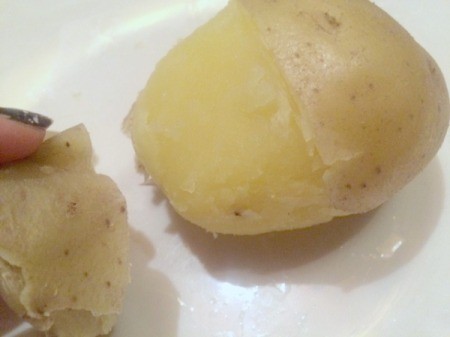 Advertisement
Published by ThriftyFun.
© 1997-2020 by Cumuli, Inc. All Rights Reserved.
https://www.thriftyfun.com/Peeling-Potatoes.html