February 2, 2017
3

found this helpful
Top Comment
I must say that determination is the key to getting things done. I went back today and finished what I wanted to do. I picked up another 5 bags of litter and the road looks good, once again. I'm going to start walking this section and keep it clean. That will be good exercise and much easier to do than what I have done these 2 days.
February 5, 2017
2

found this helpful
Top Comment
I applaud you for your actions! This is constructive on so many levels. Obviously, its beneficial to your community, as things simply look better. But there is the fresh air aspect for you, the exercise aspect, the example you are setting for others, etc.
Around my area the sheriff's office oversees people doing this as part of their sentences for committing a crime. Part of this is a deterrent issue as people don't enjoy being seen on the highway doing this (since everyone knows its a punishment), but I also think it makes sense to have these people doing something positive for the community for having broken the law. Time to think, a job to do, fewer people in a jail cell for misdemeanors, etc.
Its a beautiful day today and I might just go pick up some trash! Thanks for sharing!
February 5, 2017
2

found this helpful
This would be a good job for those drawing welfare. Everyone needs a purpose.
February 6, 2017
0

found this helpful
I was on welfare once and I had a purpose I was laid off my job and needed assistance until I found another. I guess I should have let my children go hungry so that you would feel better.
February 6, 2017
0

found this helpful
Camilla, I don't think people on welfare should be made to pick up litter. Picking up litter should be voluntary.
However, it might be a good job to offer those that otherwise can no longer receive assistance because they have received the maximum. Even then, it should be voluntary.
February 7, 2017
0

found this helpful
Thank you Jacquelyn. Hope you gave picking up litter a try.
We are still having beautiful weather. I walked my one mile section again today which makes a 2 mile walk for me. This time I carried a Walmart bag with me for picking up litter and a big trash bag in my pocket just in case I needed it. I never know what I will find. After yesterdays walk, I only found a few items. The largest things I picked up were a work glove and 2 soda cans. The rest was small pieces of paper and cigarette butts that I hadn't picked up.
Sometimes I find something of value. Today I found a socket wrench and brought it home and gave it to my husband which he said he could always use an extra one.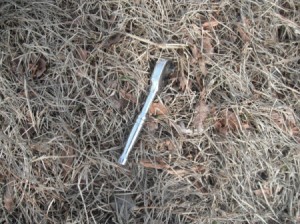 February 5, 2017
1

found this helpful
Should be a law to have litter bag in u car then maby these jacklegs would keep the country clean.
February 23, 2017
0

found this helpful
Top Comment
Robert, I agree that people should be prepared to keep their litter inside their vehicle. We keep some plastic grocery bags in our vehicles for that reason.
Littering is a childish, selfish act that is harmful to the environment and wildlife. It needs to be stopped.
February 5, 2017
2

found this helpful
I too pick up litter but keep anything useful and cash the cans in that I find, it is not much but it all helps
February 6, 2017
2

found this helpful
Thank you greennmel77. Every little bit does help.
I walked my clean area today which is a mile going and a mile back. Don't know how far I actually walked because of the zigzagging to pick up the litter. I pitched the recyclables in a line so when coming back, I could easily grab them and put them in another bag. That was fun. It was so easy to pick up. No mowed over trash and all was laying on top of the grass. All I had to do was grab it. I only did one side. That's the side that leads to the dump. I pick up a lot of trash from unsecured loads.
March 3, 2019
0

found this helpful
LG,
I pick up lots and lots of litter. I just wish I could adopt your attitude about the whole matter. Sometimes I feel as if I'm playing mama to spoiled, uncaring teenagers and adults.
Most people do things by trends and don't even know it. I hope soon it wont be a trend to throw beer bottles and boxes of bones from Church's fried chicken out the car window.
(I guess I could be called a 'trend watcher'. I remember when teens had to wash their hair every day, sometimes twice a day. Guess their hair doesn't get as dirty as often, these days.
Oh, and the hippy days. Girls carried so much around with them, their shoulder bags were the size of overnight cases. Wonder why they don't need to carry all that stuff now?)
March 3, 2019
0

found this helpful
Thanks for your comment, Doug and thank you for picking up litter.
In North Carolina, contractors pick up litter on the main roads but the side roads are showing that the litter is not picked up and it just accumulating more and more. It's so noticeable in the winter months. And it's going to get worse.
When I started picking up litter, I thought people were just lazy and everything was pitched out but after a couple of years, I began to notice what I picked up and realized that a lot of the stuff I was picking up was blowing out of vehicles going to the trash dump.
I believe if we could get people to secure stuff in the back of their trucks, it would decrease the litter over half.
Wouldn't it be great if littering was a thing of the past.
March 1, 2020
0

found this helpful
love what ur doing. i take a big bag w/me on my walks for exercise, picking up recyclables & trash, killing 2 birds w/1 stone. i pick up dirty plastic bags to use solely for the kitchen trashcan, instead of just throwing them away, keeping them out of the landfill & re-purposing them. i arrange them by size. i also find valuable things like tools, smartphones, etc, which i post ads in the lost & found for. so far no claimants. 1 day, a young couple waiting in their truck for the light to change, gave me a $5 bill, saying, "we know it's not much, but we really appreciate what ur doing." i was touched & was grateful. it put gas in my tank.