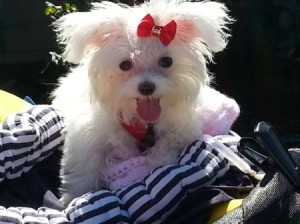 My 14 week old Maltese will only eat if she is hand fed. We got her 2 weeks ago and rescued her from what we think is a puppy mill. She is healthy, weighs 43.5 oz today (9/26/15). She runs around, plays, and has lots of energy. I am soaking her puppy food until it's very soft and that's what she eats. She also won't drink. I give her liquids from a syringe.
How do I get her to eat on her own? I'm afraid to just stop feeding her as I worry about hypoglycemia and dehydration.
I put pieces of her soft food on the table for her to eat on her own, but she won't touch it. She has no idea that eating is something that she can do on her own.
When we went to pick her up from the breeder she was squeezing honey water into her mouth from a pointed squeeze bottle. She told me that she had been feeding her cooked chicken. My vet had a fit and told me that it was a poor diet and get her on a good food, which I did.
How can I train her to eat on her own? Thanks!