April 8, 2017
0

found this helpful
One of the earliest permanent waves, along with the croquinole, was the spiral. It predates the cold wave by a number of years. The machine spiral wave was very popular.
With the advent of the cold wave, the spiral wave lost its popularity. Many decades passed before the spiral would become popular again, this time in the form of a cold wave.
The spiral rod and the winding of the hair around it is quite different from the traditional wave rod and the way the hair is wrapped around it.
Many hairdressers who give spiral waves have no formal training in how to give them. The curvature of the hair strand around the rod is less, the processing time is usually more. I've heard many complaints of spiral waves that didn't take.
It takes about 48 hours for a perm to completely harden into its new shape. That would be a good length of time to wait for another perm.
Getting your money back is not the issue here. If you do, that's good. But, the person who gave the wave could clearly see when 'taking down' the perm, that it did not take. At that time he/she should have told you it didn't take and should have offered to do the perm over at your convenience and at no cost to you.
Since this didn't happen, I would not trust the same person to redo the perm. I do hope your aunt can give you a satisfactory perm. Good luck.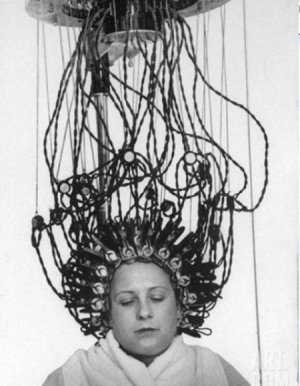 April 8, 2017
0

found this helpful
Pictured here a combination spiral and croquinole wave being given.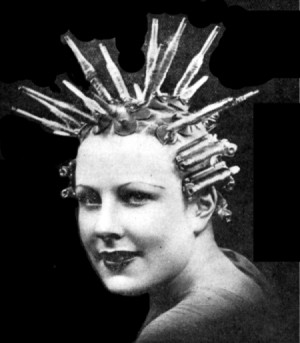 April 9, 2017
0

found this helpful
A bit of trivia.
At one time, thioglycolic acid was used to dissolve and remove hair from animal skins prior to tanning. When mixed in the proper concentration, it would do so quickly.
It is said that a tanner mixed one batch too weak. It did not remove the hair. He left the wet solution on the skin, anyway.
The wind blew the hair around creating wisps as it dried the hair. Later, it was found that the wisps were permanent. When the skin was rinsed, the hair remained, in a curly state.The birth of the permanent wave was soon to be born.
To this day, thioglycolic acid is still the main active ingredient in most permanent waves.
April 21, 2017
0

found this helpful
Thank you, I let the people know that did my hair I was not satisfied at all, and they offered to redo it if i paid to have my hair deep conditioned for a week. They did not refund my money or try and fix my hair, so I'm going on May 17 and my auntie is gonna do it for me and only charge half of what I paid for the first one. I am on insulin and I take xanax everyday but no other meds. Thanks for your advice, and I am not allowing them to touch my hair again.
April 21, 2017
0

found this helpful
I just got a large roller perm. My hair dresser blew my hair dry straight and brushed it out. I know crazy right. I read the perm tales 48 hours to set. Should I wet my hair during the 48 hours to get it back to curly. I'm worried it's going to set straight.
April 23, 2017
0

found this helpful
Once the hair is completely neutralized, that's about the extent of the 'set' or hardening into its new shape. It will, though, continue to harden a bit more for the next 48 hours. If you wanted curls and not just body, I can't understand why your hair was blown and brushed straight.
If you have a good perm, or if you don't, for that matter, it will do no harm to wet your hair, now. I would recommend that you do. Wetting the hair will reveal just how much curl you do have and you might want to know that now.
April 9, 2017
2

found this helpful
The first thing you have to do is have your Aunt look at it and especially feel your hair. If it was over processed it will be straight but damaged so you would not want to get another perm on damaged hair because it will break, and still not curl. If the perm was under processed or not rinsed well between the perming solution and the next steps it wouldn't take either, or if the solution was not left on long enough it wouldn't take. There are even more reasons, but won't go into them, as your Aunt needs to determine these things. I hope you can get it worked out between the person who did the perm and your Aunt. Go to her before you try to get your money back, because there are some things you might be responsible for such as medication, or the product you might have been using that left a coating on your hair.
April 10, 2017
1

found this helpful
Excellent answer!