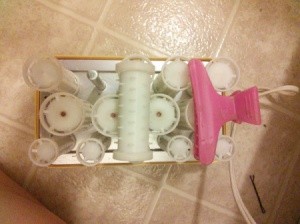 Okay so essentially I want my hair to look like I just hot rolled it with minimum effort. My grandma told me that I should use a box perm, and just use my hot rollers (not heated) as though I'm rolling my hair normally. She said that it will make my hair stay in that shape and give me a rolled look instead of a traditional perm look. What is your opinion? Is this true?
By Andria
Answers

October 8, 2014
0

found this helpful
I have no idea it this would work or not. I do have a couple of things for you to think about though.
1. The perm solution map damage your rollers. The plastic used may not stand up to the chemical.
2. The clip used, is it a medal one? Will that stand up to the chemical solution or will it stain your hair?

April 8, 2017
1

found this helpful
When I was a teen, I used the hard plastic rollers not from a hot roller. I put curling solution on as I rolled my hair. Continued per instructions but without taking hair down. Dried hair and combed out.
Read More

Answers

What brand of home perm would be best for me? My hair is mostly gray, is fine and hard to curl. I wear it short. Also do you have any tips for cutting your own hair? Thanks
Grannie Mae from Western Arkansas
Answers
By Vivian (Guest Post)
May 21, 2007
3

found this helpful
I just did my mom's hair....using an Oglive Home Perm. It turned out wonderful, pretty amazing as it was my first attempt to perm her hair.
By Graycrab (Guest Post)
May 21, 2007
0

found this helpful
I stopped perming and cutting my hair and now wear a bun or some such depending on mood but you can do your own cut and have it look nice too.
Take a piece of cardboard the length you want your hair to be (or little longer if hair is wet Remember wet hair shrinks as it dries) I used a playing card and folded it in half.
I usually folded the cardboard in half length wise so the hair could get between. Take small sections of hair. Using good sharp thin scissors cut at top of cardboard. You can make cardboard shorter as you get to the back and side if you want. save the length when you get the one you want.
Very simple and gets easier as you do it more.
I started doing this in self defense when we lived and traveled in our motorhome and got tired of the hunt for a hairdresser. Soon many of our traveling companions were asking me to do theirs - but I taught them to DIY!
By Sandee (Guest Post)
May 21, 2007
0

found this helpful
Be sure to leave the rods in for the longest possible time.
I like the playing card idea. I tend to use my fingers as a guide to getting hair the length I want it. I run my hand through my hair and set the index finger up against my head. I usually cut to a three or four finger length.
I use my thumb to hold the hair in place between my thumb and other fingers. It takes a little practice, but it works. Also cut in small snips, not one big cut at a time. Your cut will look better. Some beauticians cut in small snips at an angle.
By Lynda (Guest Post)
January 16, 2009
0

found this helpful
Although my response is very long in coming, I recommend an acid perm, purchased from a beauty supply house. Redding perms are good, but there are several brands. Follow the directions and if your hair is thin, I'd try rinsing with vinegar and egg as a conditioner. Leave it in for about thirty minutes, then rinse, dry, and see if you like the texture. If not, try a beer rinse and dry. : )

July 12, 2016
0

found this helpful
Brand for grey hair to get a perm done at home
Read More

Answers
I got a perm last summer and one side didn't get a lot of the treatment, but regardless of that, it fried my hair. I am still treating it to get it back to normal. The top has grown out and I been wanting to perm the top. The new hair is in great shape. Can I do this with a loose perm to match the perm that's still there?
By Charity G.
Read More

Answers

What happens when the last step is not done when giving a perm?
Answers

Judy
Gold Post Medal for All Time! 677 Posts
April 20, 2017
0

found this helpful
I'm assuming you are talking about the neutralizing solution. If you don't apply it, your hair can be dull and/or porous.

likekinds
Gold Post Medal for All Time! 523 Posts
April 21, 2017
1

found this helpful
The last step is removing the rods from the hair. Surely you didn't leave them in the hair ( Ha Ha, again). Just before that would be rinsing the neutralizer from the hair. If you failed to do this, no serious consequences should be expected. Prior to that would be applying the neutralizer. If you failed to apply the neutralizer, different things could happen. You could be left with little or no curl.
Or if for some reason you thorough rinsed the wave solution from the hair but left the rods in the hair for 24-48 hours, you could end up with a good curl. The hair will have gone through a natural neutralizing during that period. Not as quick or as effective as a neutralizer from a bottle, but it does work.
Most don't know that before the modern neutralizers, simple, weak hydrogen peroxide was used.
Answer

this Question
How do I give myself a home perm?
By Jo

Answers

June 29, 2013
0

found this helpful
To begin with besides buying the perm kit, you will have to buy special curler rods, yo will need at least two different sizes. I haven't done my own perms for about 30-40 years. Other than that you follow the directions in the box that the perm solutions come in. I might be wrong, but I don't think you will be real satisfied with the outcome.
When I did mine, it was back in the day where the women that wanted curly hair slept in curlers every night or ran around home with them in several hours of the day. This was after we home permed our hair, because using regular hair rollers on a daily basis made the permed hair look better. You might have better luck if you are real good at doing the rollers while you put the perm in but most women don't have real good luck with home perms.
Answer

this Question

What was the brand of the at home perm kit you liked the best? How much did it cost? What type of wave did you get? Did you love, like, or hate it? What type of hair do you have, thick or thin? What color is it and is it wavy or straight?
Also my hair is blonde (it's natural, not colored) thick and wavy underneath and straight on top. I don't want my blonde color to get stripped. Will a perm strip my natural hair color?
Thanks!
By Megan
Answers

Joan
Bronze Feedback Medal for All Time! 186 Feedbacks
September 11, 2010
0

found this helpful
A perm shouldn't strip the color of your hair. When I was really young I had home perms all the time, however that was in the fifties and early sixties. The brand that I like the best was Oglevie, and I can't remember the cost, other than it was the most expensive the the brands. The thing with home perms is that unless you get them rolled perfectly, you end up with hair that has to be set daily. Back when I was doing this I slept in rollers every night. That is the only way I could keep it looking decent. How long is your hair and when was the last time you had it cut? If it is long that might have something to do with the curl underneath and not on top.
Answer

this Question

Would it make a difference if I used a hair dryer for an acid perm at home or do I have to have a salon dryer. Or is there something else I can try?
By Anna N. from Spokane, WA
Answer

this Question