I went on 03/27/2017 to have a small spiral perm put in my hair and my hair is as straight as it was when I went in. I'm very upset about it. My question is how soon can I go to my auntie who is a professional and have it redone? I want it done as soon as possible.
Answers
April 7, 2017
0

found this helpful
Firstly, I would complain to the people who did your perm and get your money back or have it fixed. Secondly, are you taking any medications? Some medications cause perms to not take.
April 7, 2017
0

found this helpful
If shei s a pro, I would ask her. Medications or pregnancy often will cause a perm not to take, through no fault of the person who did hte perm. But, I would also call the place that did the last one.
April 7, 2017
0

found this helpful
Go back to the place that you had your hair done at. Explain the situation. Give them a chance to fix it and then ask for a refund if you are not satisfied.
Don't go to your aunt until you go to the salon and give them a chance to make good on this.
April 8, 2017
0

found this helpful
One of the earliest permanent waves, along with the croquinole, was the spiral. It predates the cold wave by a number of years. The machine spiral wave was very popular.
With the advent of the cold wave, the spiral wave lost its popularity. Many decades passed before the spiral would become popular again, this time in the form of a cold wave.
The spiral rod and the winding of the hair around it is quite different from the traditional wave rod and the way the hair is wrapped around it.
Many hairdressers who give spiral waves have no formal training in how to give them. The curvature of the hair strand around the rod is less, the processing time is usually more.
I've heard many complaints of spiral waves that didn't take.
It takes about 48 hours for a perm to completely harden into its new shape. That would be a good length of time to wait for another perm.
Getting your money back is not the issue here. If you do, that's good. But, the person who gave the wave could clearly see when 'taking down' the perm, that it did not take. At that time he/she should have told you it didn't take and should have offered to do the perm over at your convenience and at no cost to you.
Since this didn't happen, I would not trust the same person to redo the perm. I do hope your aunt can give you a satisfactory perm. Good luck.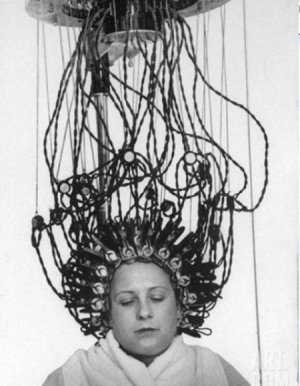 April 8, 2017
0

found this helpful
Pictured here a combination spiral and croquinole wave being given.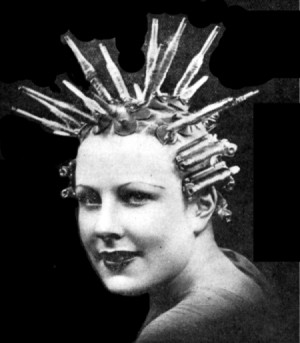 April 9, 2017
0

found this helpful
A bit of trivia.
At one time, thioglycolic acid was used to dissolve and remove hair from animal skins prior to tanning. When mixed in the proper concentration, it would do so quickly.
It is said that a tanner mixed one batch too weak. It did not remove the hair. He left the wet solution on the skin, anyway.
The wind blew the hair around creating wisps as it dried the hair. Later, it was found that the wisps were permanent. When the skin was rinsed, the hair remained, in a curly state.The birth of the permanent wave was soon to be born.
To this day, thioglycolic acid is still the main active ingredient in most permanent waves.
April 9, 2017
2

found this helpful
The first thing you have to do is have your Aunt look at it and especially feel your hair. If it was over processed it will be straight but damaged so you would not want to get another perm on damaged hair because it will break, and still not curl. If the perm was under processed or not rinsed well between the perming solution and the next steps it wouldn't take either, or if the solution was not left on long enough it wouldn't take.
There are even more reasons, but won't go into them, as your Aunt needs to determine these things. I hope you can get it worked out between the person who did the perm and your Aunt. Go to her before you try to get your money back, because there are some things you might be responsible for such as medication, or the product you might have been using that left a coating on your hair.
April 10, 2017
1

found this helpful
Excellent answer!
April 21, 2017
0

found this helpful
Yes I am on insulin and i take xanax other than that I'm not on any other meds. I complained to the people that done it and they said pay to have my hair deep conditioned for a week and they would re do it but I shouldn't have to pay for there mess up.
I am going to another salon on May 17 to have it done the right way.
April 21, 2017
0

found this helpful
Thank you, I let the people know that did my hair I was not satisfied at all, and they offered to redo it if i paid to have my hair deep conditioned for a week. They did not refund my money or try and fix my hair, so I'm going on May 17 and my auntie is gonna do it for me and only charge half of what I paid for the first one. I am on insulin and I take xanax everyday but no other meds. Thanks for your advice, and I am not allowing them to touch my hair again.
April 21, 2017
0

found this helpful
I just got a large roller perm. My hair dresser blew my hair dry straight and brushed it out. I know crazy right. I read the perm tales 48 hours to set. Should I wet my hair during the 48 hours to get it back to curly. I'm worried it's going to set straight.
Read More Answers
I got my first perm about 4 weeks ago. It looked fine when I left the salon, but when my hair started drying I was standing at the mirror watching my hair straighten right before my eyes. I have long hair so I thought maybe it was the weight of my hair that was straightening the perm out, so I laid down with my hair fanned out to lighten the weight. The next morning my hair was almost completely straight.
My hair dresser then redid my perm the next week and it looked awesome while it was wet, but once again I am not happy with curls. My hair is a lot more curlier than the first time, but not the spiral I was asking for. On some small areas of my hair it looks almost straight. Also, I lose the spiral to a limp crimp look after my hair completely air dries.
I was wondering how long would I have to wait to try again for another perm with a more experienced stylist? My hair stylist actually told me only after she rinsed my hair out, that I was her first long haired perm client. Please help me!
By Laur-el Dan
Answers
September 23, 2015
0

found this helpful
@ Laur-el Dan: OMG I was really hoping someone would have an answer for you, I am having virtually the same problem. I got a perm last night with my regular hairdresser at a salon, and this morning it is almost straight. I have had perms before, and they hold well in my hair. My wedding is two weeks away, now I am frustrated and clueless. I was counting on having curls Does anyone have any suggestions?
October 30, 2015
0

found this helpful
Strand test.Test curls.Taking smaller sections to fit rod size.Making sure the timing of activator <20 min. max>and neutralizer <7-8 mins>are followed there shouldn't be a problem. Do not wash style comb brush anything to pull on that curl during the first 3-4 days. As for planning and getting hair done before a major event try at least 1 month in advance. Good luck.
October 23, 2016
1

found this helpful
What happened to you was your hair dresser didn't use a strong enough perm she probably used a acid when she should of used a alkaline perm but if you have dye or highlights in your hair they was should of used the perm meant for treated hair but a way to bring up your curl get it trimed not much and you will see a difference it always comes back to life a few other things you can do is put your curl cream in and flip head over and blow dry it on cold it will close up your cuticle in our hair and stay
March 31, 2017
0

found this helpful
use a curl defining mousse (i like suave curl defining mousse)or curl enhancing type spray(frizz ease dream curls daily styling spray). it helps bring the curl u wanted and holds it without frizzing out. i have thick fine hair about 3 inches past my bra and just got spiral also. i love tjose 2 products almost as much as a fat kid loves cake!! good luck and congrats on wedding
Read More Answers
I recently permed my hair and had a couple of mishaps. First my friend started the winding heat thing, before she wound my hair. The second mishap was I didn't leave the solution in long enough, so my tips are still straight. So I was wondering, if I could reperm my hair so I can do it the proper way? I'm scared that it can ruin my hair. Can I re-perm it now or should I wait for a week?
By Nicole
Answers
December 9, 2014
0

found this helpful
Actually you should wait a lot longer than one week. More like a couple months. Being your perm was a home perm that went bad, because nobody knew what they were doing, your best bet would be to go to a beauty salon and get their advice. I have a sister that is retired hair stylist and she instructed me real good on what to do and how long to wait between chemical processes and that is what a perm is. I used to do my own home perms back in the day when I lived in towns that didn't have a hair stylist anywhere near by. As a whole most home perms don't turn out anywhere near as well as going to a styling salon.
Read More Answers
I just watched a tutorial on Bantu Knot Outs, which caught my attention, but I wonder if there are other ways out there that could do the same and last as long? I already have a "curly" perm, but I want to maintain it. What are the best products, tips, ways, that you can use to maintain the curl and bounce of your hair without damaging it or making it excessively frizzy?
By Mrita
Read More Answers
I just had my hair permed. I searched for some tips already and it says that I need to use shampoos and conditioners that are suitable for permed hair (or something like that). I am actually from the Philippines and some of the products that I've searched are not found here. Is Sunsilk, both shampoo and conditioner a suitable hair care product for permed hair? Also, is Vitress a good moisturizer for permed hair?
By Singing97
Answers
April 1, 2015
0

found this helpful
Just go to your local store and read the labels on the products. You will likely find many choices - for colour treated hair, for permed hair, for oily hair, for curly hair, etc. If you can't find anything specifically for permed hair, get a product that is relatively gentle and also a creme rinse.
I have found that things such as Head and Shoulders (a famous brand of dandruff shampoo) are harsher on my coloured hair than other brands. On the other hand, if my hair colour is a bit brash, I find that it tones it down! But I digress! Just read the labels in your local stores.
Answer

this Question

...