This recipe has no set amounts.
Ingredients
breadcrumbs
paprika
salt, and pepper
veal, cut into strips
beaten egg
oil for frying
cooked lima beans
Directions
Combine breadcrumbs and seasonings on a dinner plate. Set aside. Dip veal strips in egg then dredge in breadcrumbs. Deep fry until golden brown. Serve with lima beans.
Source: My grandmother. She said this recipe was very popular in Hungarian neighborhoods during the Depression when veal was the cheapest meat around. She said it was always served with lima beans. She didn't know why it was called City Chicken.
By Joan from Chesapeake, VA
January 15, 2005
0

found this helpful
Ingredients:
2 cups dried lima beans
8 cups cold water
1 large onion, roughly chopped
1 carrot, peeled and quartered
2 cloves garlic, crushed
1 vegetable bouillon cube
2 tablespoons corn oil
1 medium onion, finely diced
2 teaspoons kosher salt (optional)
Fresh ground black pepper to taste
Directions:
Soak lima beans in cold water overnight. Drain the lima beans and rinse in several changes of water to float away as many loosened shells as possible. Place in crockpot with 8 cups fresh water, the chopped onion, carrot, garlic and bouillon cube. Cover tightly and cook 18-24 hours, until beans are very tender. Remove from heat and let cool a little.
In the meantime, heat the oil in a skillet and saute the finely diced onion until it is very brown. Ladle a small amount of soup at a time into blender or bowl of a food processor and puree until all soup is pureed. Return to pot and stir in browned onions. Taste for seasoning and add salt and pepper to taste. Makes 8 to 10 servings. Freezes well
By anna
What can I do with canned lima beans?
By Aggie from Niagara Falls, NY
Answers
February 4, 2010
1

found this helpful
Make some homemade soup.
February 5, 2010
1

found this helpful
I am not a big fan of lima beans but I do like them in 'Calico Beans':
http://southern ns/r/bl26c10.htm
Sometimes we make it with pepperoni instead of the bacon and we usually make it with half the amount of ground beef (sometimes substitute lean ground turkey).
February 6, 2010
1

found this helpful
You could use them in succotash, or use them to make hummas or other forms of dips. Believe it or not, they do make a great dip!
3 cups lima beans
2 - 3 cloves of garlic
1/4 cup olive oil
juice from a small fresh lemon or lime
2 to 3 Tbs of plain thick yogurt
salt and pepper to taste
Directions
In a food processor puree the cooked beans and garlic together.
process in the yogurt, and lime or lemon juice
While machine is running, drizzle in olive oil and process smooth and creamy
Salt and fresh black pepper to taste
Serve with crackers, baguette etc
Correct seasoning if desired or if you want thinner, add in a bit more yogurt!
Experiment!
February 6, 2010
1

found this helpful
I prefer the frozen ones and have them often. For the canned ones, just heat, add butter and salt and pepper. I think they are delicious.
February 7, 2010
1

found this helpful
If lima beans are a favorite add them to salads.My husband loves them. I also add canned beets or canned kidney beans or canned chickpeas depending on what I have on hand.
February 7, 2010
1

found this helpful
I was looking up another recipe and found this one. Never heard of Bean Dip being made with Limas before.
http://www.natu action-cat1/id-1
February 8, 2010
1

found this helpful
You can always add them to soup recipes, casseroles. Substitute them for other beans in most recipes.
September 17, 2010
0

found this helpful
Try using them for a door stop. I say this because I believe GOD made a mistake when he created them.
June 18, 2016
1

found this helpful
put bacon,tomatoes in them
Answer

this Question

...
I have nearly 12 oz of leftover cooked butter beans (lima beans) seasoned with a little kosher salt, butter and garlic. They didn't taste very good but I don't want to toss them. However, they aren't even fit for the compost because of the butter! They are also a touch mushy and some of the skins seem to be loose. Please help. Thanks!

Eidie
Answers
March 11, 2009
0

found this helpful
I would save them to use in soup. Put enough other stuff with them and they'll tast fine.
March 11, 2009
0

found this helpful
Mash the beans with 1 beaten egg and about 1/2 cup bread crumbs, enough to make a thick, stiff dough. I would season with more garlic powder/salt. Use an ice cream scoop, and put on a greased/pam sprayed cookie sheet. Flatten into patties, Bake 15-20 minutes at 375 degrees. Use patties to make sandwiches or serve with a veggie or with gravy like a hamburger patty. Can also fry in frying pan.
March 11, 2009
0

found this helpful
Season up those lima beans or butter beans some more and make them into a soup. You can make a great stock using smoked turkey wings, onion and canned chicken broth. Let it cook down and take out the bones and skin. Or, believe it or not, lima beans a great served with white rice cooked with dill in it and plain white yogurt. It tastes better if it's not low fat.
March 12, 2009
0

found this helpful
Mash the whole mess then and add some to your meatloaf or meatballs. Put the rest in a freezer bag for the next meatloaf.
March 12, 2009
0

found this helpful
To season your lima beans try using a smoked ham hock. Just boil 30 min then add your beans and you can also use left over bacon grease. The beans will be great, and cook some corn bread to go with it!
March 12, 2009
0

found this helpful
I have humus out of many kinds of beans besides chick peas.just pour off liquid and blend until smooth. I save the juice just in case I need a little also I add extra garlic. Debbie
March 13, 2009
0

found this helpful
I should have used a ham hock or some type of smoked meat as a few here said. That would have made a lot of difference. I'll remember next time. I love all of the suggestions. I mashed and froze them in halves to use for soup and meatballs. The patties sound really interesting, like a nice twist on potato patties. I may try that with future leftovers. Thank you!
Answer

this Question

...
I have a pound bag of large lima beans. We have always used the seasoned canned ones. I would really like to cook my own dry beans. I don't know how to season them. Could someone help me please? They are good over rice, beans and soup that has seasoning. How do you season them?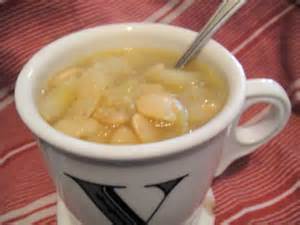 Answers
January 4, 2017
0

found this helpful
I use ham hock, or bacon. I put a table spoon of cooking oil. less if it just a lb. I add a tablespoon of butter or margarine, and salt and pepper. I also use BOULLION cubes for broth flavor. I hope this helps.
July 29, 2017
0

found this helpful
First, be sure to wash and drain the beans real good. Then simmer them in a pot of water with a little chopped onion, salt and pepoer, and bacon. Fresh sausage seasons them really well also.
Answer

this Question

...
I am looking for a recipe for chicken and lima beans overnight, using cream of mushroom soup. It was so good, but I have lost the recipe.

Betty from Lacey, WA
Answers
July 20, 2007
0

found this helpful
* Exported from MasterCook *
Chicken with Lima Beans C/P
Recipe By :
Serving Size : 4 Preparation Time :0:00
Categories : Crockpot Vegetables
Poultry
Amount Measure Ingredient -- Preparation Method
-------- ------------ --------------------------------
1 Frying chicken -- cut up
Salt
Pepper
1 tablespoon Oil
2 large Potatoes -- cubed
1 package Frozen lima beans -- thawed
1 cup Chicken broth
1/4 teaspoon Thyme
Season chicken with salt and pepper. Heat oil and butter in large
skillet. Fry chicken on both sides until brown. Add to crockpot with
remaining ingredients. Cover and cook on low for 4 to 6 hours.
Answer

this Question

...
July 6, 2016
0

found this helpful
This page contains lima bean casserole recipes. Although not as commonly served as other beans, these delicious beans, alone or in combination with other varieties, can be made into a wonderful casserole.