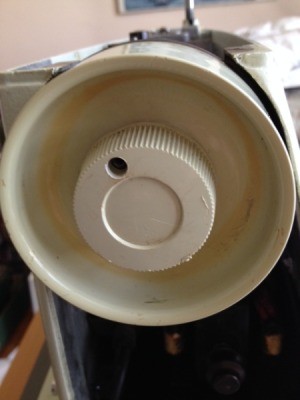 I inherited a Singer 427 sewing machine from my mother-in-law. In the case was the old motor belt which had been removed. I purchased a new one and I can't remove to plastic knob in the centre of the hand wheel.
I've managed to get the screw out, but it just won't budge. Any suggestions?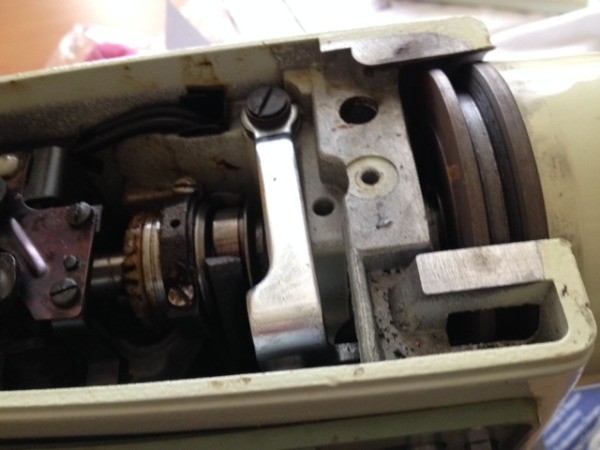 By Kate
Answers

March 6, 2015
1

found this helpful
Best Answer
Hopefully by now you've taken this to a repair tech. Yes, the handwheel is supposed to be removed but it takes specialised knowledge to safely do so and restore the machine to working order.
The problem is that there is a little gear (and it sounds frozen) inside the middle knob that has to go back on the machine in the right position (and it's really hard to figure out if you're not trained!) or else the machine won't work. And the potentially frozen gear might be frozen because the bobbin gear further into the machine is 'dead'.
So a repair tech is the only person who should be taking apart a sewing machine. But good on you for having taken photos - did you take 'before' photos too? Having done so means you might be able to put the machine back together well enough to prevent 'basket case' charges - the extra money a repair tech charges to put back together a machine an untrained owner has taken apart to try a little DIY on.

Marty Dick
Bronze Post Medal for All Time! 169 Posts
February 24, 2015
0

found this helpful
Are you sure it's supposed to come off? Rather than ruin it I would take it to a dealer.

November 16, 2017
0

found this helpful
I have a Singer 288 and its handwheel is very similar to yours. After removing the screw, I gave it a few taps on all sides with the screwdriver handle and gently pried it open with the screwdriver tip (it was a flat screwdriver) and it came off. There is a small metal object sitting inside that cap, so in case you attempt this again be sure to note which side is facing which direction, for when you put it back.
I wanted to remove the handwheel to change my belt, but I still haven't been able to do that yet. Seems as if it is somehow 'fixed' to the centre rotating shaft.

June 8, 2022
0

found this helpful
Did you figure out how to pry off the handwheel? (I got the clutch / clamp off no problem). Singer 247. I haven't been able to disengage the needle action so I can load a bobbin. (Haven't used the machine in years and got it to sew just fine with lots of Utube videos :)).
Answer

this Question