Repairing a Fabric Steam Press?
23 Questions
Ask a QuestionHere are the questions asked by community members. Read on to see the answers provided by the ThriftyFun community or ask a new question.
I have a Singer MSP 7 ironing press and can no longer open the top. Has anyone had this experience and what was the solution or cause?
Answers
September 15, 2020
0

found this helpful
Best Answer
On the Singer website, they have a troubleshooting guide they have posted online. One of the questions they gave the answer to was the top will no longer open. Here is their response to your problem and this is what they said to do "Locking knob is in locked position - turn locking knob to open. Locking lever stiff - Slightly move the handle up and down while turning the locking lever." Here is the link and the answers to how to repair this unit that Singer has posted. www.singermachines.co.uk/.../steam-press-will-not-open.html
September 16, 2020
0

found this helpful
Best Answer
It appears that the locking handle release latch is not moving freely. You can try and get a small knife or screwdriver in there to see if you can pop the release on this piece. If you can do this then you can try and put a little oil on the latch to see if it will move freely again. it seems that when you push the release button the latch (which normally is metal) seems to be stuck in the upright position and not moving downward or to the right or left to release the handle so you can open the machine up.
Answer

this Question
I would like to know if there is a company near Hattiesburg, Mississippi that repairs steam presses. I have a China Feiyue Family 1600W Steam Press.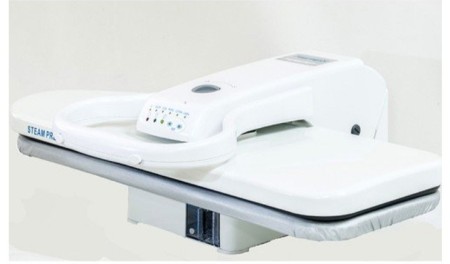 Answers
November 3, 2020
0

found this helpful
Best Answer
This what I could find. Machine is under warranty for one year.
Do you have any of the original paperwork? Sometimes these machines have a number to call for service stamped somewhere on the machine.
I would first recommend that you contact the company where it was purchased and ask for service centers in your area. If you do not know where it was purchased then ask any of the stores that sell it: Mayfair (first), Walmart, others
Maybe one of these are close to you and can service the steam press: Always call first just in case they do or do not work on these but since it may be an unfamiliar brand they may have to see it.
www.google.com/search?client=firefox-b-1-d&q=Hattiesburg...
Or you can always try Sears Service Center for help - always call first:
www.service-center-locator.com/.../sears-service-center.htm
Answer

this Question
I have a 2 year old Singer Steam Press ESP-2. It will not open up. I press it down, heard a snap and now it will not budge.
Answers
November 18, 2019
0

found this helpful
Best Answer
The release button has broken on the inside of the machine. The latch has cracked and now a piece of plastic is in the place where it opens. In order to fix this the machine needs to be taken apart and the broken piece replaced.
Answer

this Question
I am not getting steam on my Aria 350sp. Does anyone know a fix for this?
Answers
December 23, 2019
0

found this helpful
Best Answer
The first question would be how old is your machine?
Is it still under warranty?
Did you purchase an extended warranty?
If your answer is yes to any of the above then that is who you need to contact before doing anything else.
Have you tried contacting the company where you purchased your machine?
These are the people who will be familiar with this model and can walk you through getting it working again.
You can contact the company but most likely they will direct you to a dealer in your area as they will have contracts and usually the agreement is to send people to the dealer/seller.
Answer

this Question
My Simplicity Digital Press Model SSP400 will not get up to temperature to press anything. It keeps given me an error message.
Does anyone know where I can get the item repaired or how to get parts? This 34" digital quick press pro is discontinued.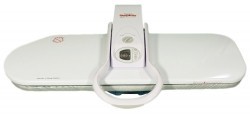 Answers
September 30, 2017
0

found this helpful
I can't find anyone who actually repairs these steam presses. However, I did find a phone number you can call. They might be able to answer your question and tell you where to take your digital press for repair. The number is 800-401-8151
November 2, 2017
0

found this helpful
mine needs reparing aswell carnt find anyone will keep lookin
Answer

this Question
This steam press is not working properly, due to water dripping from steam holes. I checked everything and know it needs descaling. How do I do that?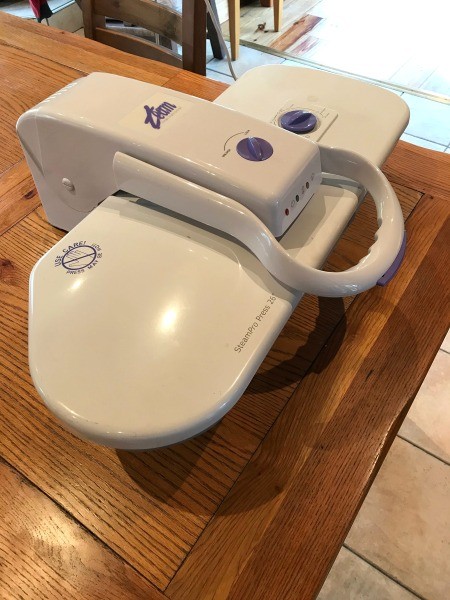 Answers
September 8, 2020
1

found this helpful
Best Answer
You will descale the machine just like you would descale a steam iron. The best way to do this is to mix 3/4 cup of water with 1/4 cup of vinegar and pour this in the machine. Turn it on for around 5 minutes on the highest heat. Now you will take any cloth that you want and stream press this for a few minutes. You should allow all the water to freely flow through the machine so that it gets all the deposits out of the vents. When you use these types of machines it is recommended that you use distilled water only and not tap water. Tap water will clog the machine and this is why you are having this issue right now.
Answer

this Question
My steam press is pouring out water instead of steam? Can anybody please advise? Where can you get these repaired?
With thanks.
Read More

Answers
I was trying to clean my presser and was trying to take the screws off where the the steam comes out. I'm stuck because I can't take the 1 screw out in the back of the press.
I would like to know if there's somewhere I can take it like a repair shop to put it back together?
Answers
September 20, 2017
0

found this helpful
There really are no repair shops for irons. You could look for a private handyman to do it. It would not cost much. Look in the yellow pages of your phone book.
Answer

this Question
I have a steam press, but it is not producing any steam. It does not have a steam button on it, all there is, is the temperature dial.
It does not have a manual as it was given to me. I do not know if it could be limescale and if it is how do I clean it?
Answers
July 15, 2017
0

found this helpful
I'm not sure what model you have but I have not seen a manual for a Hinari - it is possible another make of steam press will be similar. I have an older Singer and my steam button is on the handle but it has to be on cotton (hot) for steam to work.
I cannot remove my water tank so I just run vinegar through it keep it clean and just use distilled water.
Have you been able to remove you water tank? If so, maybe a good cleaning would help. If you cannot locate a steam button then try the setting on high and see if that helps.
I do not know where you live but I found some Hinari steam presses for sale on eBay in the UK. Take a look at the listings and if any one of them looks similar to yours then go on the site and find the "ask seller a question" and send them a message and ask if they could look at the machine and maybe help you. Most sellers are nice and may be able to help you.
August 10, 2017
0

found this helpful
Does the plate have holes? Does it have a container to fill it with water? If yes, then it has steam but without a button. Otherwise, it's not a steam press. Just a press.
Answer

this Question
I have been given a home steam ironing press, but no instructions. It seems self explanatory, but I can't get any steam. Any ideas?
By JanetD

Answers
August 12, 2013
0

found this helpful
It requires a pinch or 1/8 tsp. of salt to make it steam.
August 10, 2017
0

found this helpful
You might have sediment clogging it up. Take it to the sink and disassemble. Unscrew the small drainage valve on the side at the bottom and flush through with clean cold water.
Answer

this Question
Where can I purchase a new water reservoir for my steam press 2 by Singer?
By Cindy

Answer

this Question
Singer steam press switches off when temperature is selected.
Answers
January 8, 2018
0

found this helpful
It is difficult to find a repair shop for steam presses but Singer does have a web site with free manuals and support contact information.
Find your model number and check this Singer link for a free manual.
This problem may be resolved with just a good cleaning and the manuals have pretty clear cleaning instructions.
Here is also a link to contact Singer support. Look carefully as they have telephone number and email address if after business hours.
Be sure you know your model number or they will not be able to help you.
Answer

this Question
My Singer Magic Press cap-1 steam press was working in good order and suddenly the light and temperature went off, nothing happens. What can I do? I checked the connections and fuse.
Answers
March 2, 2017
0

found this helpful
The switch may be gone or the inner wiring corroded/burnt. You may have to get a new one.
Answer

this Question
I purchased an Elna Press Graffiti steam press about 2 yrs ago, it worked great. I can't imagine not having one since I discovered how handy they are. Well, last year (end of 2010) it just stopped powering on. I have been missing using it badly, a regular iron just isn't the same.
I replaced the plug because I thought it might be that but still no power. I unscrewed the casing and looked inside to see if I could notice any obvious sign of damage or whatever, but I really have no clue as to what each item should look like. Nothing I could visually see looked burnt out or anything, but I haven't tested anything else. I can possibly get a hold of a voltage tester thing, but need to know what I may need to check out. I wish I knew of a cheap repair center locally, but have no idea how to search/find a small appliance repair center. I thought maybe I could try a hand at it myself.
Any thoughts or ideas of what may be wrong with my machine?
Thanks.
By Jcs Muffin
Answers
June 20, 2011
0

found this helpful
www.oksewingandvacuum.com/geneve.htm
Let your fingers do the walking and start here it is in Nebraska but I Googled Elna press grafitti and got a bunch including your listing here, try it and ask questions. If you have the book it has a schematic in it of everything and where it is and some trouble shooting directions as well. Good luck.
Answer

this Question
Categories
Pages
More
Categories
Published by ThriftyFun.
© 1997-2020 by Cumuli, Inc. All Rights Reserved.
https://www.thriftyfun.com/Repairing-a-Fabric-Steam-Press-1.html