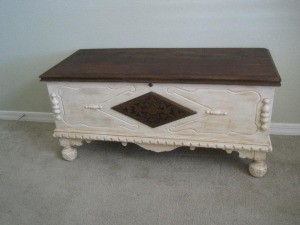 I thought for a long time before redoing this cedar chest that my mom received as an engagement gift during the depression. She had to choose between this chest and an engagement ring in 1935. Obviously, she chose the chest. But years of wear left it looking pretty worn. It had a few issues with the trim also. I made a piece on the corner to make it look presentable. In the "before" pic, I started to sand the top, sanding off a lot of marks, including some watermarks. I then stained the top a dark walnut. I painted the bottom with homemade furniture chalk paint and then using a medium brown paint, mixed it with glaze to get the finished look, wiping it on and then taking most off with a rag. I think it gave it new life and I still have a piece of history from my mom.
Here is the chalk paint recipe that I used:
1/2 cup plaster of Paris
1/2 cup water
Mix that first with hot tap water, stirring thoroughly.
Then mix into 1-1/2 cups latex satin paint.
The reason this is used is so that you do not have to prime or sand.
Source: I got the chalk paint recipe from Home Depot but there are numerous recipes on blogs or you can google "chalkpaint for furniture".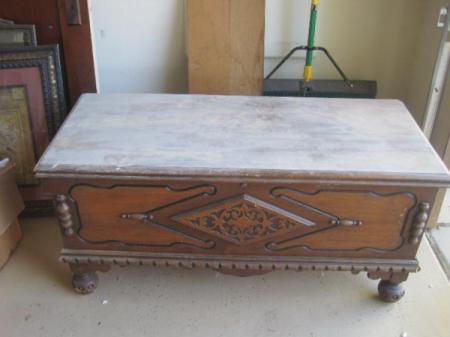 December 29, 2021
0

found this helpful
I think if the piece of furniture is important to you, it's worth buying real chalk paint, like Annie Sloan.
I bought a quart of Paris Grey, which did cost almost $50, but since then I've put three coats on an old buffet, painted a corner shelf unit, and two little tables. And I still have about a half a can of paint left.
I've run out of things I want to paint grey! I may give it to a niece-in-law who likes to chalk paint, too, or I may try painting on fabric.
Here's the finished buffet. It has a granite top that my son got for me, so I can put hot things or an ice bucket on top and not harm the buffet. At the time I took this picture, my two kitties were little and liked to play with the cords on the tapestry, so that's why the cords are higher than usual.