Roasted Chickpeas Recipe
Solutions
Share on ThriftyFunThis guide contains the following solutions. Have something to add? Please share your solution!
I had never thought about eating chickpeas until I saw a cooking demonstration on our local TV station. They were tasting them and saying how good they were. I pulled up the recipe on their website and the recipe they have is from Chop Chop magazine.
They are quite good and have a nutty taste when roasted. This is the second time I have baked some, but did not add the cayenne pepper as hubby does not like it hot. I'll be making some for Christmas for everyone to snack on. Some of it will have cayenne pepper, for our son-in-law who will love it hot.
Prep Time: 10-15 minutes
Cook Time: 25-35 minutes
Total Time: 50 minutes
Source: local TV station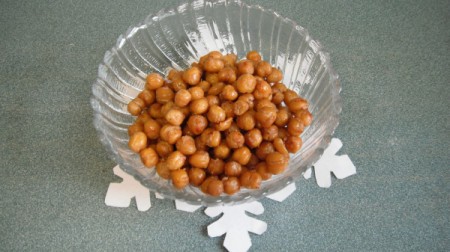 Ingredients:
15.5 oz chickpeas (can), drained and rinsed with cold water
1 Tbsp olive oil
1 tsp salt
1 tsp garlic powder
1/4 tsp cayenne pepper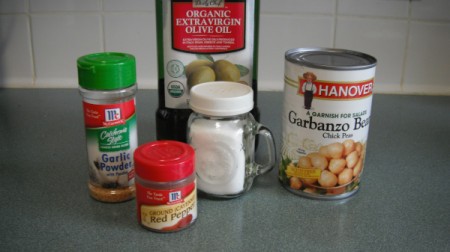 Steps:
Preheat oven to 400 degrees F.
Drain chickpeas and rinse in cold water.
Pour in a strainer to drain water off.
Roll drained chickpeas on a layer of paper towels to dry.
Mix together the chickpeas, oil, salt, garlic powder and cayenne pepper.
Layer on baking sheet.
Bake 25-35 minutes, stirring halfway through.
They should come out crunchy and golden brown. Let cool.
Enjoy.
Chick peas can be seasoned and served in several ways to make them very tasty. One of my favorites is marinated in a honey mustard and roasted.
After reading all the health benefits from the consumption of chick peas, I started keeping them on hand to have often with our meals or as a snack. They are high in protein, fiber and vitamins and help to control blood sugar which is good for diabetics.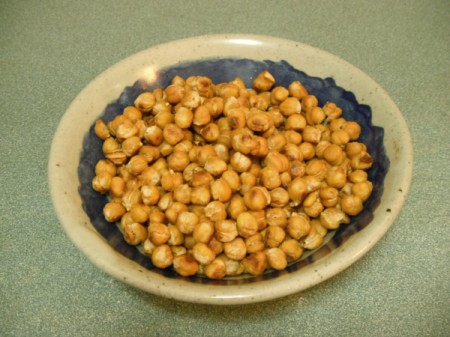 Ingredients:
Bush's garbanzo chick peas
French's honey mustard
butter Pam or parchment paper

Steps:
Drain chick peas and discard the liquid. Place in a strainer and let them drain well (rinse if desired).
Place drained chick peas in a mixing bowl.
Pour Honey Mustard over the chick peas and stir well to coat.
Marinate for 15 minutes or longer. Preheat oven to 400 F.
Spread chick peas on a baking sheet, lined with parchment paper. Or if you prefer, you can just spray the pan with Pam cooking spray. Either way works well.
Bake for 30 minutes or until browned and slightly crisp. During the roasting process, stir after 15 minutes.
Related Content