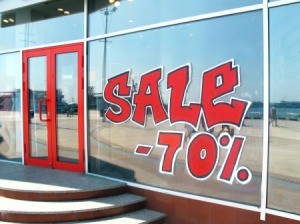 Shopping by the Year! Did you know the lowest cost wedding and reception month is January? It's the least sought after month! So you will have the best impact and attention at a big discount.
Just after Christmas, candles, red gift bags are perfect in a few months for Valentine's Day. Green bags, bows are great for March, St. Patty's Day. Multi-color for birthdays and anniversaries.
January is also the lowest prices for: electronics, big screen TV's as the new year models are in and big discounts on last years, so, wait until after Christmas. Also the same on major appliances.
January and February also hosts reduced white sales for bargain prices on sheet sets, blankets and comforters.
Most people paint in the spring and do home projects, paint sales start in the summer.
Patio furniture and BBQ grills are reduced, before the end of summer, usually mid July. Swimming pool and equipment goes on sale after July.
Fruits, veggies, flowers and plants are at bargain prices in Sept. from your local Garden Center, as well as pond equipment and yard decor.
The lowest price car deals happen between Nov. and Dec.
Last minute Christmas gift? Grocery stores & other retailers will sell beautiful Poinsettia potted plants for 90% off 48 hours and less before Christmas.
My favorite shopping day? Dec. 26th, 50-75% off Christmas decor, gift baskets, Christmas Cards, wrapping paper, tags, bows, seasonal gifts, and candles.
Always shop around, you have room to bargain as most stores will match another's price.
All year shopping: Dollar Tree Everything is $1.00. I purchase All my dish liquid, kleenex, scrubbing cleaners, air fresheners, dryer sheets, aluminum foil, sandwich bags, garbage bags, gardening misc., snacks, etc. as it's always only a dollar.
So, I feel this is something to consider and is worth sharing. Happy shopping!
Source: myself and a few tips from the Clark Howard show
By Missy from OH.