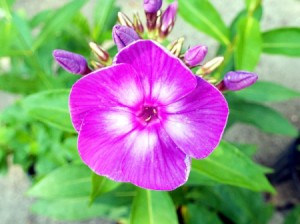 A Tightwad Grows Flowers
Someone said I was so tight, I squeaked when I walked. So tight, I squeezed a nickel til the buffalo bellowed. Say what they will, when it comes to buying flowers, being miserly certainly has it's advantages.
I have an insatiable appetite for plants. There is no way I could have all the plants I wanted if I had to pay full price. Paying mark down prices allows me to indulge myself without feeling guilty (well, at least somewhat).
I do buy plants sometimes without any idea where I will put them. I don't necessarily think this is a bad Idea. It helps get the creative juice flowing. Here's a good example.
I bought 2 false hollies (Osmanthus heterophyllus 'Goshiki'). $7.00 plants for $.70 each. I couldn't resist. Had I known what they were like, I would have bought all they had.
I have been looking for a low growing evergreen shrub for years, one requiring little maintenance. I wanted a row of them to offset the upper end of my property from a busy street.
When I brought the hollies home, I read up on them. I found out they were the perfect plant for my 'hedge row'. I'll need about 30 of them. So I will be on the lookout for more at reduced prices.
I have never grown phlox, though I like them very much. I bought a pot for pennies on the dollar. This particular phlox is new and one of a series called 'Flame'. Of the four colors available, mine is purple.
Phlox provide a beautiful display in the hottest of mid summer when the heat plays havoc with many other flowers. They are as reliable as sunrise, coming back year after year, and add an old fashioned note to the garden.
The $8.00 pot was a steal for $2.00, especially when you consider there were 3 plants in the pot. I always make it a point to notice how many plants are in a pot.
The Flame phlox is one of the paniculata type, meaning the flowers are arranged in panicles, and panicles, put in simple terms refers to a large flower being made up of many smaller ones.
The Phlox paniculata are tall flowers. However, the Flame series is a naturally dwarf plant. Big flowers, small plant. What more could you want.
I couldn't wait to get a picture of a single bloom for my files. When the panicle is fully opened with many flowers, I will post another picture.
So, the 3 pots pictured below, have a total retail value of $24.00. I got them all for $2.00. Yes! This is what you call fun, ThriftyFun. My tip? Don't wait for a plant bargain to happen by. Be on the lookout. And where will you put that bargain plant? You'll find a place, even if it's in the hands of a friend.
Now, where to put my phlox? I don't know. No worry. These babies will be making a bold statement at my place for years to come. No need to rush into decisions of this type.