Shucking Corn on the Cob
Solutions
Share on ThriftyFunThis guide contains the following solutions. Have something to add? Please share your solution!
I have found the best way to husk corn on the cob, and I will do my best to never boil corn on the cob again. Preheat your oven to 375 degrees F, rinse your corn, husk and all, DO NOT shuck it. Place corn on oven rack and bake for 30 minutes. Use oven mitts or heat resistant gloves and remove husks.
I usually on only have 1 or 2 stray pieces of silk to remove, that's it. Fast and so easy. Easiest way to cook corn and remove the silk all at the same time.
By Michelle P from Newark, OH
I recently saw a video on Facebook showing someone shucking corn that looked really easy and eliminated all of the silk being stuck to the corn cob. I thought I would give it a try. I wasn't able to shake the corn out of the husk like they did on the video, but I did find that I was left with almost no silk to remove. Here's how I did it: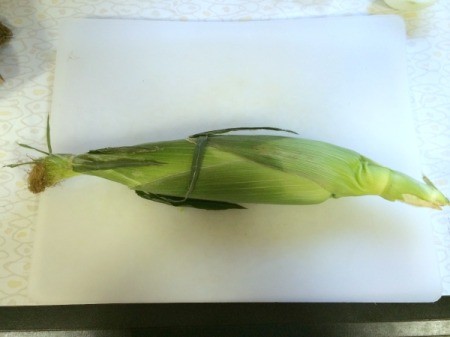 Cut the stem end off the cob with a sharp knife. Be sure to cut far enough up the cob that the entire end is removed and you can see corn kernels.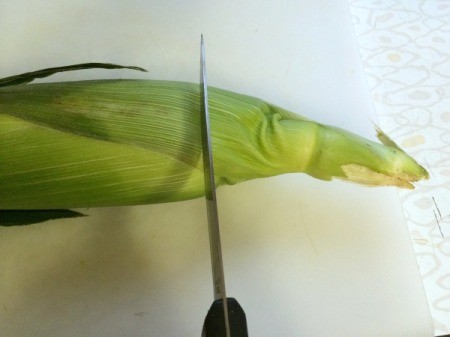 Pull the husk away from the cob at the cut end. Hold the cob tightly at the opposite end, pulling the husk and silk away from the cob, working your way to the other end. The husk and silk will stay together, leaving less mess.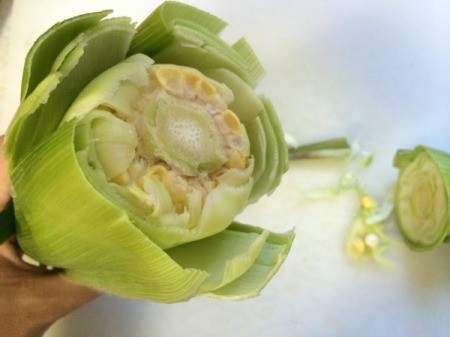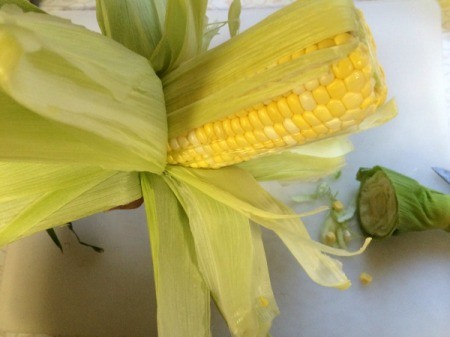 Remove any silk that is still on the cob and rinse off the corn.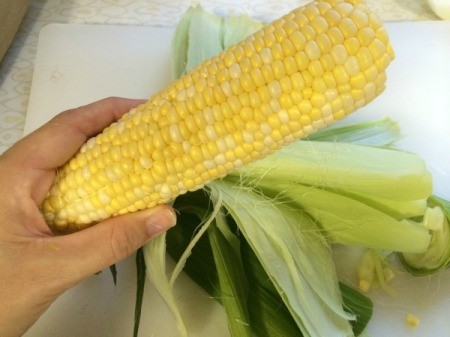 It's time to harvest and put up your summer veggies! One of the most dreaded tasks is husking and silking corn on the cob. I have a suggestion to make that chore a real breeze! You can silk a single ear of corn in 30 seconds by using an air compressor.
Shuck the corn, pass it off to your helper who has the air compressor nozzle in hand, and simply blow the silks away. I timed my son this weekend, and the longest it took was 45 seconds. The ears came to me clean as a whistle!
By Brenda from Greenville, AL
You can shuck corn quickly and easily without silk strings. Microwave corn cobs for 8 minutes. Cut off the stem end at the widest part. Grab the cob at the top end with an oven mitt and squeeze hard. You may have to shake it a bit, until the cob slides down and out.
Read More...
Cut off both ends of the corn. Peel off all but 2 -3 layers of the husk. Then either steam for 8 - 10 minutes or wrap in a damp towel and microwave for 1 1/2 - 2 minutes per ear.
Videos
November 2, 2014
1

found this helpful
This quick and easy tip will make shucking corn so much easier.
Questions
Ask a QuestionHere are the questions asked by community members. Read on to see the answers provided by the ThriftyFun community or ask a new question.
What is the easiest way to shuck corn on the cob to ensure the silks are all removed?
By Susan
Answers
August 4, 2011
0

found this helpful
Hello Susan. I don't believe that when shucking corn you can remove all the silks at one step. But you can get the most by dividing the top of the shucks in half gathering the majority of the silk and pulling down ward.
Ofter that I take a toothbrush and brush down the ear to remove the few silks that are left. It does take practice to get this method down. I learned it many years ago from my grandmother.
August 4, 2011
0

found this helpful
Are you wanting to cook the corn after you shuck it or are you going to freeze it?
August 4, 2011
0

found this helpful
Hello Susan,
Over my years of shucking corn I have come up with a near perfect way. I shuck it, then use dry paper towels. Always after using the towels on a few Ears get new ones. It works every time.
Jayemar
August 4, 2011
0

found this helpful
If you are grilling anyhow and want to eat it right away, my mom taught me the absolute best way I have ever used. Cut the top and bottom off the ears and remove the loose outer three or so husks. Soak the raw ears in ice water until ready to cook. Then cook them on the grill while your other grilled food cooks.
You need to turn them over a few times so they cook evenly and when the outside husks get charred a little, they are done. Pull off the husks -- careful as they are going to still be hot! - and the silks come right off with them. Season and eat! I don't know if it would work the same way in the oven or not because I use the grill for most everything in the summer.
August 5, 2011
0

found this helpful
If you are eating them right away, cut off stalk end up to end of ear, remove outer husks down to last two deep, place in microwave for two minutes per ear (about six minutes for four ears). When cooked, remove carefully and shuck the ears. The silks will come off with no trouble. If, for instance, two of you are dining and desire two ears each, keep the second ears in their husks until you are ready: they stay hot for awhile. I have used this method for several years, and will never go back to the old methods of shucking first. Cay from FL
September 1, 2011
0

found this helpful
Easier than any of the previous suggestions. Simply blow the silks off!
We used an air compressor to blow them off in about 30 to 45 seconds. It's a real breeze!
Answer

this Question

...
What is the easiest, best way to shuck corn? I need to know how to get all the silk off short of pulling each strand. Thanks!
By Mary H
Answers
September 1, 2011
0

found this helpful
Buy one of those gloves that are meant to slough off skin when you bathe. Put that on and run your hand down each ear. That gets 99% of it off.
September 1, 2011
0

found this helpful
I use a plastic vegetable brush with a handle. Remove loose silks by hand. Lightly scrub corn with brush. It's so easy and remove all the silks in seconds.
September 1, 2011
0

found this helpful
I have posted this link previously - it is the quickest and easiest way of cooking and de-silking the corn that I have seen. All silk threads gone in a few seconds! I use this method all the time with 100% success.
<http://www.yout eature=share>
September 2, 2011
0

found this helpful
ilmarlai, what a brilliant idea! I've saved your YouTube video to my favorites!
Answer

this Question

...
Related Content