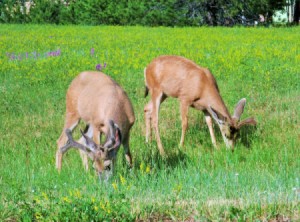 It was nice to go out in the late evening with Mocha, my calico cat. She loves it when I let her stay out after dark. It certainly was cooler when the sun went down. The outdoor lights were on, but I could see better when the moon came up. It looked big and yellow just over the horizon.
I saw some mule deer and figured Mocha would want to bother them, like usual. She likes to stalk them and pretend she is trying to catch one. I was right- she ran right in, but got nervous when the bucks turned their attention towards her. Her bravado has limits, apparently.
I watched the deer graze for a while, then I sat down in the grass in the middle of the small herd. Soon the five deer lay down to chew their cud. The young six point buck and his doe were nearest to me. I watched them chew and listened to cicadas in the trees somewhere. Mocha got bored when the animals wouldn't play and went to check out prairie dog holes instead. I could barely see her white parts moving in the dark. The buck next to me stretched out all four of his legs.
After about half an hour I needed my circulation back so I got up to collect Mocha. The deer did not bother to rise.
I enjoyed spending some time with my friends. Best of all, there was no price of admission.