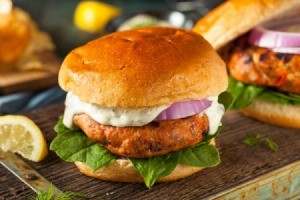 This recipe tastes like a little bite of heaven! It's also very healthy - the fish is full of omega-3s, and the canola oil is heart-healthy. I believe substituting Ritz crackers for the usual saltines is what gives the dish its extra-special flavor. I've also used bran flakes in a pinch, but it wasn't THIS good, lol! Makes 10-12 patties.
Ingredients:
2 cans salmon, drained (you can substitute mackerel, but salmon has a finer texture)
3 eggs
Approximately 1 sleeve Ritz crackers, crushed (generic is fine)
1 onion, diced
Splash of milk, perhaps 1/4 cup
Canola oil to cover bottom of skillet for frying
Directions:
In large mixing bowl, thoroughly blend by hand, first five ingredients. (I literally use my hand to mix - messy, but it works better for me). Adjust proportions of milk and crackers as needed. You want a very moist mixture, but one that will hold together to form good patties. A little more milk makes mix lighter.
Preheat oil over medium heat until a drop of water sizzles when dropped in.
Form hamburger-sized patties, flatten. Smaller patties work and make more, if you prefer. Fry until golden brown on the outside and cooked through. (Sorry, I don't have a time estimate, hubby did this step.)
Serve hot with your choice of side dishes. Enjoy!
By Lelia Jo Cordell from Springfield, OH
Comments
Read More

Comments