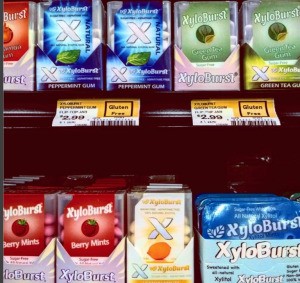 If you like to chew gum but dislike the idea of killing your teeth, switch to xylitol gum! A package can be had for a couple of dollars. It comes in many flavours, and certain studies indicate that, by allowing neutral pH levels to remain in the mouth, it helps maintain dental health. As well, xylitol helps prevent bacteria from sticking to teeth.
I have always enjoyed gum, mainly as a mouth freshener now and again, but when I discovered that this product can actually help maintain tooth freshness, I was hooked. Xylitol gum also tastes way fresher than sugary gum, and less artificial than other fake sweeteners.
Never ever ever ever, of course, replace flossing, brushing and regular dental visits with this! All I'm saying is, if you want to chew gum that happens to be beneficial to your dental health, xylitol is the way to go.