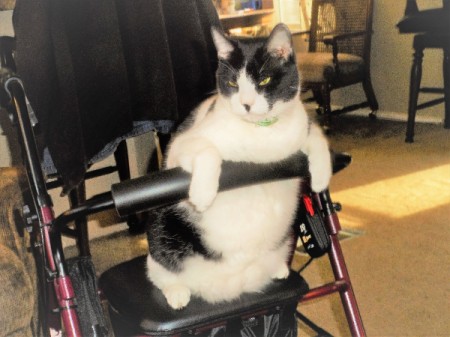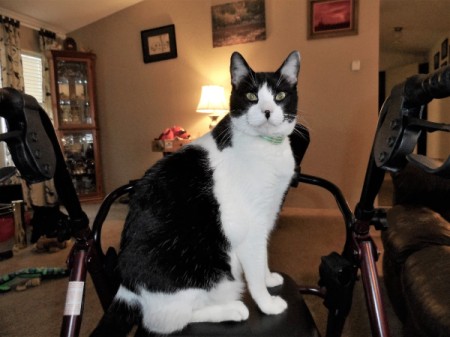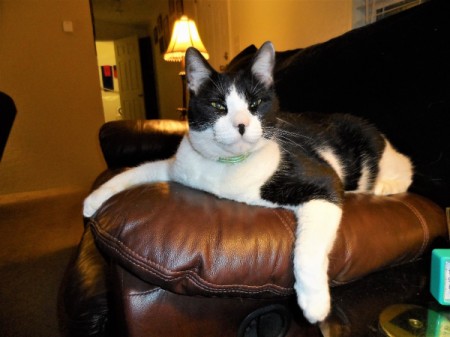 Your Pet's Age
9 almost 10
Your Pet's Breed
Mixed, black and white long haired, green eyed male cat.
How and when did you get your pet?
We went to a friend's house where they were taming a female kitten for us and while leaving my husband felt something on his leg, it was Teddy he had wrapped his paws around my husband's ankle. He wanted to go with his sister Sarah and us, so up into my arms he went and all four of us headed home!
What does your pet like to do for fun?
As you see in the picture, he loves sitting on the walker taking swipes at our big dog Slick, and of course he loves to ride around! In his earlier days he spent a lot of nights at the glass front door jumping as high as he could catching moths on the other side of the glass by the porch light. He loves eating breakfast with me, no-fat yogurt, his favorite is black cherry and he especially enjoys licking the lids. I get the outer circle and he gets the center. He'll eat about 8-9 fingerfuls before heading out for a well deserved nap. For fun he tries to open all the lower cupboards, which I've pet-proofed by rubber banding the handles together with ponytail bands. You can hear him late at night banging the doors trying to get in! Carefully stacked boxes don't stand a chance with him. When he wants to go outside he taps my husband Frank on the shoulder as he is the closest to the door. Once he's out he's rolling in the dirt and climbing trees for a few hours!
Do you have anything else to share about your pet?
Teddy is definitely the smartest most loving pet we've ever had. He is my (four legged) buddy, my best friend, and will forever be in my heart and soul! Yes, I love him dearly and enjoy each moment we spend together. He knows what I mean when I say "you want to catch a pillow?" It means I'm going to go lay down for a little while and he gets on his own pillow. A few years ago we were hit with a tornado and Teddy was the only cat out of five that made it through the whole thing. In memory of his sisters Sarah, Muffie, Emily, and Joey, God bless them all! We searched for days and put out food and water, I hope they found good homes or are waiting at the Rainbow Bridge for us!
Add your voice! Click below to comment. ThriftyFun is powered by your wisdom!
June 7, 2017
3

found this helpful
What an adorable cat! Your story shows how much you love your animals and how lucky they are to have you and your husband as caretakers. I hope everyone lives to be 100!
Thanks for taking the time to share your story and photos with us.
Betty
June 8, 2017
3

found this helpful
Betty, Thanks for reading all about Teddy! He has three brothers (Dogs) With my husband and I, our four animals make a family of six!
July 18, 2017
3

found this helpful
What a great story! Thanks for sharing all the love!
July 26, 2017
1

found this helpful
Thank you for sharing. What a precious cat Teddy is !
:) He looks very confident too. ;) Sure hope the other kitties found a home after the storm.
August 14, 2017
1

found this helpful
Before I finished reading your story about your 'furry babies' I was crying for the ones that are now missing [poor souls]. What a handsome Teddy... I can tell by looking at him he will always be 'mama's little man' no matter how old he gets. I have always loved cats my whole 60 some years of life & have owned several who are now residents of 'Rainbow Bridge' - they each had their own distinctive personality.
Thank you for getting me to take a moment and think of each special one that I have had and lost,
'Paula Jo in the lower Western NC mountain area'
Add your voice! Click below to comment. ThriftyFun is powered by your wisdom!