November 4, 2011
0

found this helpful
Congratulations on correct diagnosis for your dog's ear infection. This is a typical example that you always insist on speaking with the owner but the prescribed Otomax is correct and excellent product. Why was your sweet girl having accruing ear problems?
Good luck.
November 25, 2012
0

found this helpful
When I had dogs with chronic ear infections the meds from the vet were very expensive. I found a local compounding pharmacy where the pharmacist was able to compound the same ear drops using the same antibiotic and a base solution (inert ingredient) and make up a much larger batch of the meds at a very much less cost.
I took the bottle of the vet-dispensed drop to the pharmacy which gave the pharmacist all the necessary info (dilution ration, etc) to make the same meds for me. Saved me a bundle!
November 26, 2012
1

found this helpful
My Golden Retriever is always suffering with earmites. I treat her all the time with earmite medication that I buy from pet store but they never seem to go away. She also has a bald patch on her thigh which has turned her fur pinky red. It as been there a long time now but as not spread anywhere else I have treated it with creams, etc. but it will not clear up it does not bother her.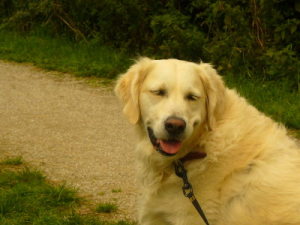 January 20, 2016
0

found this helpful
This sounds like a good remedy I'm just concerned on how my dog will react to this. I just treated him a month ago where the vet flushed out his ear & given antibiotics & it's back. With discharge coming out the war :(
June 11, 2016
0

found this helpful
1/2 teaspoon, 1/2 tablespoon, 1/2 cup?? sorry just trying to get the measurements right, i'd like to try this.
November 13, 2016
0

found this helpful
Depends on the quantity you want. 1 tsp water mixed with 1 tsp of apple cider vinegar is enough for both ears and one treatment for my dog
August 1, 2016
0

found this helpful
My shih tzu/maltese mix has a chronic ear infection, I read that you recommended a 1/2 alcohol to 1/2 vinegar. What are the measurements, a cup
February 4, 2017
0

found this helpful
This is a very informative post.
www.bodyallergyclinic.com/.../
The majority of dogs suffer from ear infections sometime in their life. These can be painful for the dog in question and as its owner; you will want to get quick dog allergies treatment.
Infected ears in adult dogs are caused due to yeast and bacteria, even though puppies may get infected ears due to ear mites.
Taking your dog to your veterinarian is the best way of diagnosing for sure if your dogs ear is infected. The veterinarian will test a sample from the infected ear under a microscope.
Veterinarians typically prescribe topical drugs or oral antibiotics for canine infected ears.
Yet, none of these are actually a long-term cure. Your dogs ear infections may come back with a vengeance in due course.
Keeping this in mind, we would recommend the following DIY remedies for dog ear infection:
1. Use of garlic cloves and coconut oil for dogs ears...
Follow this link for the full details: goo.gl/3tuV97
Source: www.bodyallergyclinic.com/